When I'm home, it's my ongoing mission to make food that my mom will enjoy just as much as I do. So far, I've had mixed success. There have been certain grain or pasta dishes that qualify as a incontestable wins, and a few baked goods that were greeted with enthusiasm. There's the fact that my mom now purchases almond milk regularly, all on her own, and uses it in her cereal every day. Or the container of Veganaise in the fridge, the open bag of flax meal, the Pure Bars on the countertop. My raw, vegan "deviled eggs," which mom requests every time I'm with her. Victories, all.
There have been some terrific flops as well. I'm thinking about the raw cream of broccoli soup that might as well have been called "bowl of lemon juice." The bean dishes that have been rejected. The baked goods that have crumbled apart or emerged from the oven hard as rocks; the vegan scone I recently purchased that was likened to "eating the sole of a shoe." You can't win 'em all. But today, I'll share a recent snack that got two thumbs up–so much so, that I left the remainder of the recipe in NYC for my mom to enjoy. They're easy, four ingredient vegan PB & J snack balls, and they're awesome.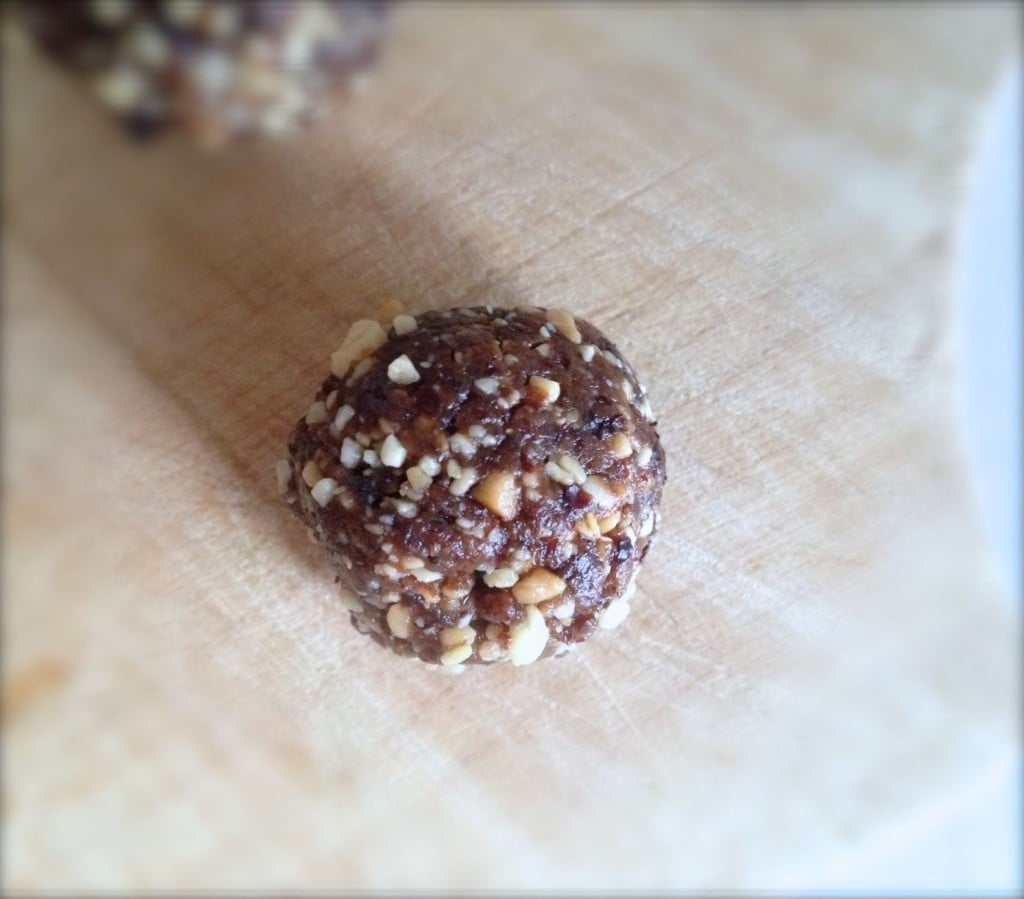 I spend so much time working with almonds, cashews, and walnuts that I tend to forget about the humble peanut. Peanuts have a dirty reputation among raw foodies for various reasons, some more legit than others. The most credible concern is that peanuts can contain aflatoxin, which is a toxin produced by certain strains of mold that can grown on peanuts when they're stored in warm, closed environments (like silos). Alfatoxin has been shown to cause liver cancer in laboratory animals and is linked to liver cancer in people with chronic hepatitis B, so it's understandable that a good many consumers are unsettled when they learn about it.
Many steps are taken in the US to prevent aflatoxin from causing harm. The US government dictates that peanuts contain no more than 20 ppm (parts per million) alfatoxin, and many organic brands have a range that is between 0 and 10 ppm. At this level, it's unlikely that peanut consumption in moderation is problematic. Interestingly, when Consumers Union (the parent firm of Consumer Reports) investigated alfatoxin levels in 2002, they found that the big name brands (Skippy, Jiff) actually had the most quality control measures in place and the lowest levels of aflatoxin (1-4 ppm — sometimes as low as zero). Ned Groth, a former Consumers Union analyst, has stated that the most problematic levels were in the freshly ground peanut butter from health food stores, where they use less stringent and standardized testing mechanisms and controls. (1)
Because of the strict guidelines governing peanut harvesting in the US, aflatoxin consumption is very low. It's also important to remember that aflatoxin can also be present in walnuts, pecans, certain grains, and pistachios. It's naturally occurring, and therefore difficult to eliminate altogether (and we've gotten quite close). All things considered, there are many more reasons to consume peanuts than there are reasons to avoid them: they're good sources of protein, they're rich in Vitamin E, folate, niacin, and protein, and they're also good sources of antioxidants. I recently heard a health writer mention that peanuts should be avoided because they've recently been involved in some food recalls for bacteria (like salmonella). This is true, but by those standards we'd also have to avoid spinach, strawberries, and sprouts.
I love peanut butter (who doesn't), but rarely make recipes with whole peanuts. This week, I was inspired. First I thought about PB&J flavored snack bars, but once I started grinding up my nuts and raisins, snack balls seemed like more fun.
Quick, Easy, PB & J Snack Balls
Author -
1 1/2

cups

roasted

unsalted peanuts

1 1/2

cups

dark raisins

2

tablespoons

peanut butter

Pinch

sea salt
1. Add all ingredients to a food processor and process till the peanuts are broken down and the mixture is starting to stick together. It may release a little oil, but that's OK.

2. Roll mixture into 1 inch balls. Store in the fridge for at least thirty minutes before serving.

Makes about 20 balls.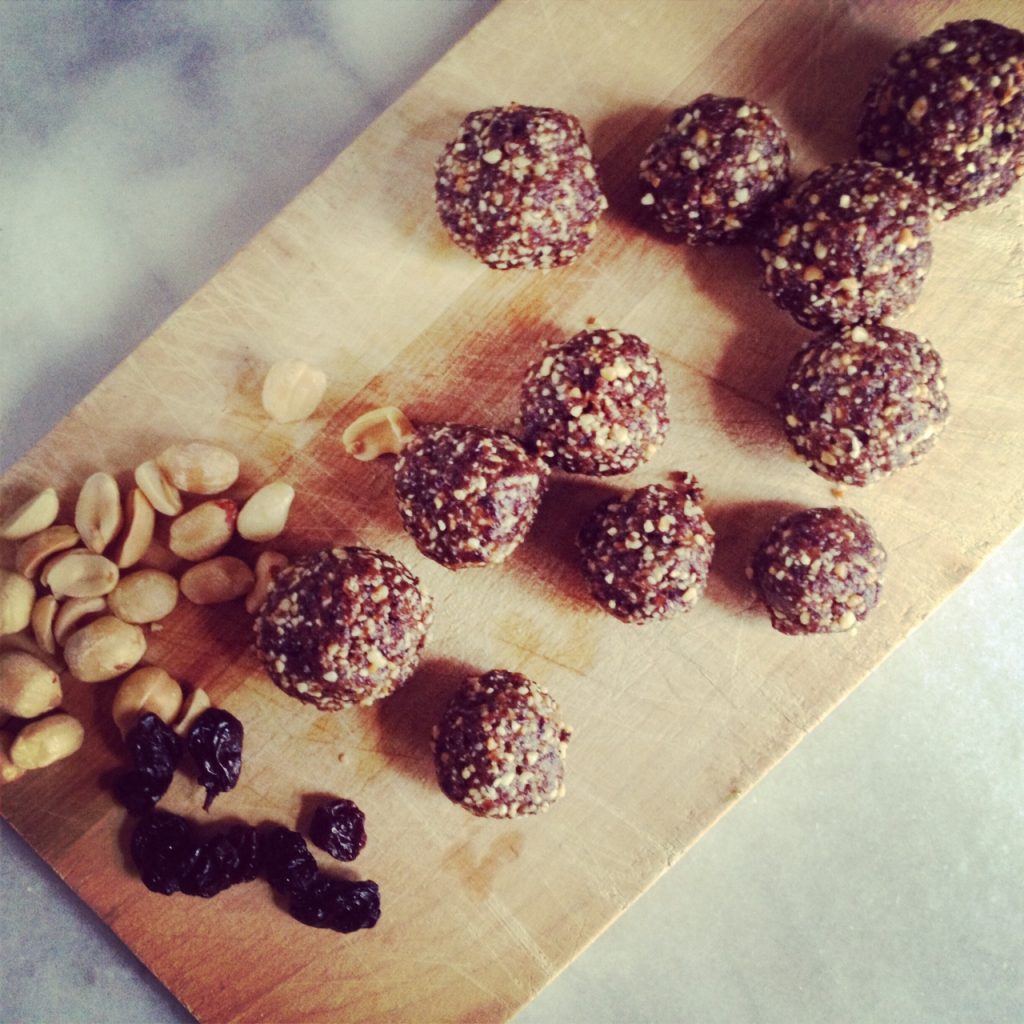 When my mom tasted these guys, she declared them better than any of the fruit/nut snack bars I've made her try shared with her. Win! Perhaps you'll give them a try yourselves this weekend.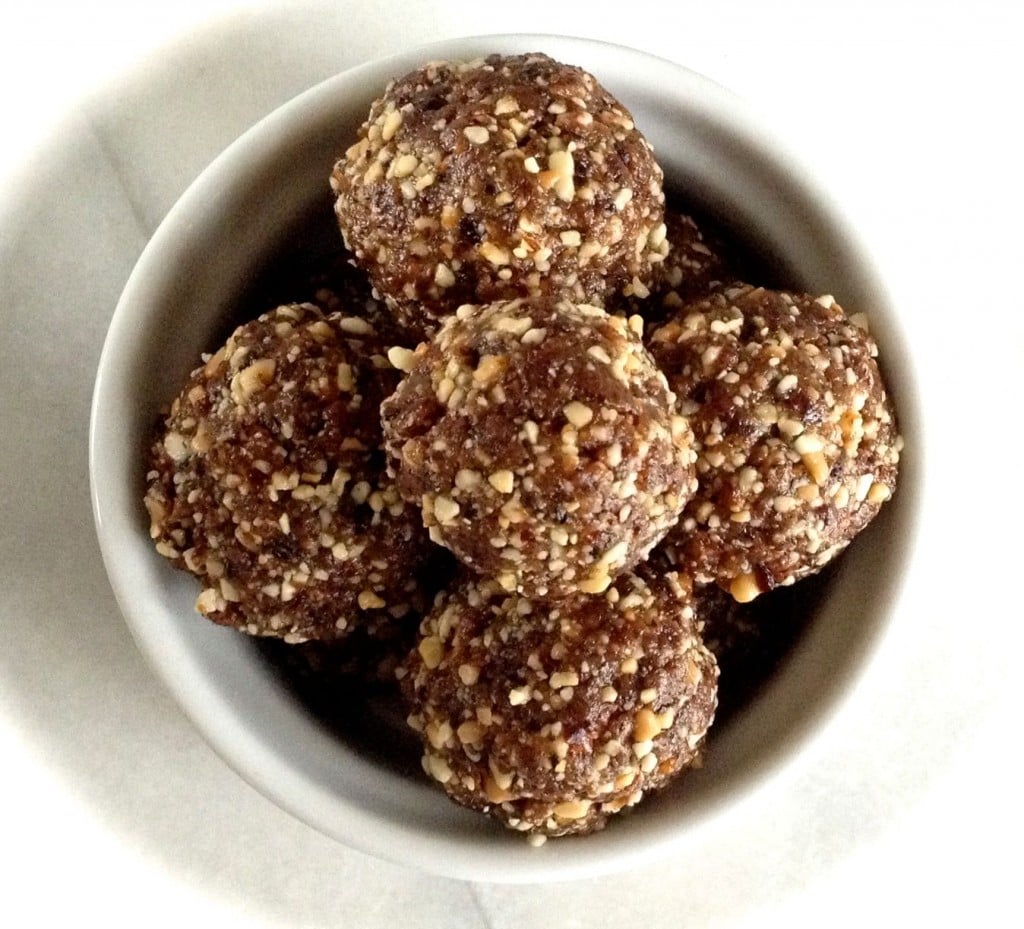 How do you guys like to eat peanuts/peanut butter? Would love to hear. Happy Friday to you all.
xo
1. Krampner, John. Creamy and Crunchy: An Informal History of Peanut Butter, the All-American Food. Columbia University Press, 2013.