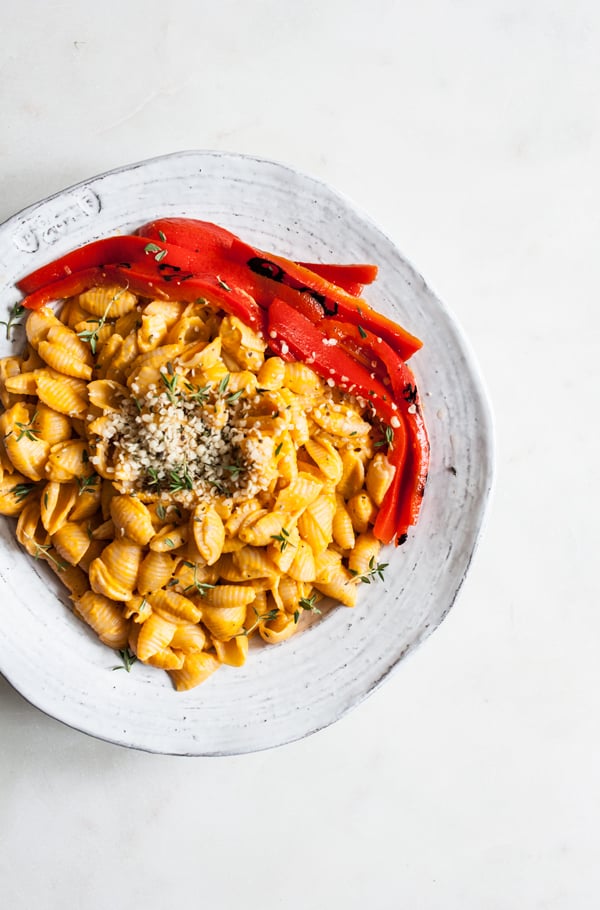 I don't tend to equate comfort food with convenience or ease. A lot of my own favorite comfort foods–baked casseroles, enchiladas, lasagna, lentil loaf, veggie pot pie–involve a lot of prep work, and then usually some assembly and some baking. I don't mind this. In some ways, part of the joy of a comfort food meal is knowing that love and care were poured into its preparation.
Still, it's always a joy when something that's quintessential comfort food–a dish that takes us right back to childhood, and to feeling cared for–also happens to be extremely easy. And that's the deal with this quick and easy vegan roasted red pepper mac n' cheese. In spite of being creamy and comforting, it's also really fast–especially if you prepare your roasted peppers in advance or use the store-bought kind. From that point forward, the dish is as simple as blending a sauce, boiling some pasta, and mixing them up.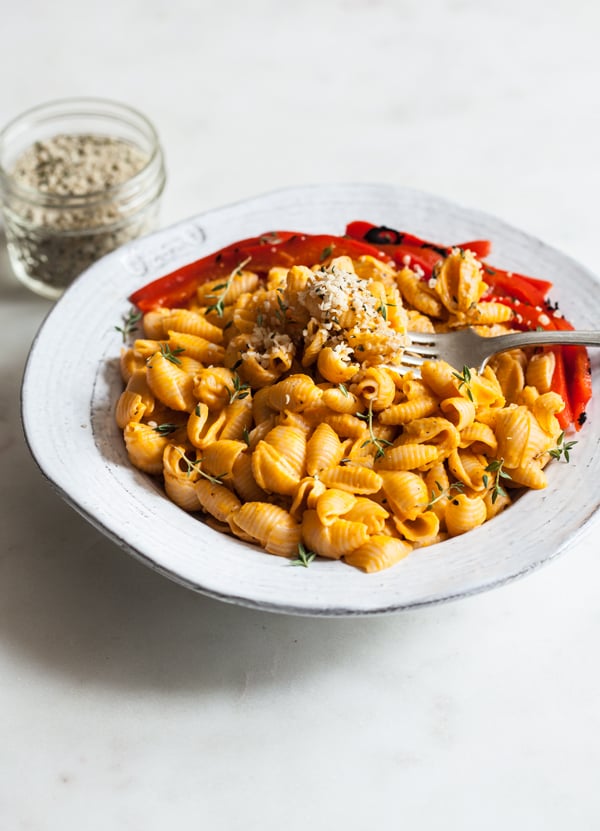 It's so easy, actually, that I was recently able to whip it up at lunchtime on a workday. It's not my usual instinct to make pasta midday–I sort of see it as being a dish for sharing, and for dinnertime–but this summer my easy lemon pepper tempeh vegetable bowls have been changing my mind, and now this vegan mac is, too.
My choice to add roasted peppers to this dish was driven by the fact that I tend to have them around a lot during the summer. I make big batches–6 or so roasted peppers at a time–and store them in the fridge for quick and easy use. I love their flavor (much more than I love the taste or texture of raw peppers), and I love how easily they can be blended into dressings, hummus, or my favorite homemade sunflower seed romesco. They also add a ton of concentrated pepper flavor to salads, grain dishes, and all sorts of pasta–this one included. Don't have roasted peppers at home? Don't worry. The store-bought variety will work perfectly here, too–and whatever you don't use can stay in the jar and be used for other recipes throughout the week.
As you can see, I served my bowl with some hemp seeds for a touch of extra protein and texture, along with fresh thyme sprigs and some extra roasted bell pepper strips. You could also pile the pasta high with my hempesan, fold in some extra roasted veggies or chickpeas, or top the mac with some of your favorite vegan meaty crumbles, soy curls, or my lemon pepper tempeh cubes. There's plenty of room to get creative here!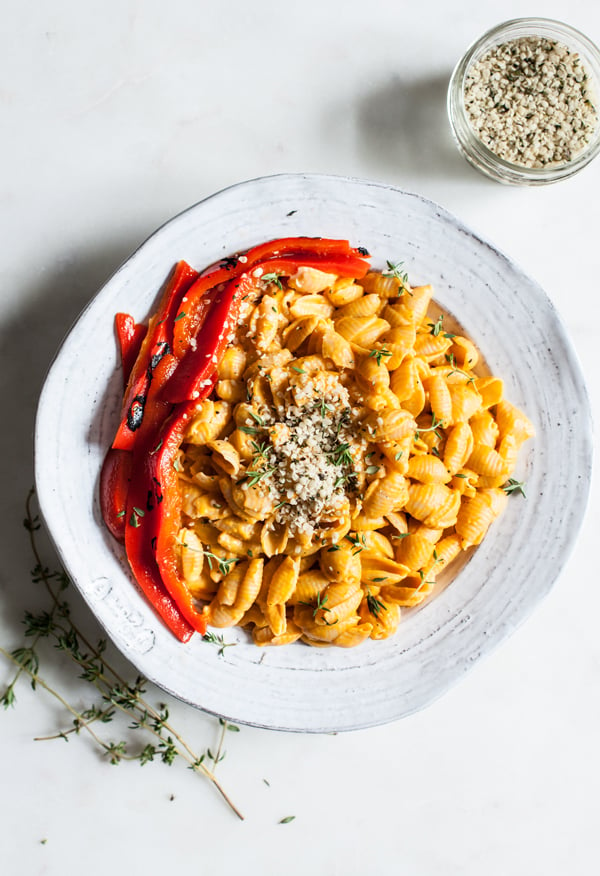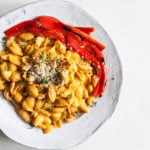 Quick & Easy Vegan Roasted Red Pepper Mac n' Cheese
Author -
1/2

cup

raw cashews

soaked for 2 hours in water and then drained

3/4

cup

red

orange, or yellow roasted bell peppers (homemade or store-bought; about 2 large or 3 smaller roasted peppers)

1

large clove garlic

roughly chopped

1/2

teaspoon

onion powder

1/4

cup

nutritional yeast

2

tablespoons

white miso

substitute 1 1/2 tablespoons brown or red miso

2

teaspoons

lemon juice

1/4

teaspoon

salt

1/8

teaspoon

black pepper

1/3

cup

water

8

ounces

macaroni or shell pasta of choice

regular, whole grain, gluten-free, etc.

Optional toppings: fresh thyme sprigs chopped herbs of choice, extra nutritional yeast, extra roasted bell peppers, hemp seeds, hempesan, vegan meaty crumbles, lemon pepper tempeh cubes
Bring a large pot of salted water to boil. Add your pasta of choice and cook according to package instructions.

While the pasta cooks, transfer your cashews, roasted peppers, garlic, onion powder, nutritional yeast, miso, lemon, salt, and pepper to a blender, along with 1/3 cup water. Blend till smooth, adding a tablespoon or two of extra water if the sauce is overly thick or difficult to blend (it should be about the texture of an alfredo sauce). Taste sauce and add salt and pepper as desired.

When the pasta is ready, drain it and fold in your sauce (you may not use all of it; if you have some leftover, it can be thinned and used as a salad dressing!). Divide pasta onto plates and top as desired. Serve.
Leftover sauce will keep for up to 5 days in an airtight container in the fridge.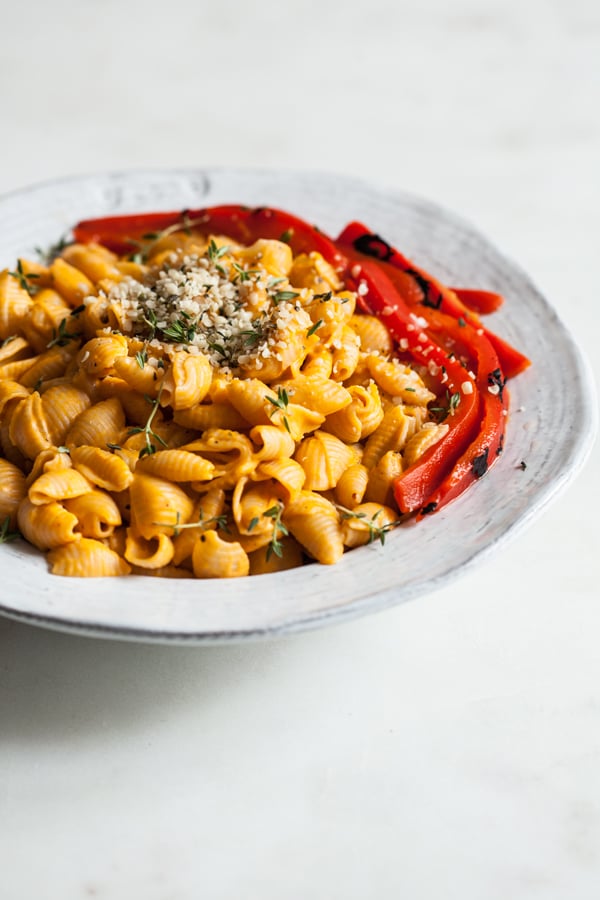 Making this dish has me thinking about other ways to flavor the sauce; I'm guessing that roasted tomatoes would be a wonderful alternative to the roasted peppers. Also, it's fine to serve the dish with spaghetti or linguine or penne instead of the macaroni, and call it creamy red pepper pasta instead.
There are some traditional comfort food dishes that I've veganized simply because I'm curious about how they'd turn out, or because I think that friends, family, or loved ones will enjoy them. Mac n' cheese is a lot more personal for me–it's more than an culinary idea, if that makes sense. It was one of my favorite meals growing up, and my Mom made it a lot, right out of that famous blue and and orange box.
Mac n' cheese still brings up childhood memories for me, which may be why I make it more regularly and happily than a lot of other nostalgic dishes. The fact that my favorite vegan mac n' cheese recipes are almost as easy as preparing the store-bought stuff is a very nice added bonus. Hope you'll enjoy this recipe, too, especially while peppers are still bright and in season!
xo