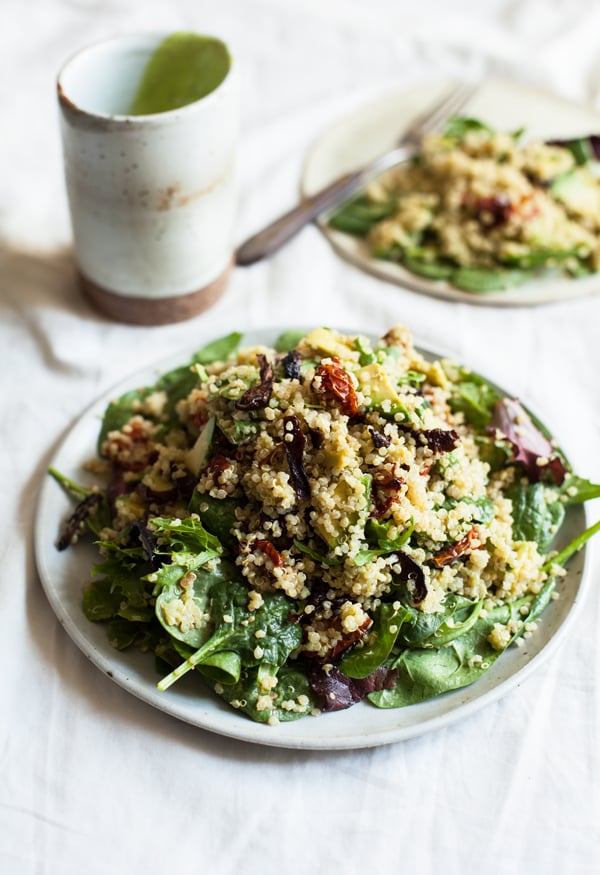 When I was living in DC, I ate some form of a quinoa salad for lunch nearly every single day. It was a perfect response to the heat and humidity: something light, yet filling and nutritious. Sometimes I'd add beans, sometimes not; sometimes it was hemp or flax oil and on other days I preferred an avocado dressing. In any case, the basic combination of quinoa, veggies, and greens was always the same. This quinoa BLT salad with shiitake bacon is my latest addition to the quinoa lunch salad rotation, and it's a delicious addition at that.
When I first pulled the shiitake bacon that makes this recipe special out of the oven, Steven was incredulous: it seemed hard for him to imagine me savoring anything that resembled or tasted like bacon. Truth be told, bacon was a favorite of mine prior to giving up meat when I was little, and BLT sandwiches were my favorite use for it. I've tried plenty of vegan imaginings of bacon, including my coconut bacon and eggplant bacon. Sometimes I even feel that throwing a handful of salty dulse into a salad creates that salty effect–though I know it's a stretch to compare bacon and seaweed.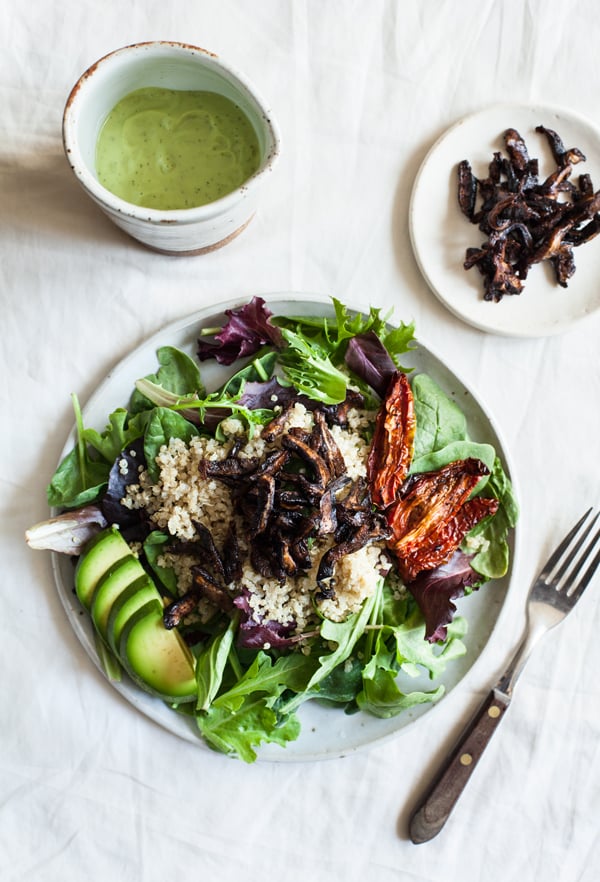 Shiitake bacon may be my new favorite approach to plant-based bacon. I love the slightly chewy texture that the mushrooms take on as they're roasted, low and slow. And the flavor is everything it should be: smoky, salty, and just a tiny bit sweet.
The other standout feature of this salad: a creamy avocado dressing. Juicy tomatoes (which you can add fresh, or oven roast for more concentrated flavor). And, of course, there's the quinoa, which adds plenty of texture and substance to the dish. Altogether, it's a flavorful and satisfying summer lunch: a little fancier than what I tend to make on an everyday basis, but all the more rewarding for demanding a little extra time.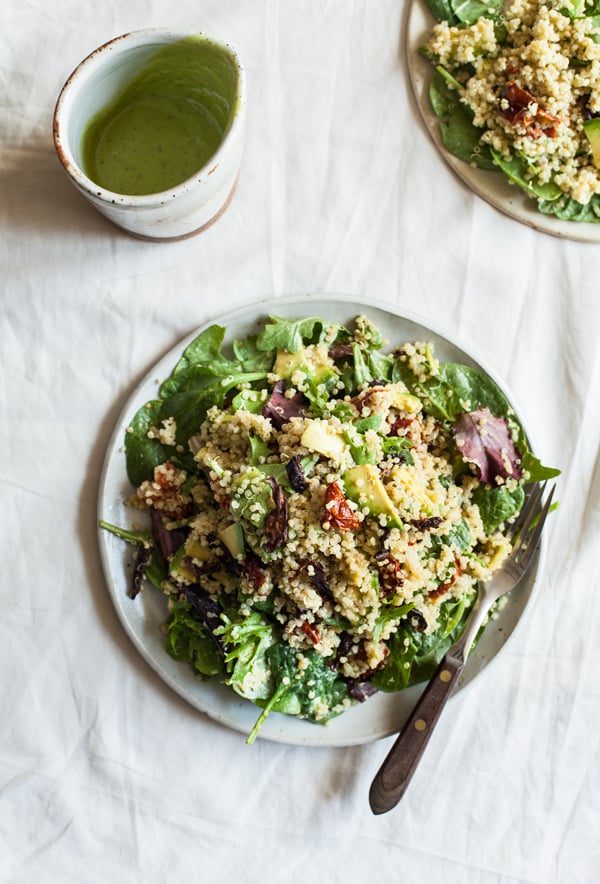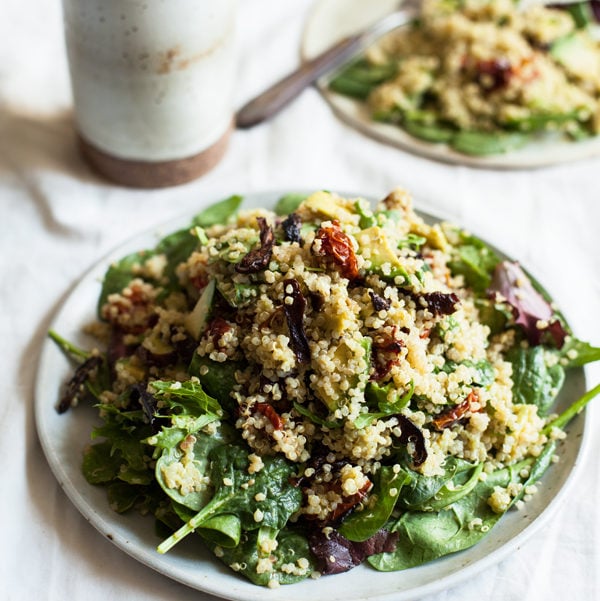 Quinoa BLT Salad with Shiitake Bacon
Author -
For the dressing:
1/2

Hass avocado

about 1/4-1/3 cup avocado, tightly packed

3/4

cup

water

2

teaspoons

apple cider vinegar

2

tablespoons

freshly squeezed lemon juice

1

small clove garlic

roughly chopped

1/2

teaspoon

onion powder

1

teaspoon

dried dill

or two tablespoons freshly chopped dill

1/2

teaspoon

salt

more to taste

1/8

teaspoon

black pepper
For the salad:
4

ripe tomatoes*

1

cup

quinoa

dry

4-5

heaping cups mesclun or baby arugula

1/2

Hass avocado

chopped (use the half that's remaining from making the dressing!)
Begin by making the shiitake bacon. Whisk together the tamari, vinegar, syrup, olive oil, paprika, and chili. Transfer to a rectangular, airtight container and add the mushroom slices. Marinate them for at least 1 hour, or up to 8 (overnight).

Preheat your oven to 250° F and transfer the mushrooms to a baking sheet lined with foil. Bake for 1 1/2 to 2 hours, or until the pieces are shrunken and chewy, stirring them once halfway through cooking. Once the mushrooms are ready, they can be stored in an airtight container in the fridge for up to 7 days or used right away in the salad.

Rinse the quinoa through a fine sieve. Transfer it, along with 2 cups water, to a saucepan. Bring to a boil, reduce the heat to low, and cover. Simmer the quinoa, covered, for 15 minutes. Fluff the quinoa with a fork, re-cover, and allow it to steam for 5-10 minutes.

Blend all of the dressing ingredients together. Adjust seasoning to taste.

To prepare the salad, toss the greens, cooked quinoa, shiitake bacon, and avocado together. Roughly chop and add the tomatoes. Add dressing to taste and mix everything well. Serve.
*If you like (and have time) you can also oven quarter and then roast the tomatoes at 400F for 30 minutes, or until they're browning at the edges and very tender.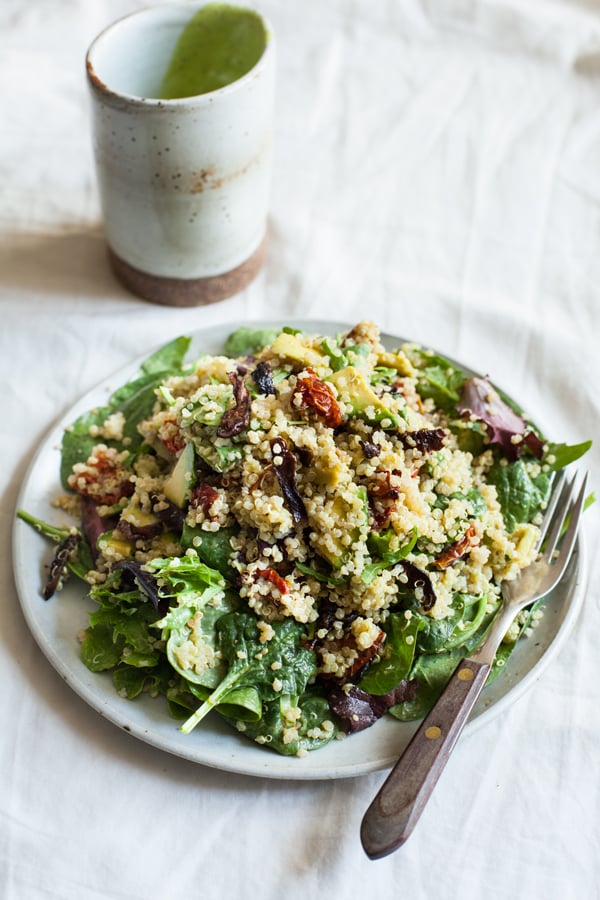 Little things can make such a big difference in salads. Here, the roasted mushrooms add an intensity of flavor that does wonders for the dish. I love the salad, and I hope you will, too.
On that note, I'm wrapping up my second-to-last week of summer class. It has flown by, and now I have only one exam and one assignment to work through before getting a true break from school in July and August. I can't wait to truly immerse myself in work and recipe testing–and to nurturing my whole life, too, including time with Steven. See you for weekend reading!
xo