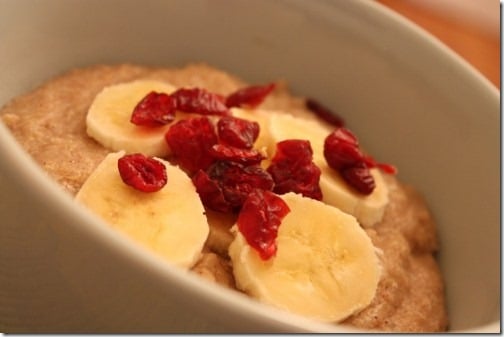 Last week, before I sailed off into my first round of classes, I had a quick breakfast with Brendan at Peacefood Cafe, a sweet little vegan dining spot that's conveniently situated two blocks away from my place. It was a cold morning—snowy and wet and altogether dismal—and so the restaurant's quinoa porridge sounded like the perfect warming treat. It made good on that promise, but not until Brendan and I had modified the dish substantially.
First came the banana, which we both ordered on the side. Then came the pomegranate that Brendan had stashed away in his bag, from a fruit tree near his home. This happened to have been my very first time trying pomegranate seeds out—a fact that I tweeted about enthusiastically, as we sprinkled the drippy crimson seeds over our warm porridge.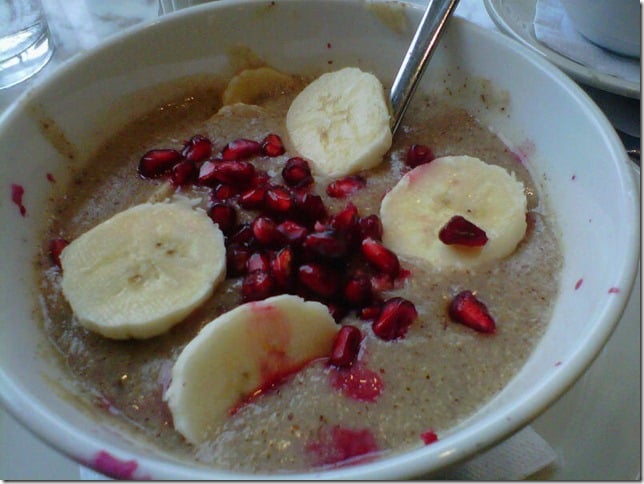 Finally, and after I got that photo, we both mixed a scoop of Vega Sport Optimizer in vanilla into our porridge.
If you're wondering whether or not we felt like giant dorks mixing Vega into our restaurant dish, the answer is yes.
We both really enjoyed the porridge—after all that embellishment, it would have been pretty sad if the dish had disappointed us—but we both agreed that it was more of a quinoa soup than a porridge. The texture was really liquidy, and since I like my oats relatively thick, I resolved that I'd try making quinoa porridge at home and get it to the right consistency for me. A few days ago, as NYC braced itself against 6 degree temperatures, I succeeded.
There's a lot of good stuff to say about this porridge. It's truly a whole foods recipe: you're using cooked quinoa and simmering it with almond milk and blending it gently. It's vegan. It's gluten free. It's full of protein. It's warm and filling, but not quite as dense as oats. And it's also delicious. Need I say more?
I used an immersion blender to break it down into porridge, a la Katie, but you could absolutely use a food processor, and blender (pulse it, don't puree it) or simply not do anything to it. Even if the quinoa is intact, simmering it with almond milk will make it sufficiently "porridge" like. I loved the texture this way!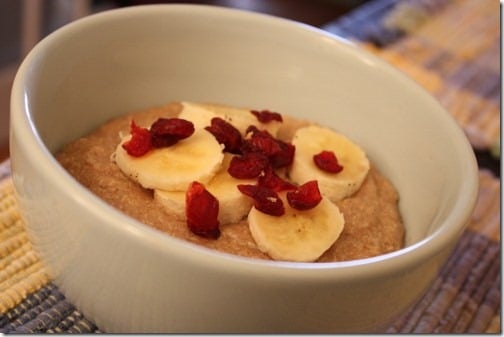 Quinoa Breakfast Porridge (serves 1)
1 1/4 cups cooked quinoa
3/4 cups almond milk
1/2 tsp cinnamon
Dash salt
Agave to taste
Toppings – Your choice!:
Banana
Dried cranberries
Pomegranate seeds
Nuts, seeds
Etc.!
Place cooked quinoa and almond milk in a saucepan and bring to a boil. Lower to a simmer and cook until the quinoa is absorbing liquid and is very creamy. Add cinnamon and salt and sweetener to taste.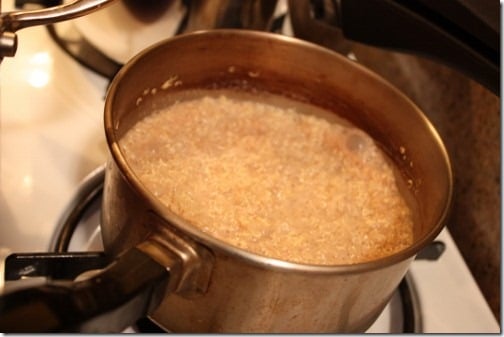 Using an immersion blender, blend the quinoa until it's broken down and smooth, but still a little textured.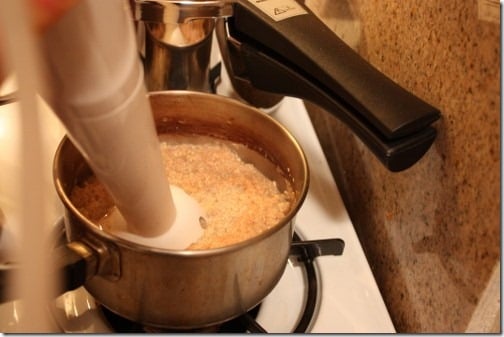 Serve hot!
I didn't have a pomegranate this time, but I did have some dried cranberries, which were just as pretty:
Nutritionist's Note: Served alone with fruit, this porridge may not provide you with enough protein, fat, and calories to make a complete breakfast meal (it all depends on your body and its needs). I'd definitely round it out with some nuts, or a tablespoon of nut butter. Alternately, you can do as Brendan and I did, and mix in a scoop of your favorite vegan protein powder or food optimizer! For example, I chose to mix in a scoop of the Vega Whole Foods Optimizer in vanilla chai, which we know I like. It made for a green bowl, which I thought was cute:
This porridge is a hearty and nutritious whole foods breakfast foundation. With a few creative add-ins—and I know you guys can get creative for me—you'll find that it's a really complete breakfast option. Let me know how you experiment with it!
With that, I'm off for a full day of class and a special community service opportunity, which I'll recap for you guys soon. Happy Tuesday!
xo