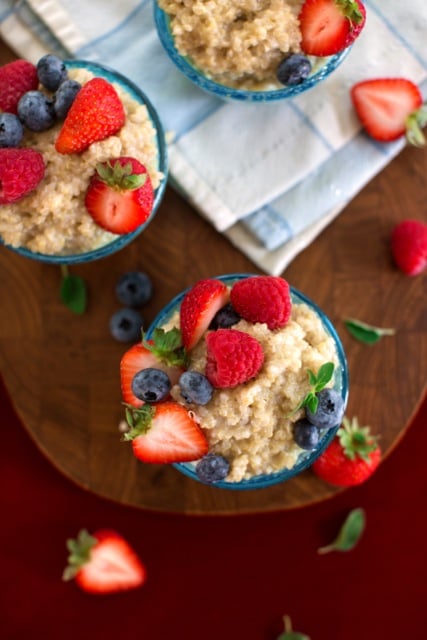 When my boyfriend informed me, early this morning, that it's supposed to be 70 degrees all week,  I let out a mournful sigh. Fall is my favorite season, and I fear that, if this weather keeps up, we'll skip it altogether and transition from unseasonably warm temperatures to winter. I was also feeling a sense of culinary disappointment, because as much as I love smoothies, I'm ready to feel the nippy morning air that makes hot cereal seem so darn appealing.
In anticipation of that day, which I hope is very soon to come, a warm breakfast recipe. This one is from my book, and it's probably one of my top five breakfast recipes from the whole collection. Considering how much quinoa I eat, it's amazing to me that I haven't prepared more quinoa porridges in my day. But this one, with it's perfect combination of coconut milk, vanilla, and cinnamon, is really the only such recipe I need.
Quinoa Breakfast Pudding
Author -
Transfer the quinoa to a sieve and run it under cold water to rinse it off. Drain the quinoa well.

Transfer the quinoa to a medium-size pot. Add 1 cup of the coconut milk, along with 1 cup of water. Add the vanilla bean, sea salt, and maple syrup and give it all a stir.

Bring the mixture to a boil, and reduce the heat to a simmer. Place the lid of the pot on, slightly ajar, so that some steam can escape. Simmer the quinoa until all of the liquid is absorbed and the quinoa is tender, about 15 or 20 minutes. Stir in the remaining 144 cup of coconut milk.

Divide the pudding into four serving bowls. Top with fresh berries, if desired. Serve.
Leftover pudding will keep for two nights in an airtight container in the fridge and can easily be reheated.
From Choosing Raw by Gena Hamshaw. Reprinted with permission from Da Capo Lifelong, © 2014.
While we're on the topic of hot breakfasts, I was lucky enough to host a breakfast genius last week at my place in New York. Ashley, whom many of you know and love through her blog, Edible Perspective, was passing through en route to a conference, and we had her as our guest for the night. It was so fun to finally meet her.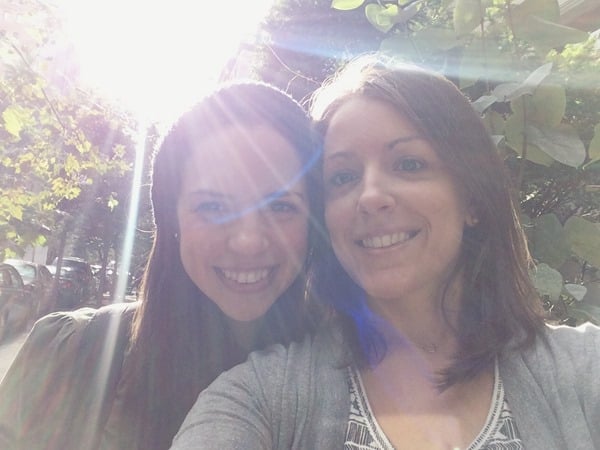 Added bonus? She made the most incredible pumpkin oats for our breakfast on Wednesday morning.
Pumpkin, apples, walnut, dates, almond milk, and rolled oats. It's perfect. Head over to her blog to check it out.
Hope you enjoy these delicious, warming breakfast bowls. And if you like the quinoa pudding, you can find a slew of other (warm and cold) breakfast recipes in my book. If you don't have a copy yet, you can find it via Barnes and Noble, Amazon, Books-a-Million, IndieBound, or iBooks. I hope you find it inspiring, and if you're one of the many folks who've sent me kind feedback on the book through Facebook, Twitter, or Instagram, please know how happy I am that you like it!!
xo