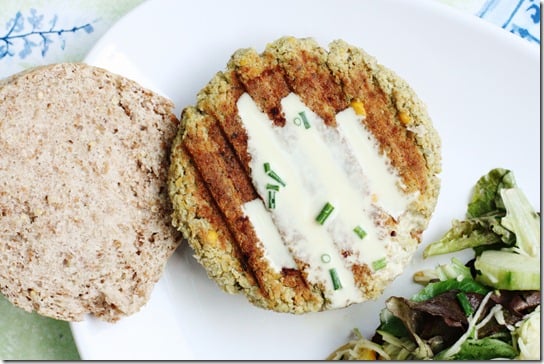 Sometimes I think the main reason I find raw foods appealing is sheer laziness. As difficult as many people find raw foods to be, not having to roast, fry, sauté, or boil a thing appeals to my need to get food onto my table quickly at the end of the day. And at the moment, it appeals to my aversion to raising the temperature of my kitchen by a single degree.
Which is why I've cooked nearly nothing in the last four weeks. Between time constraints and heat, it's been all cool food, all the time. Yesterday, however, I was starting to crave some variety, and veggie burgers sounded particularly good. What didn't sound good was the concept of sautéing onions and garlic, waiting for rice to cook, or roasting anything. And that's how these burgers were born.
Though you'll need to cook the quinoa and beans in the recipe, you won't have to cook any vegetable add-ins, and you have the option of grilling the burgers, which is at least a little faster than baking! In all, I think you'll find, as I did, that these burgers are pretty quick and easy to make, and I think you'll be very delighted with the taste.
Believe it or not, veggie burgers are one of the foods I struggle most with as a cook. I've got lots of flavors I love, and a few stellar recipes (like my foolproof tofu burgers, homemade sunflower burgers, and edamame ginger lime burgers), but I've also had a ton of flops: mushy burgers, crumbly burgers, bland burgers, and salty burgers included. These burgers aren't perfect, but they're really tasty, really easy, and I thought the texture was pretty spot on.
As you'll see, the star of the dish is Za'atar spice, a remarkable blend of sumac, thyme, oregano, marjoram, sesame, and salt. Sometimes, pine nuts or cumin are mixed in. I've long hoped to make my own Za'atar blend, but until I do, I find it at Middle Eastern groceries, online (Penzey's and The Spice House both carry it, as does Nuts, though be advised that the Nuts spice is not gluten free), which is where you'll find it, too. If you can't locate any, try using a blend of 1 tsp thyme, 1 tsp oregano, a dash of cumin, and a tsp of sesame seeds instead. If you're a gluten free eater, take care that the spice blend you choose is GF certified.
Quinoa Chickpea Burgers with Za'atar Spice and Creamy Tahini Sauce (vegan, gluten free, soy free)
Makes 4-6 Burgers
1 cup quinoa, dry
2 1/4 cups water
1/2 cup pumpkin seeds
2 cups chickpeas (cooked)
1 tbsp tahini
2 tbsp fresh lemon juice
1/4 cup sundried tomato
1 tbsp za'atar spice
1/4 tsp sea salt
2 tbsp chives, snipped into small pieces
Black pepper to taste
1 tsp garlic powder or 1 small clove garlic, minced (optional)
Water
1. Rinse quinoa and place in a pot with water. Bring water/quinoa to boil. Reduce to a simmer and let quinoa cook till water is absorbed and you can see some of the "ribs" of the grain coming loose. Turn off heat, fluff quinoa, and let sit, covered, for ten minutes or so.
2. Place pumpkin seeds in a food processor and grind to a fine meal. Add chickpeas (either home cooked, or canned) and quinoa and pulse to combine well. Add sundried tomato, tahini, lemon juice, za'atar spice, salt, pepper, garlic, and chives. Pulse continually until mixture has all come together. Add water if necessary to thin the mixture into proper "burger" texture. Stop when it's still quite firm, but easy to handle and not too sticky.
3. Place mixture into 4-6 patties. Grill or pan fry till crispy and golden brown on each side, or bake at 350 for 25 minutes, flipping once halfway through.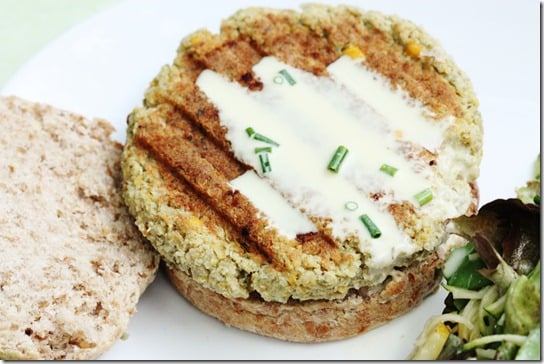 If you like, serve these delectable burgers with some of the tangy tahini sauce, below.
Tangy Tahini Sauce (gluten free, vegan, raw)
1/4 cup tahini
1 tbsp lemon juice
3 tbsp water
1 tbsp apple cider vinegar
1 tbsp agave syrup or 1/2 packet stevia
1/2 tsp cumin
1/2 tsp coriander
1 tbsp wheat free tamari (or coconut aminos for a soy free recipe)
1 tbsp minced chives
Blend all ingredients in a magic bullet, VitaMix, blender, or food processor until smooth and creamy.
Top each burger with a tablespoon or so of the sauce. Serve on an Ezekiel sprouted grain bun with a big salad:
Or, if you're a gluten free eater, these burgers are gluten free themselves, so you can serve it on a thick slab of tomato instead:
Beautiful presentation, too.
This meal came together (salad included) in half an hour last night. These days, that's the best kind of dinner I can think of—cool or hot.
Any fans of Za'atar spice out there? If so, I'd love to hear how you use it, and whether or not you make your own. In the meantime, here's another recipe to try!
With that, it's back to listening to the thunder that I'm hoping will cool D.C. down. Goodnight!
xo
I am submitting this recipe to Ricki's Wellness Weekend, July 19-23.