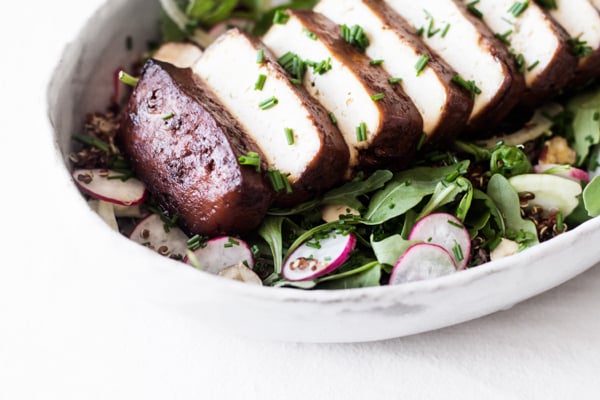 I've written a lot about the idea of a "meal-sized salad"–i.e., a salad that's nutrient dense enough to hold its own as dinner or lunch. Salad creation is often one of the first topics I delve into with my nutrition clients, many of whom are trying to eat more salad, but finding that they're simply not getting full enough with the mixtures they're making.
The key? Protein + carbs + fat. A little bit of each of the three macronutrients we need to keep going. And in addition to those things, of course, tons of tasty ingredients that add color, texture, and taste to your salad creation. This quinoa citrus salad with smoked tofu is a perfect example: tons of flavor, lots of different textures, and a very wonderful balance of fat, protein, and carbs.
Like each and every salad creation that I share on my blog, this one is adaptable. If you'd prefer tempeh to tofu, go for it (though I kind of love the simple baked tofu in this dish). Choose white or red quinoa, or use brown rice, farro, or wheatberries. Swap out the vegetables as needed.
What I do recommend is that, no matter how you modify this dish, you give some thanks for its incredible nutrition: protein from the quinoa and the tofu, plenty of healthy fat (from olive oil and hazlenuts), and some complex carbs to keep your energy even. Those things, plus a slew of antioxidants and other micronutrients. And, of course, tons of flavor.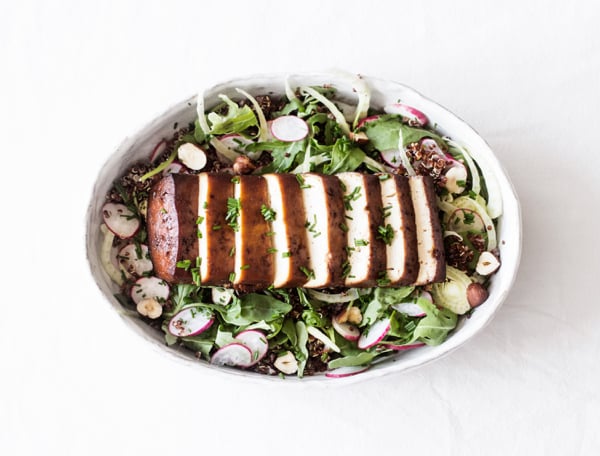 Red Quinoa Citrus Salad with Hazelnuts, Fennel, Radish, and Baked Tofu
Author -
For the salad:
1

cup

red quinoa

dry

Sea salt

1

cup

red radishes

thinly sliced

1

cup

fennel

thinly sliced

2

cups

tightly packed baby arugula

1/4

cup

roughly chopped

toasted hazelnuts or walnuts

1/4

cup

chives

minced (substitute parsley, green onion, or basil)

8

ounces

smoked tofu

cut into slices (you can find this at most Whole Foods or other health food stores; you can also substitute your favorite baked tofu or another store-bought, pre-marinated tofu)
For the dressing:
1/4

cup

olive oil

3

tablespoons

orange juice

1

teaspoon

orange zest

1

tablespoon

lemon juice

1/2

teaspoon

sea salt

1/4

teaspoon

black pepper

1

teaspoon

maple syrup
Rinse the quinoa through a fine sieve. Add the quinoa and 2 cups water to a medium sized saucepan. Bring the water to a boil. Reduce the heat to low, cover, and simmer for 15 minutes. Remove the quinoa from heat, fluff gently with a fork, and re-cover. Allow it to steam for 5 minutes.

To prepare the salad dressing, whisk together the olive oil, orange juice, orange zest, lemon juice, sea salt, black pepper, and maple syrup.

Finally, to prepare the salad, mix the quinoa, radishes, fennel, arugula, nuts, and chives together in a large mixing bowl. Add the dressing and toss to combine. Season the salad to taste with extra salt and pepper, and toss again. Divide the salad onto four plates, and top with the tofu. Serve.
Leftover salad will keep well overnight.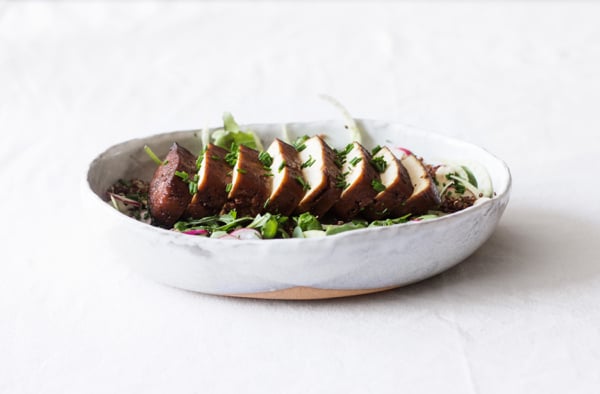 Most of the ingredients in this salad, incidentally, were courtesy of my From the Farmer subscription. If you missed my original review post of this awesome DC produce delivery service, you can check it out here. I'm having a really wonderful time using the ingredients I get to prepare seasonal dishes, and the service is definitely inspiring a lot of creativity in the kitchen.
Final bit of exciting news tonight: I got word today on Twitter and on Instagram that Amazon has started shipping copies of my book! I'm so excited that it'll finally be in readers hands (and also incredibly nervous to see what you all think).
If you missed my announcement about the book, it's a collection of 125 recipes, all vegan, mostly raw, and a lifestyle guide that features practical guidance, nutrition information for aspiring or longtime plant-based eaters, and 21 days of practical, easy to follow meal plans. My goal was (is) to inspire folks to explore vegan cuisine, to teach raw food recipes and techniques while also discouraging dogma or alarmism, and to encourage a compassionate lifestyle (compassion to animals, compassion to the self).
You can order the book right now on Amazon, on B&N, on Powells.com, and you can find it on IndieBound. If you're so inclined, I hope you'll check it out. To my readers who already have it on the way, thank you for your support–I'm so grateful!
xo
Images courtesy of Lighter