Last summer, while we were still in D.C., Steven and I created a tradition of having a hearty dinner salad at some point each weekend. It was a nice way to enjoy a low-stress, adaptable weekend meal that would let us clear out the fridge before we replenished groceries for the week ahead. This past winter, the Saturday night dinner salad tradition morphed into a soup + salad tradition to accommodate the change in seasons. It became routine for us to catch up on housework and other weekend activities as a warm, fragrant pot of soup simmered on the stovetop, which we'd soon enjoy with something fresh and green.
We've been alternating between dinner salads and summery soup + salad combinations this summer, and it continues to be a cherished, homey Saturday night routine. The salad I'm sharing today originated over a week ago, after my return home from New Orleans. I didn't intend to blog about it, but it was so good that I decided it would be a shame not to. I made it again this past weekend, and once again, we loved it. It's rare for us to repeat a salad twice in one week, but this one is worth it.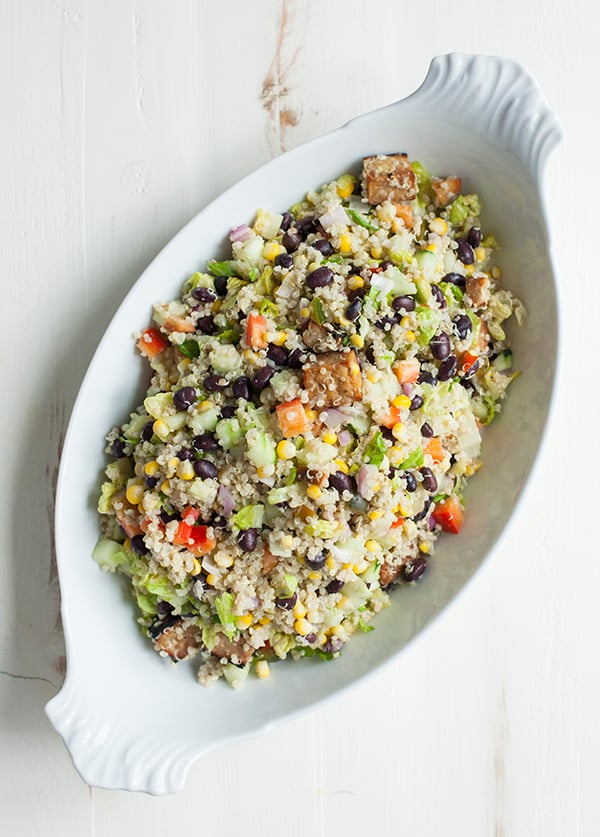 As you can see, this salad is full of texture and color. It's a summery mix with Mexican-inspired flavors, including cilantro, lime, and fresh corn. There's some prep work required–namely, the cooking of the quinoa and the marinating/baking of the tempeh–but the end result is well worth it, a fresh, bright, and crunchy meal that's also incredibly hearty.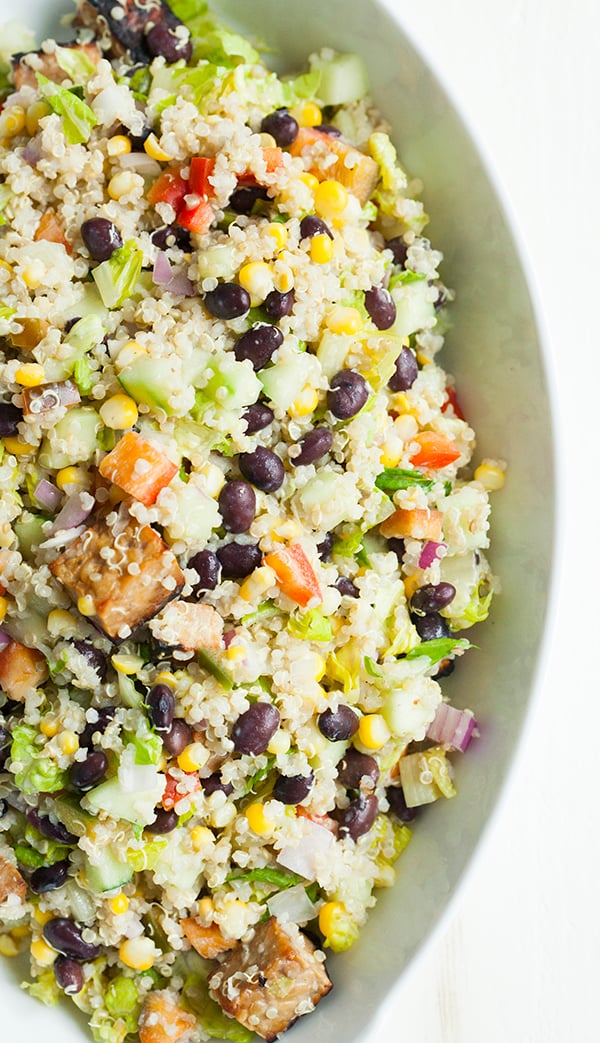 The first time I made this salad, I used Beyond Meat lightly seasoned strips in place of tempeh. This definitely streamlined the process, and the results were delicious.
This past weekend, when I recreated the salad, I tried it with baked and marinated tempeh. Both versions are good; the tempeh version has more earthy flavor and umami, while the Beyond Meat version offers the convenience of a prepared product and an authentic chicken texture and flavor, if that appeals. You could also use seasoned, baked tofu here–homemade or store-bought! I'm offering the recipe with tempeh, but feel free to pick another plant-protein of choice.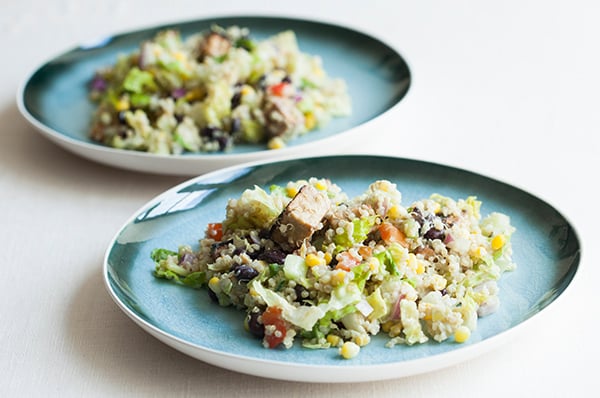 Quinoa, Corn, Black Bean, and Tempeh Salad with Creamy Cilantro Dressing (gluten free)
Servings:
4
large or 6 small servings
Ingredients
*For the Salad*:
2

tablespoons

low sodium tamari

2

tablespoons

apple cider vinegar

1

tablespoon

maple syrup

1

clove

garlic

crushed

1

tablespoon

water

1 8-

ounce

block tempeh**

1

cup

dry quinoa

1 1/2

cups

cooked black beans

or 1 can black beans, drained and rinsed

1/2

cup

chopped red onion

1 1/2

cups

corn kernels

from 2 large ears, raw or blanched

1

cup

chopped cucumber

1

cup

chopped bell pepper

4

cups

finely chopped romaine lettuce

1/4

cup

chopped cilantro leaves
*For the Creamy Cilantro Dressing*:
8

ounces

silken tofu

3

tablespoons

lime juice

2

tablespoons

olive oil

1

shallot

chopped

1/2

cup

water

1/2

teaspoon

salt

1/4

cup

chopped cilantro

** Note that the marinated and baked tempeh can be replaced with 8 ounces of seasoned tofu cubed

Beyond Meat seasoned chicken strips, soy curls, or another favorite plant-based protein
Instructions
Whisk together the tamari, apple cider vinegar, maple syrup, garlic, and water. Cut the tempeh into cubes and place them in a storage container or a small baking dish that's roomy enough for them all to fit in a single layer. Pour the marinade over the tempeh cubes and transfer them to the fridge. Marinate for an hour, or up to 12. Preheat the oven to 350F. Transfer the tempeh cubes to a parchment lined baking sheet or oven-safe baking dish. Bake the tempeh cubes for 15-20 minutes, or until they're lightly browned and crispy at the edges, flipping them halfway through.

While the tempeh bakes, Rinse the quinoa through a fine sieve until the water runs clear. Combine it with 2 cups of water in a medium sized pot. Bring the water to a boil. Reduce the water to a simmer. Simmer the quinoa for 15 minutes, or until all of the water has absorbed into the grain. Fluff the quinoa lightly with a fork, cover it again, and let it rest for 10-15 minutes.

Combine all of the cilantro dressing ingredients in a blender and blend until they're creamy and smooth. Add an extra splash of water if the dressing is too thick.

Combine the cooked quinoa, tempeh, black beans, onion, corn, cucumber, bell pepper, romaine, and cilantro in a large mixing bowl. Add enough dressing to coat the salad very well (I used about 2/3 of the whole dressing recipe) and mix the salad thoroughly. Serve. Salad leftovers will keep overnight in an airtight container in the fridge.
This salad is packed with protein, thanks to the quinoa, beans, tempeh, and the silken tofu in the dressing. It's an ideal option for plant-based eaters who are trying to maximize protein intake, and it has longterm staying power in terms of satiety!
I love lots of textural variety in a salad, and the crispy tempeh cubes, chewy beans and quinoa, and crunchy veggies truly fit the bill here. The dressing is light and lovely, and any leftovers can be used for future salads or as a simple dip for veggies.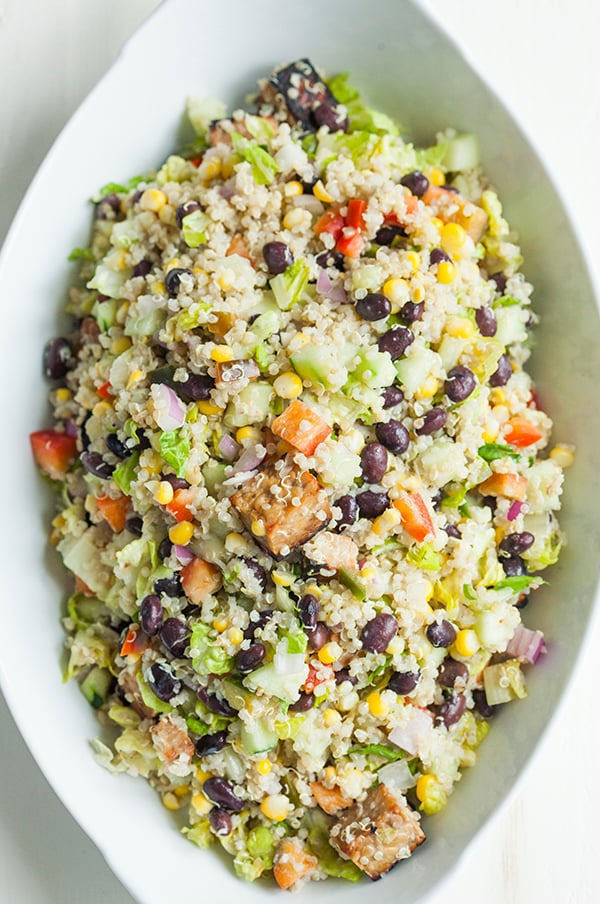 If you try it, feel free to modify the ingredients a bit based on what you have in the fridge. Dinner salads are built for personalization.
Hope you enjoy the recipe! And if you make any tasty modifications, I'd love to hear about them 🙂
And on that tasty note, it's time to me to return to work. I hope that your weeks are off to an excellent start!
xo