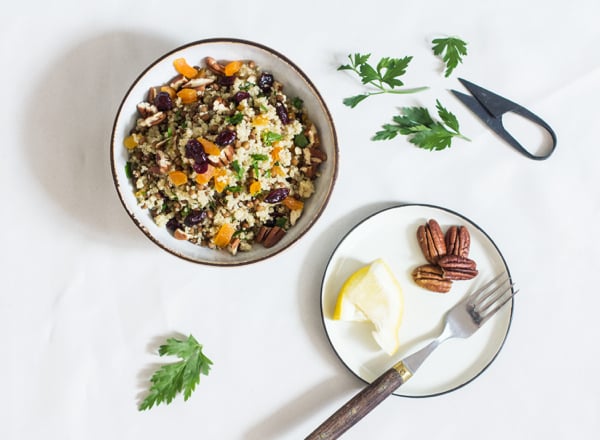 Thank you so very much for your responses to my New Year's post. I hope that 2014 is a good year for everyone so far.
Perhaps it's not quite forward-looking to make my first recipe of 2014 a dish I ate on Christmas day of 2013, but this last-minute quinoa salad was so tasty and easy that I have to share it with you all. It features quinoa, pecans, dried cranberries, dried apricots, lentils, parsley, and a little lemon juice. If your family members or friends are skeptical about quinoa, I guarantee that this dish will help to win them over!
I wish I'd gotten more photos, because it was really a beautiful grain salad, but I didn't have my camera on me. Hopefully the recipe itself will suggest how colorful and varied in texture the dish is.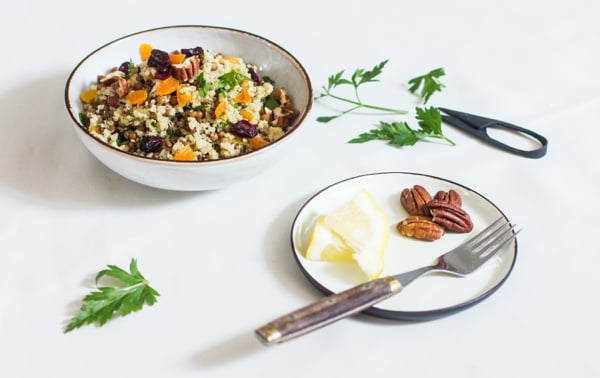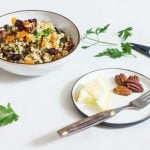 Quinoa Salad with Dried Cranberries, Apricots, Lentils, and Pecans
Author -
1 1/2

cups

quinoa

dry

3

cups

low sodium vegetable broth

1

cup

cooked brown or green lentils

1/2

cup

dried cranberries

1/2

cup

dried apricots

chopped

1

cup

pecans

chopped if desired, or left whole for a nice presentation

2

tablespoons

olive oil

1

tablespoon

lemon juice

Sea salt and black pepper to taste

1/2

cup

parsley

chopped
Rinse the quinoa through a sieve until the water runs clear. Place it in a medium sized pot, along with the vegetable broth. Bring to a boil. Reduce to a simmer and cover. Simmer until the quinoa has absorbed all of the liquid (about 15 minutes). Fluff the quinoa with a fork, re-cover, and allow the quinoa to steam for 10 minutes.

Combine the quinoa with all remaining ingredients and season to taste with sea salt and black pepper. Serve.
Leftovers will keep for up to four days in an airtight container in the fridge.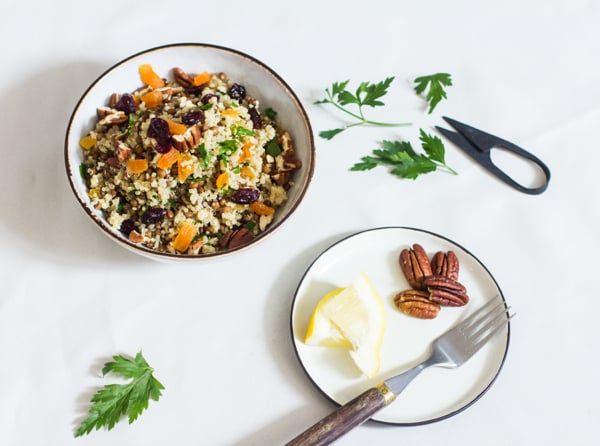 And there you have it: an easy, nutritious, and crowd-friendly dish without any fuss. I've historically tried some very ambitious things on Christmas (raw lasagna, shepherd's pie, a beet and cashew cheese tart, etc.). This year I just didn't have the inspiration to make something so ornate, but I can't say that my contribution to the meal was any worse off. My dinner mates loved the dish, and a few of them went back for seconds. I hope you'll enjoy it, too.
Before I go, I want to remind my readers that I am once again offering nutrition counseling services. I've been working with clients since early December, and I'm loving every moment. It feels wonderful to help folks find balance, free themselves from regimentation or dogma, make more nourishing food choices, and–most important–be compassionate to themselves in the realm of food. I've missed this kind of interpersonal work more than I can say, and I feel so lucky for the chance to practice it again.
It's January, which means you'll be bombarded with quite a lot of dieting and fitness "noise." If you'd like to find a renewed commitment to health and wellness that doesn't involve black-or-white thinking, extreme measures, or alarmism, but does involve common sense, an evidence based perspective, compassion, and joy, please feel free to email me at [email protected]. I'd love to share my rates, tell you more about how I work, and help you to decide if my services are right for you.
Stay warm out there, friends, and I'll see you soon.
xo
Images courtesy of Lighter.