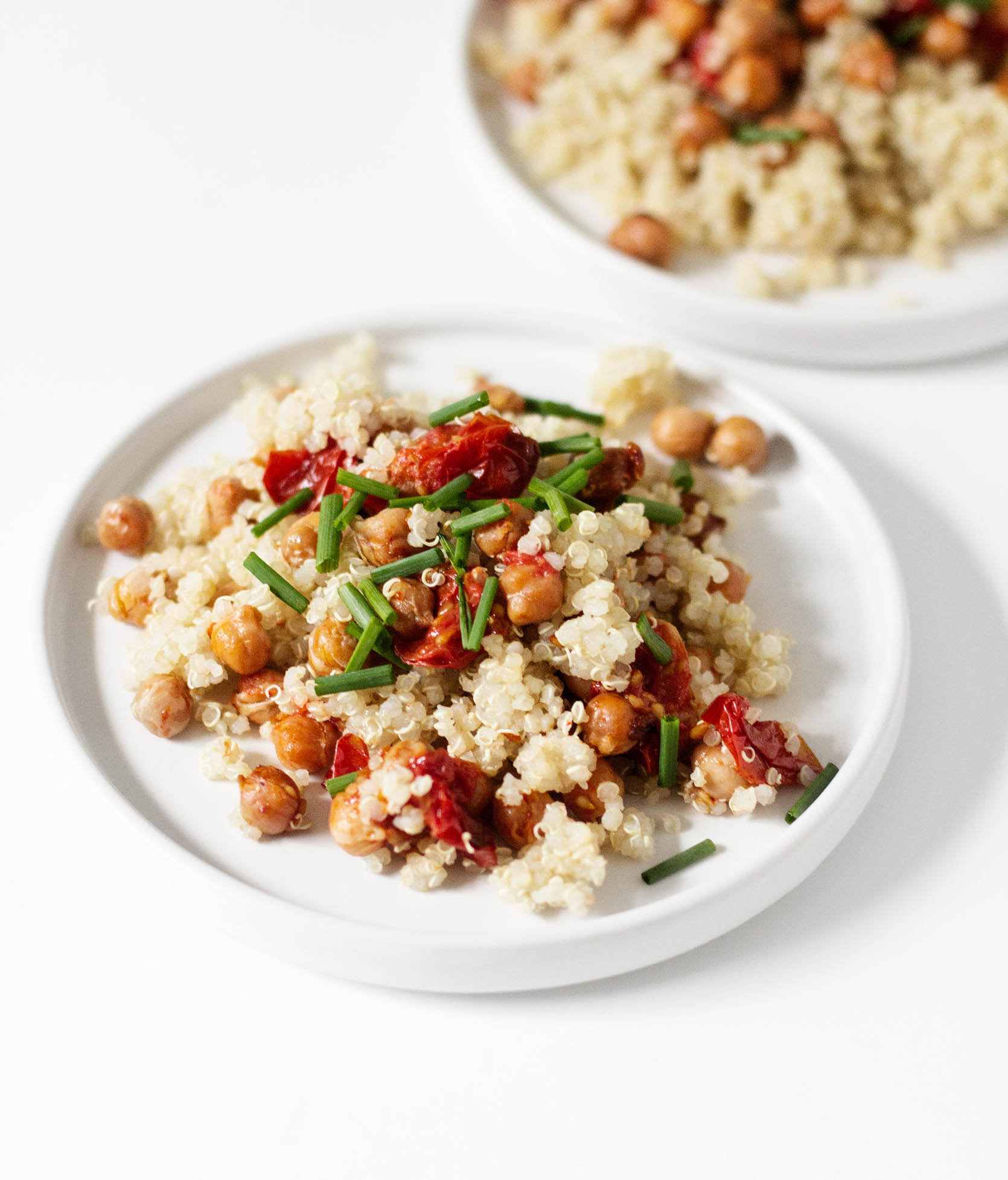 To some extent, I think of the food that I post on this blog as "comfort food," in the sense that my recipes always grow out of personal likes and dislikes, food that feeds my spirit and makes me happy. A lot of the recipes I share these days are meals that Steven and I have enjoyed enough to repeat a few times, which means that they're familiar and comforting to us.
But today's recipe deserves a special "comfort food" designation, because it's such a perfect expression of flavors and ingredients that I love and return to, again and again. I also tend to think of comfort foods as being relatively simple, or at least easy enough to prepare that we can learn the process by heart and replicate it often. In that sense, this recipe fits the bill, too.
Ever since I made my polenta tart with garlicky white bean spread and roasted cherry tomatoes earlier this summer, I've been on a tomato roasting kick. It's so easy to roast a pan of them at the start of a week and put them in various recipes, from pasta dishes to salads to grain salads. They're also great on toast, with either homemade hummus or herbed cashew cheese as a bottom layer. And they're wonderful, apparently, with quinoa.
The nice thing about this recipe is that very little seasoning or fuss is needed once the tomatoes and chickpeas are roasted. They'll absorb rich, roasted garlic flavor as they cook, and as you mix the tomatoes into the quinoa, they'll be a little sweet and juicy, providing the grain with plenty of moisture and flavor. After that, a simple drizzle of balsamic vinegar, salt, and a sprinkle of chives is all it takes to create a vibrant, satisfying, simple bowl of whole grain goodness.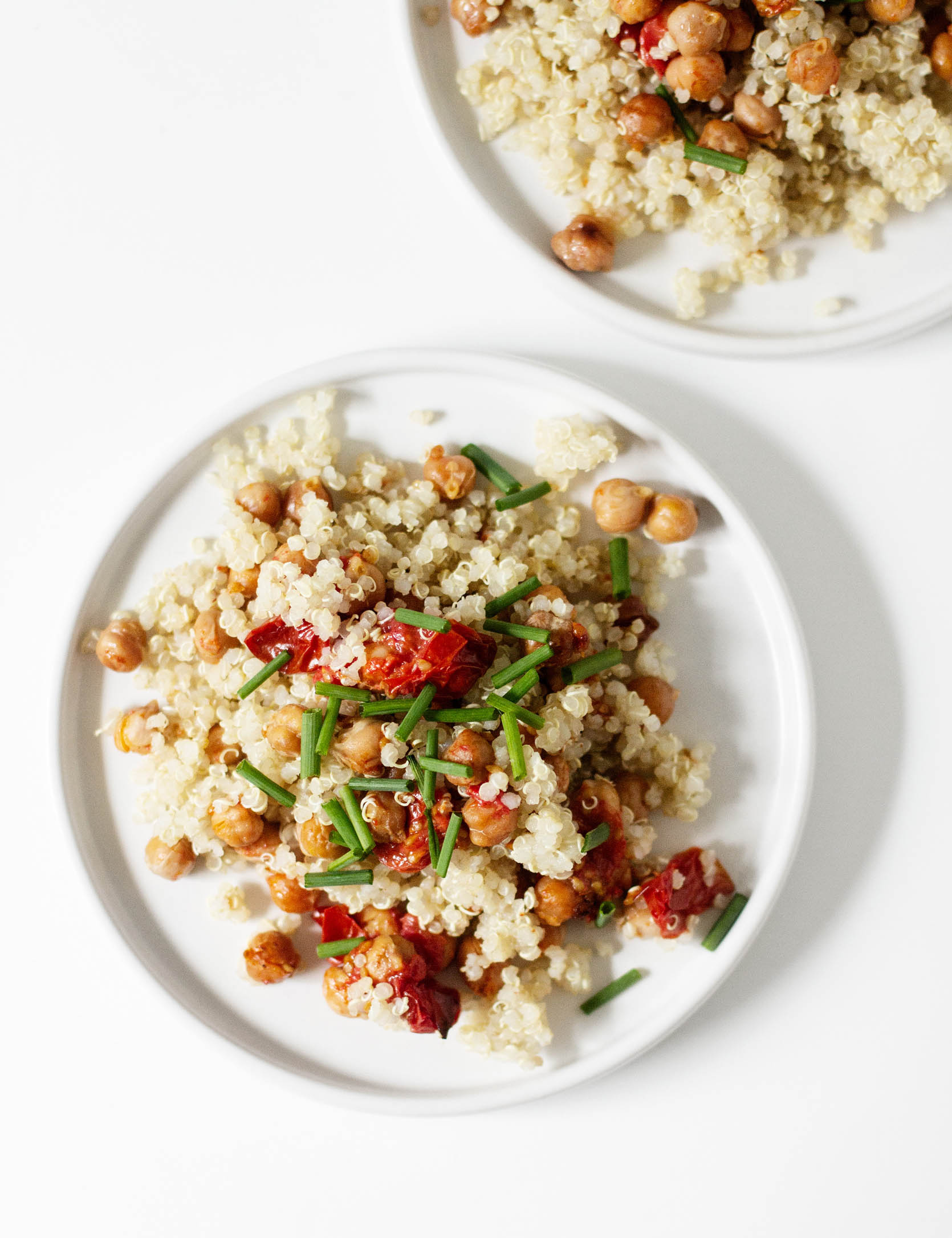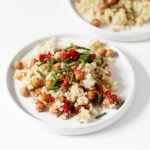 Quinoa with Garlic Roasted Cherry Tomatoes & Chickpeas
Author -
1

cup

dry quinoa

2

pints

cherry tomatoes, halved (about 1 1/2 pounds, or 3-4 cups)

2

cups

cooked chickpeas (or 1 can chickpeas, drained and rinsed well)

1

tablespoon

olive oil

1

head garlic

Salt and pepper

1

tablespoon

balsamic vinegar

1/4

cup

chopped chives
Preheat your oven to 375F. Toss all of the tomatoes and the chickpeas (it's fine to mix them all together) in the olive oil and a generous sprinkle of salt and black pepper.

Transfer the tomatoes and the chickpeas to one or two parchment-lined baking sheets (big enough to hold them all in a single layer). Break the head of garlic into cloves. Without peeling the cloves, nestle them in between the tomatoes and chickpeas on the baking sheets. Use all of the cloves. Roast the tomatoes and chickpeas for 15-25 minutes, or until the tomatoes are browning and collapsing and the chickpeas are crispy. Check them once, halfway through, gently nudging them around if they're sticking to the parchment.

While the tomatoes and chickpeas roast, rinse the quinoa through a fine sieve for about a minute. Drain the quinoa and then place it in a medium sized saucepan with 2 cups of water. Bring the quinoa to a boil and reduce it to a simmer. Cover the quinoa and simmer for 15 minutes, or until all of the water has been absorbed. Turn off the heat and fluff the quinoa with a fork. Cover it again and allow it to rest for ten minutes.

Remove the garlic cloves from the roasted tomatoes and chickpeas. If the cloves are on the bigger side, then you can squeeze them into the dish for extra garlicky flavor, or you can save them and squeeze the roasted interior of the cloves into polenta, pasta, or hummus. Smaller cloves will probably dry up in the cooking process, in which case you can just discard them.

In a large mixing bowl, combine the cooked quinoa with the tomatoes, chickpeas, balsamic vinegar, and chives. Mix it all well, and then season to taste with additional salt and pepper and an extra drizzle of olive oil, as well as any additional dried or fresh herbs you like (oregano and thyme would be lovely). Serve.
Leftover quinoa will keep for up to three days in an airtight container in the fridge.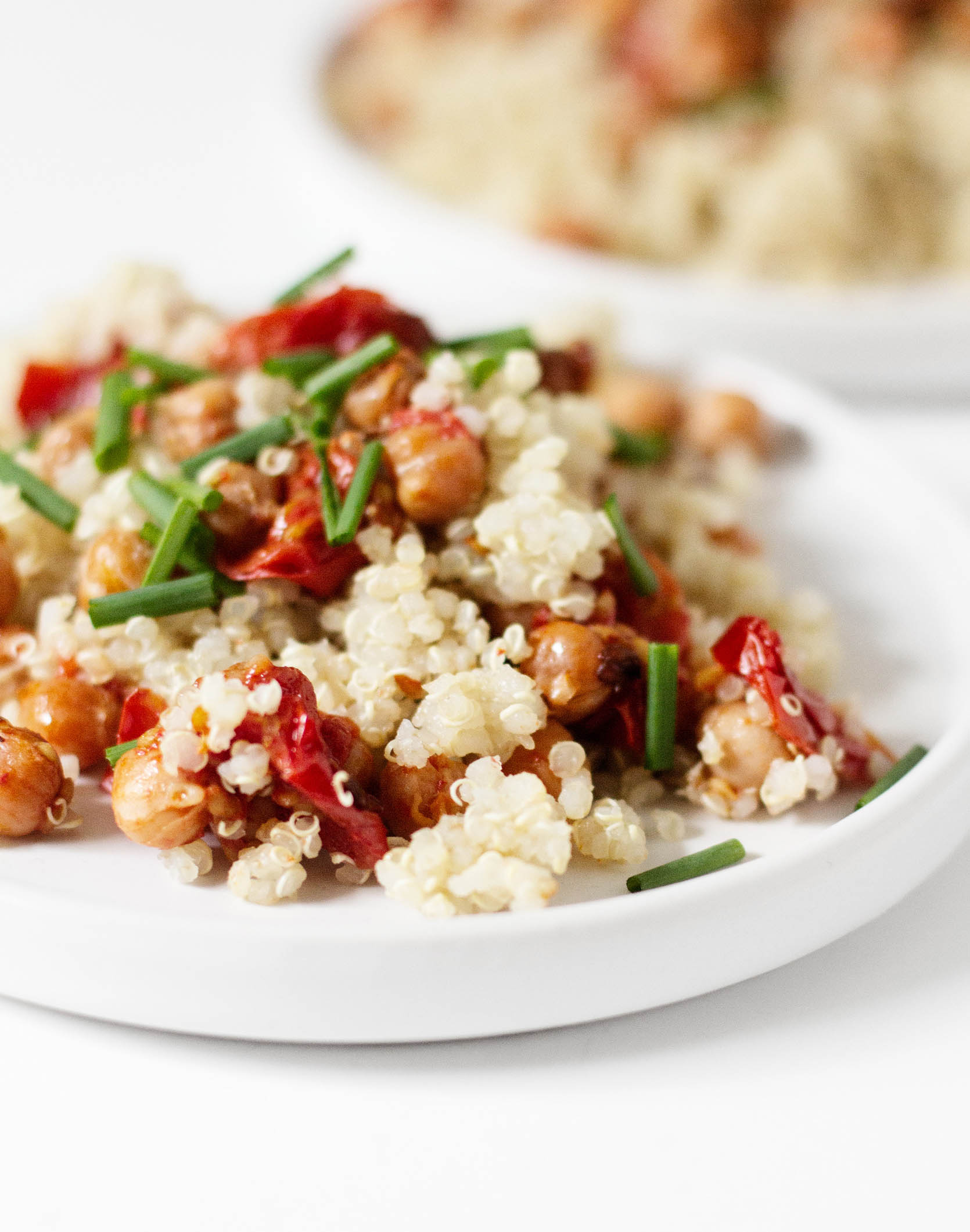 This is a perfect grain to serve to friends–you can prepare it in advance and then pair it with a summery soup, or you can use it as a side dish for grilling and barbecues. It's nice hot or cold, and it goes really well with grilled tofu. Other vegetables would work well here, too, including roasted eggplant, zucchini, or asparagus. And if balsamic isn't your favorite flavor, fresh lemon juice or sherry vinegar will give the grain salad a little acid.
Hope you'll enjoy this recipe at some point before tomato season is behind us. I'm clinging to august produce right now, and have no intention of stopping until I have to, which means another summery recipe is on its way later this week. For now, I wish you a happy Tuesday!
xo