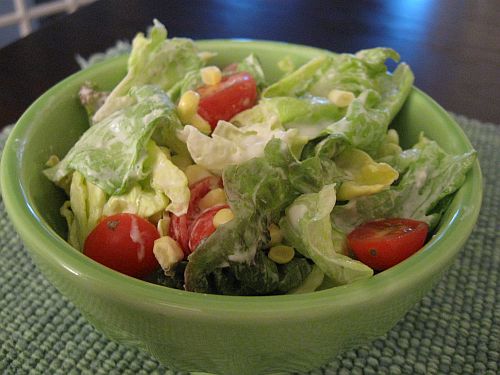 According to a New York Times article a few days ago, it had rained fifteen out of nineteen days in June thus far. I feel like I'm living in the Pacific Northwest, but without all the vegans. It sucks.
To cheer myself up, I've decided to post an unmistakably summery recipe. Are there any two vegetables that epitomize summertime more than corn and tomatoes? I spend the entire year in produce waiting for summer tomatoes: they're one of the vegetables I can't stand not to eat seasonally (if I do buy them in winter, it's from the greenhouse grower in Union Square), and they happen to be one of my favorite foods, so I'm giddy when they start to appear at the Farmer's Market in June. Now that they've arrived, I'll be devouring them all summer.
I've always thought of my father's relatives as having prototypically American taste in food. This is, perhaps, because I've always examined them in contrast to my mother's boisterous Greek family, who would make anybody who owns a barbecue seem like a consummate WASP. That said, they are pretty darn all-American (think New England, cookouts, football, and khakis, not to mention exuberant observance of the 4th of July). And this was embodied the food I remember from my summers with them in New Hampshire as a child: there was sherbert. There was mac and cheese. There were hot dog buns and Vlasic pickles and coleslaw mixes and beef patties. There was blueberry pie and rhubarb jam.
But let's give credit where credit is due. There was also salad. And this salad was given a delightfully all-American twist in the buttermilk dressing I recall my Grandmother having a fondness for. It was sweet and sour, creamy, and specked with chives – and, as I recall, it was really, really good.
So as an ode to the approaching July 4th weekend — and an homage to the summer that threatens to elude us forever — I've created a cheery summertime salad:  tomatoes, corn, and butter lettuce tossed in a creamy buttermilk chive dressing.
This salad couldn't be easier. Rip up a head of butter lettuce, chop some tomatoes, chop some corn, and toss. The most complicated part of the recipe is the dressing, and if you have a Vitamix, it will take a matter of minutes to whip up. The resulting dish is light and delicate, yet creamy; sweet, but not overly so. I loved it, and I'm planning on making it again soon.
Tomato, Corn, and Butter Lettuce Salad with Buttermilk Chive Dressing (serves 2, or 1 hungry Gena)
Ingredients
For the Salad:
1 head butter lettuce
1 small tomato, chopped, or about eight cherry tomatoes, halved
1 small ear's worth of corn
Chopped chives, for garnish
Buttermilk Chive Dressing (makes about 1 1/4 cups)
½ cup raw cashews, soaked
½ cup raw pine nuts, soaked
¼ tsp salt
¼ tsp onion powder (optional)
Juice of 1 lemon
2 tsp seasoned rice vinegar (not raw, but not a big deal)
¾ cup water
3 tbsp chopped chives
Directions:
Blend all ingredients but the chives in a high speed blender till smooth. Alternately, blend all ingredients but water in a food processor till smooth, then drizzle in the water slowly (stopping every now and again to scrape the bowl) until the mixture has taken on a smooth consistency. Toss the chives in the finished dressing and stir.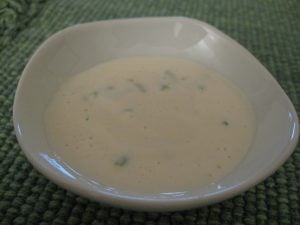 To assemble the salad, toss the vegetables in as much dressing as you need. Garnish with chives, and enjoy!
Here's the salad up close: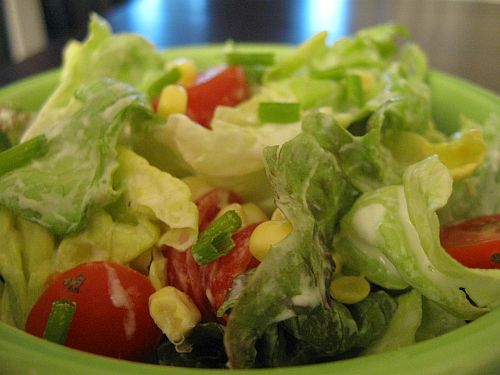 And from afar:
Yum.
Hope these veggies bring a little beam of sunlight into your rainy nights, if you're here in NYC. Have a good one!
xo