In my last post, I showed you my delicious recipe for pretty in pink crackers: in translation, these are pink-hued crackers that I made with the remnants of some beet and vegetable juice.
I also mentioned that I'd had some extra pulp leftover after I made my crackers, and that I'd made another tasty meal with it.
Above you have raw nori rolls, stuffed with a nut pate that I made with my leftover pulp and tons of fresh veggies. They are plump, savory, and simple to make: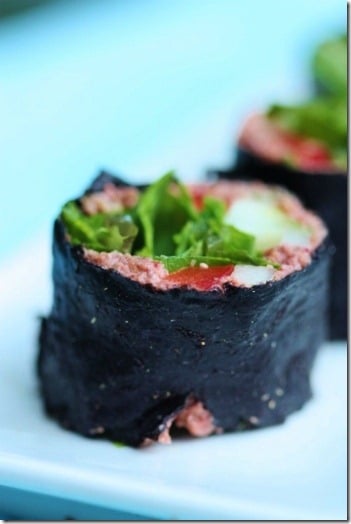 They're also raw, vegan, and full of healthy fat, vitamins and minerals, and iodine rich nori. You can absolutely prepare these with shredded and processed beets and carrots, rather than juice pulp, but if you are using pulp, these get extra bonus points for being a wonderful way to use up the byproducts of your daily green juice.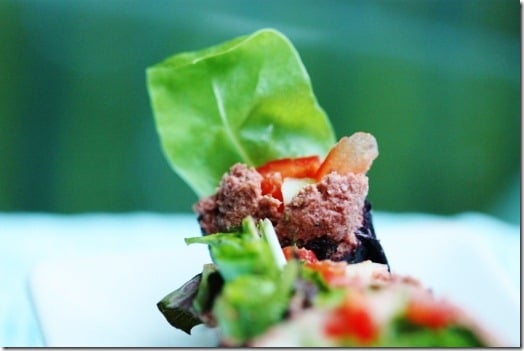 People tend to get really freaked out about sushi-making, and there's no need. Yes, making traditional sushi can be time consuming (I find that getting the rice to a perfect texture and adjusting its seasoning alone is a process) but raw nori rolls are really easy: you just pile some pate, hummus, or other filling onto the bottom 2/3 of a nori sheet, pile veggies into a line along the center of your filling, and then roll from the bottom edge up to the top. Seal with a touch of water. I always wait about 5-10 minutes before cutting my raw nori roll, as the nori becomes softer and a bit easier to handle. Once you slice your long roll into pieces, you have a restaurant worthy and beautiful treat to share with your friends:
I fill my nori rolls up with all sorts of things: parsnip and cauliflower "rice," pate, hummus, dressing and veggies, and regular 'ole brown rice, just to name a few. But I think I like the texture of a pate base the most: reminds me of my beloved nori rolls at Bonobos in NYC!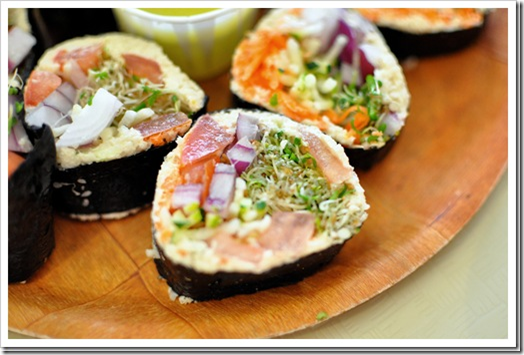 (photo courtesy of Sophia)
Any kind of nut pate will do, but I personally love a little ginger in my nori pates. I'm also a huge fan of my pumpkinseed pate for raw sushi!
To make today's sushi rolls, you'll need juice pulp, preferably with some beets and carrots, or you'll want about a cup and a half of grated carrots and beets. The rest is a mix of almonds, dates, sea salt, lemon, and a hint of ginger: simple, clean, and impossibly tasty.
Raw Nori Rolls with Beet and Veggie Pate (raw, vegan, gluten and soy free)
Makes 4 sushi rolls
2/3 cup almonds
1/2 tsp sea salt (or to taste)
1 1/2 cups pulp from vegetable juice of choice that features beets and carrots OR a cup and a half of shredded carrots and beets
2 pitted dates
1/4 tsp ginger powder OR put ginger into your veggie juice, and the flavor will carry from the pulp
1 tsp sesame oil
1 tbsp lemon juice
1 cup water
4 sheets nori
1 small bell pepper, sliced into thin strips
1/2 small cucumber, sliced into thin strips
Salad greens
1) Place almonds in a food processor and grind with sea salt till a fine meal.
2) Add pulp, dates, ginger (if adding) sesame oil, and lemon juice to processor. Pulse just to combine. Then, turn the motor on and, with motor running, add water in a thin stream, stopping occasionally to scrape sides of bowl. Continue adding water till the pate is a consistency you like. If you use shredded veggies, you'll probably need less water.
3) Place a sheet of nori on your cutting board in a horizontal direction. Cover the bottom 2/3 of the sheet with about 1/4 cup pate. Fill the center of the spread with a long strip of veggies. Roll upwards from the bottom of the sheet (the edge that has filling on it) upward, and seal the end with a bit of water.
4) Repeat, using the remaining sheets. Cut all rolls into even pieces, and serve.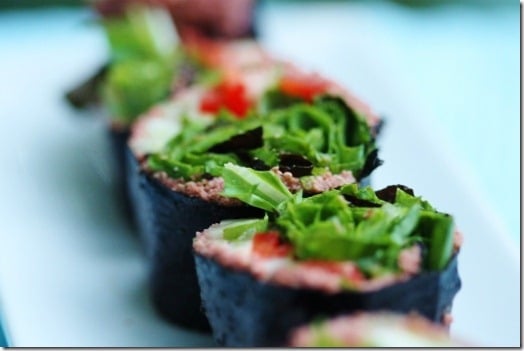 Traditional sushis these are not, but they're no less tasty for it. Serve with a big salad, topped with some lentils or beans and a great dressing, and you'll have a perfect, high-raw meal on your hands!
Before I sign off, I wanted to congratulate my friend Chad Harbach on the publication of his new novel, The Art of Fielding. I've known Chad for years now—we spent our first publishing drink discussing Moby Dick, which is how I knew we'd be friends—and can tell you that he's as brilliant as he is unassuming and kind. He's editing and writing for N+1 for years now, and it makes me really happy to see his name on a book spine, too. For all of you who ask me frequently for book recommendations, this is my fiction pick of the fall.
Chad, congrats—I wish I were in NYC to toast you. But I know that the whole publishing world is doing it in my stead.
xo