In my banana soft serve post, I mentioned that I think there's a delicious, all natural equivalent for nearly every dish to which we're all accustomed. And the BLT—which is apparently the United States' s second most popular sandwich—is no exception. Here's a raw snackfood take on the BLT, which utilizes one of my all-time favorite foods: dulse.
Remember my post on iodine? I mentioned that dulse is my seaweed of choice, and with good reason: it's smoky, salty, not too fishy, and utterly delicious! Inevitably, when I introduce my clients to dulse, it's love: they start to use it in everything from tossed salads to soups to sandwiches. And all make the same observation: dulse tastes a while lot like bacon.
Well, OK. Maybe  not exactly like bacon. Even so, dulse is about the best plant-based and natural equivalent you can find for that most beloved of meats. I urge clients to toss it in salads in place of bacon, or even to replace the saltiness of cheese. Ever make spinach salad with bacon or bacon vinaigrette? Try using dulse instead.
Or, use it in a veggie BLT snack. The idea here is so damn simple: take two slices of romaine lettuce (bacon lettuce or napa cabbage would be great, too), and layer it with tomato, dulse, and the raw mayo I'm about to share.
Gena's Raw Almondaise
1 cup almonds, soaked at least 8 hours
1 tsp salt
Juice of two lemons
1 tbsp apple cider vinegar
1 clove garlic
1 cup water
½ cup olive oil
Put all ingredients in a high speed blender or food processor and blend very well. Next, drizzle the oil in a thin stream, just as you would to make an emulsified dressing. When you finish, adjust the tartness and saltiness and texture to suit your taste.
Here's the sandwich, pre-dressing:
The mayo, stored in a traditional-looking diner squeeze bottle:
And the sandwich, ready to be covered.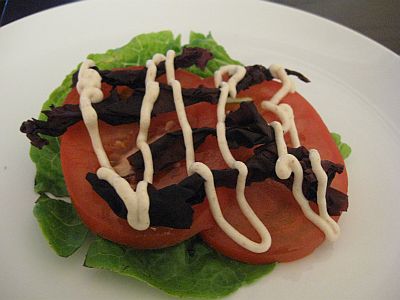 Yum.
I hope you'll all love this little spin on comfort food. Soft serve, berries and cream, BLT sandwiches, spaghetti: what's next, I wonder?
xo