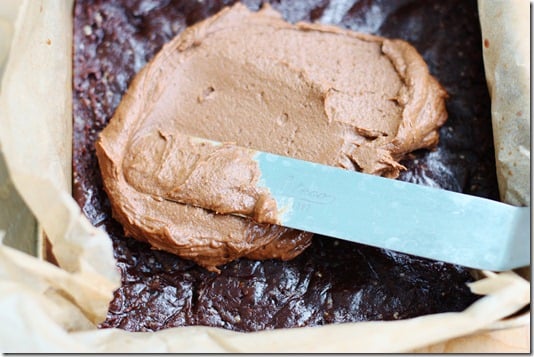 As I mentioned yesterday, when I attended Beth's superb Feastly dinner party last weekend, I wanted to bring a small token of my appreciation. I know how much effort goes into being a hostess, and I was so impressed with Beth's elegance in pulling it all off! I decided to make raw brownies, which I love both for their taste and for their simplicity. The raw brownies I've always made are four ingredients: dates, walnuts, cacao, and sea salt. Easy and delicious. But after I made them, and was getting ready to wrap them up, it occurred to me that the brownies would be even more delicious with a little extra something—frosting, perhaps?
Having never frosted my raw brownies before, I wasn't sure what to use. I could do chocomole, of course, but one does tire of the same old recipe. I could do a cashew or coconut frosting, but heck, I overuse those ingredients in my raw treats, too. I thought about using superfoods like maca or mesquite, thought about using banana in some way, and then finally it occurred to me that I did have a can of organic pumpkin sitting in my pantry. Was chocolate and pumpkin too radical of a frosting concept??
A little Googling indicated that chocolate and pumpkin play together very nicely indeed; just check out Isa's chocolate pumpkin bread if you need proof. I saw it, decided that I had all the evidence I needed to proceed with my idea, and got to blending. This frosting was every bit as easy as the brownies themselves, and honestly, I could easily enjoy it on its own, as a pudding. Seasonal, thick, and just sweet enough, it's a great way to use up pureed pumpkin that you happen to have on hand, to create a vegan frosting without Earth Balance, and to enhance your frosted treats with some beta carotene.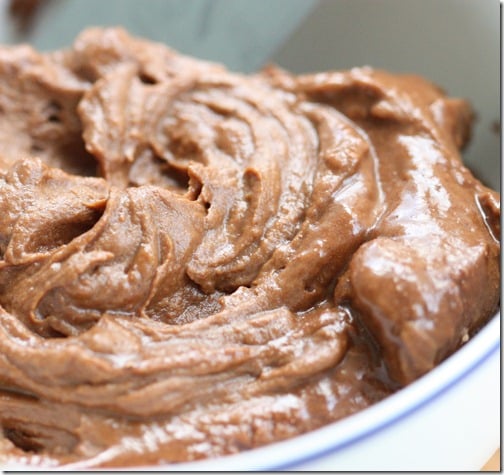 Pumpkin Chocolate Frosting (vegan, gluten free, soy free)
Makes over 2 cups
1 3/4 cups pumpkin purree (or 1 can organic pumpkin–I like the Farmer's Market organic brand because the texture is nice and thick)
3 tbsp raw cacao powder
1/4 cup almond butter
3-4 tbsp agave nectar or maple syrup (to taste)
1 tsp cinnamon
Blend all ingredients together in a food processor or blender. Serve on top of raw brownies (recipe below) or any other raw treat!
Raw Brownies (vegan, raw, gluten free, soy free)
Makes 8-10 brownies
2 cups walnuts
2 cups pitted dates
1/2 tsp sea salt
6 tbsp raw cacao powder
Blend all ingredients together in a food processor fitted with the S blade. Press into an 8 inch pan, cut into brownie shapes, and serve. You can easily cut the recipe in half if you like.
I loved icing these scrumptious treats: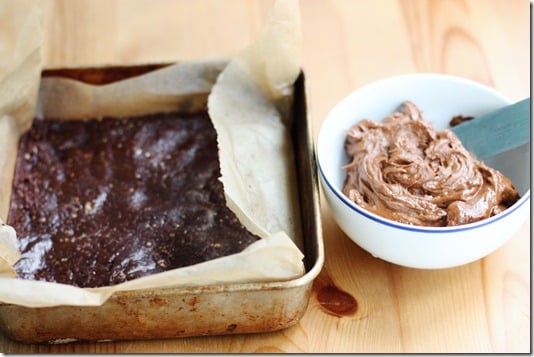 And I bet you will, too. Give the icing a shot: I guarantee that, if you like pumpkin and you like chocolate, you'll be as impressed as I was.
As a side note, I was delighted to have some frosting leftover after I made the brownies, and even more delighted the morning after I made these, when I realized that stirring a few tablespoons of the frosting into warm oatmeal is about as decadent and delicious as can be. All hail the marriage of chocolate and pumpkin!
xo