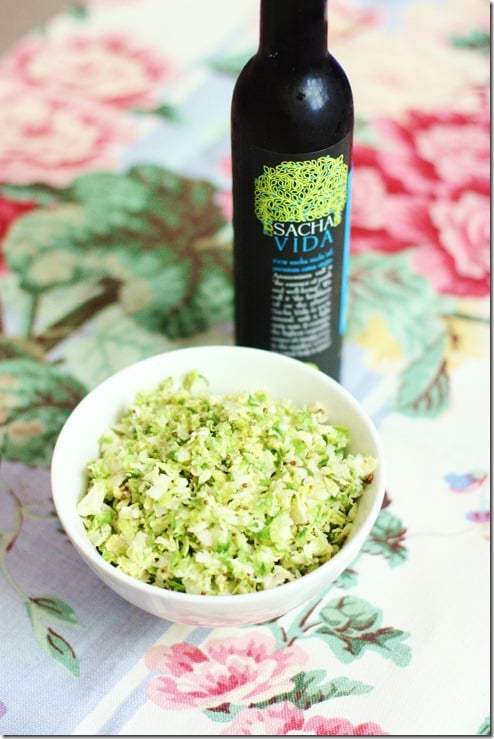 Readers often ask me whether there are vegetables that one should not eat raw. Though I've heard some rumors that green beans may be toxic, my usual response is to say that, while you probably can eat most vegetables raw, you may not want to eat them all raw. Eggplant tastes much better to me cooked (with the exception of eggplant bacon), as do cooked winter squashes, cooked potatoes of all varieties, and cooked legumes. Additionally, there are some vegetables that I like raw, but only with certain kinds of preparation: raw beets are great, for example, but I have to chop them or slice them thinly. And until recently, I'd have told you that I'd never, ever eat raw brussels sprouts. But this raw brussels sprout salad changes everything.
Inspiration for this salad comes from my friend Andrea. In January, she posted a recipe for raw brussels sprout salad entitled "this salad will convert you to raw brussels sprouts." No stranger to blog posts with bold promises embedded in the title myself, I was intrigued. In spite of how freaked out I was of the raw sprouts, all of the ingredients were ones I loved, and you can't beat a tangy, apple cider vinegar based dressing. I decided to try it, and I am so glad I did.
To my version, I added some stoneground mustard and I omitted the cayenne. But I kept the rest the same, and I think it's superb. I am indeed a convert, Andrea!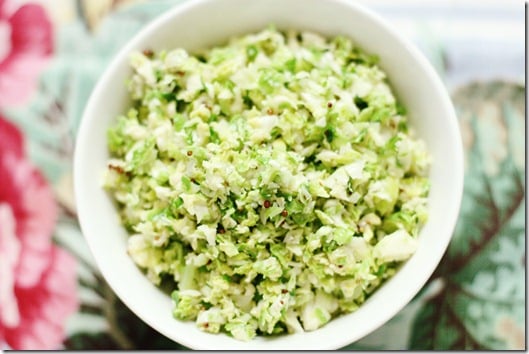 Raw Brussels Sprout Salad with Tangy Mustard Dressing (raw, vegan, gluten free with appropriate mustard, soy free)
Serves 2 generously
Salad:
About a pound of brussels sprouts, any wilting leaves removed
1 honey crisp apple, roughly chopped
Dressing:
1 T apple cider vinegar
1 T maple syrup
1 T stoneground mustard
1 dash cinnamon
1 T sacha inchi oil (or flax oil, hemp oil, olive oil, or avocado oil)
salt and black pepper to taste
1. Place sprouts and apple in a food processor and process till the mixture resembles slaw. Alternately, you can use a mandolin or box grater for the ingredients.
2. Transfer sprouts and apple to a bowl. Add all of the salad ingredients and toss well to combine. Taste, season, and serve!
As you'll see, there is a new ingredient in this recipe: sacha inchi oil. This is made possible by the wonderful people at Sacha Vida, a local, DC-based company that sells sacha inchi seeds and products.
Sacha inchi seeds come from the sachi inchi plant, which produces star-shaped green fruits in and near the Peruvian Amazon. The seeds are a good source of protein and antioxidants, but their main benefit is the fatty acid profile. We've spoken about Omega-6 and Omega-3 fatty acids in some detail at CR; the main idea is that most of us get too many Omega-6 fatty acids and not enough Omega-3s. The fatty acid composition of sacha inchi seeds and oil is about 48% Omega-3, 35% Omega-6, and 9% Omega-9: a fairly ideal, and practically unheard of ratio! This means that sacha inchi oil is, in my opinion, one of the oils that you can file into the "healthy with discretion" category. And the high protein, Vitamin E, and antioxidant content make these little seeds legitimate "superfoods"—at least in my opinion.
The first sacha inchi seeds I ever tasted were from the Sacha Vida company, and now that I've been spoiled by how good their products taste, I can't imagine a better resource. Additionally, I have tremendous personal admiration for the company. The founder, Carlos Campos, is passionate about supporting fair trade practices in the Amazon, protecting the region from deforestation, and providing his consumers with only the highest quality products. You can read more about the company's mission and story here, but I can give you a personal testimonial: not only were the Sacha Vida folks kind enough to seek me out as a local blogger, but they actually took the time to hand deliver this precious bottle of sacha inchi oil to me at the Georgetown library while I was studying for an exam! It was SO kind, and it was a joy to meet them.
The taste of sachi inchi oil is lovely; it's decidedly nutty, but not as aggressive as the taste of flax or hemp oil. In fact, I really recommend it if you want a healthier salad oil (salads, smoothies, and other cold dishes; like flax and hemp oil, sacha inchi oil cannot be heated) but can't tolerate the intense taste of hemp oil. It's really subtle, yet flavorful. I suspect I'll be using it often! I also cannot wait to sample more products from this generous and admirable company.
So now I have a new favorite high-quality oil, and a new favorite slaw/salad. This recipe is a winner all around!
Get curious about sacha inchi seeds and their health benefits by visiting the Sacha Vida website. I'll be sure to bring you more recipes and reviews soon! And in the meantime, I hope some raw brussels sprouts are in your futures.
xo