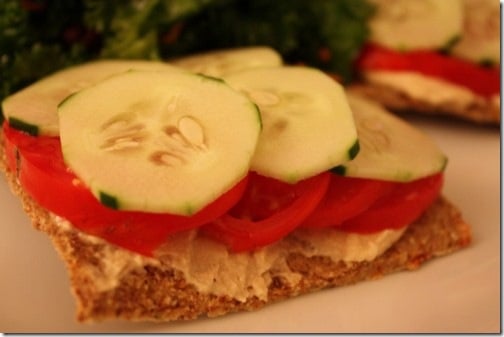 Isn't The Wilderness Downtown amazing? I challenge even the most hard-hearted among you not to feel a tender pang of nostalgia when you watch it. And thanks to those of you who shared ideas about what you might say to your younger self—they were all very sweet.
On Friday, I promised you more homemade raw breads and crackers in the coming weeks. I made good on that promise this weekend. I have plenty of bread recipes now percolating in my uncooking noggin, but this is the first: buckwheat sesame bread with an Italian twist.
And by "Italian," I mean that I added some sundried tomatoes and oregano.
This was, as all raw bread tends to be, incredibly easy. The most demanding part of the recipe, really, is to have buckwheat cereal on hand to make the buckwheat flour. Otherwise, it's a cinch, as long as you have a food processor to do the heavy mixing for you! Here's the recipe:
Italian Buckwheat Sesame Bread (yields 12 pieces)
1 cup buckwheat, soaked and dehydrated (a la my buckwheat cereal procedure)
1/2 cup sesame seeds
1/2 cup celery
1/2 cup flax meal
2/3 cup water (more or less)
3/4 tsp salt
1 tsp herbamare
1.5 tsp oregano
1/4 cup sundried tomatoes
1) Place buckwheat in your food processor and process till it's a fine powder. Add the sesame seeds, and pulse until the mix is almost uniform, but still has some texture. In other words, you want the buckwheat to be pulverized into flour, but you just want to process the sesame seeds really finely–don't let them turn into flour, unless you want a totally uniform bread.
2) Add the celery and flax seed, and pulse until the celery is broken down well.
3) Add the water, salt, Herbamare, oregano, and sundried tomatoes, and keep pulsing until you have a dough. You might need to add some water, but don't add too much, or else you'll have a watery dough on your hands that will take forever to dehydrate! You want this dough to be moist enough to spread out on a dehydrator sheet, but there should be some effort involved. Also, you should taste the dough right before turning it out onto your Teflex sheet, and add any herbs and spices you need. I like plain food, don't forget, so you may want more oregano or salt in here.
4) Turn the dough out onto a Teflex lined dehydrator sheet (I managed to use a single sheet for the whole recipe) and spread till the dough is about 1/4 inch thick and even.
5) Dehydrate at 115 degrees Farenheit for about 6-8 hours. Flip the dough, and score the size that's moist into 12 uniform pieces. Keep dehydrating for another 6-8 hours, till crispy.
6) Serve as a bread in any raw sammie recipe, or keep breaking it down into raw crackers!
I continued on my raw flatbread kick, and served it up with hummus, cucumber, and tomato. All homemade, and all farmer's market produce. I am determined to eat tomatoes right until the moment when they disappear!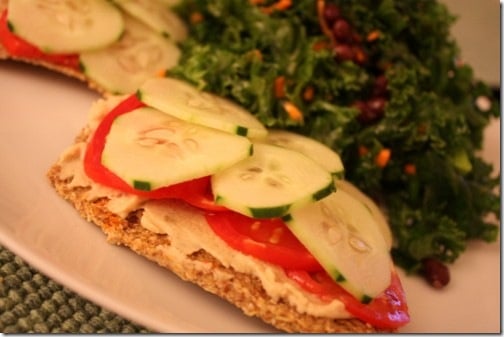 The meal was rounded out with massaged kale salad with carrots and black beans.
What a perfect dinner for a Saturday night at home!
I'm lovin this raw bread kick, so you can expect more to come (though I do promise that my next post will not be raw bread–I don't want to try the limits of your interest here). If you have any special requests, let me know – I'm trying to get outside of my comfort zone. I'm even planning on raw onion (!!!) bread – I figure that if I love the twins' onion bread, I must be able to come up with one of my own that's edible.
And now, it's time to get away from my computer and back to work. Enjoy these last few hours of the weekend!
xo