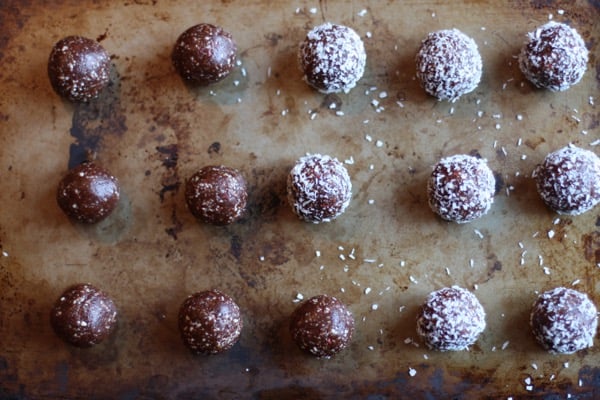 One of my favorite holiday activities each year is to prepare a boatload of edible goodies—from macaroons to candied nuts to DIY hot chocolate mix to granola—and gift them to friends. I had every intention of continuing this mirthful tradition this holiday season, but alas: school+work+freelance jobs have gotten the better of me, and I haven't been great about edible giving so far.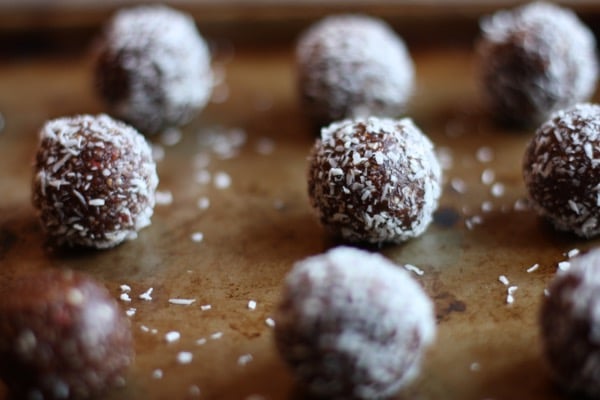 That said, I did create one special edible treat over the weekend, and it's so good that it may just compensate for the overall dearth of goodies at home. I'm calling them cacao goji truffles, but what's in a name? You could call these "goji berry brownie bites," "chocolate goji energy balls," or simply "bliss balls," because they are blissful, indeed. I love the hint of sweet tartness that goji adds to the recipe (it's super subtle, but it is there), and the cacao flavor is of course right up my alley.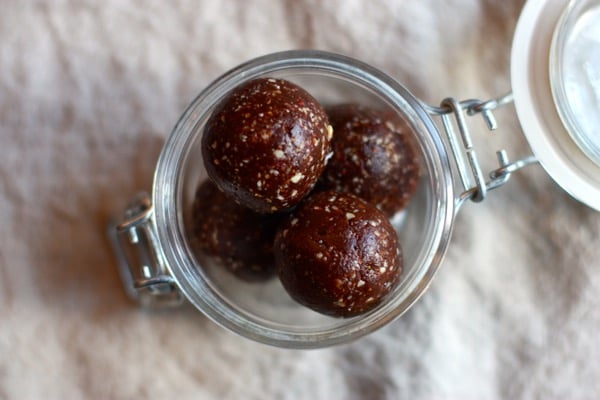 As with all energy ball recipes, this one is adaptable. No almonds? Use walnuts. No gojis? Omit them altogether, or use raisins or mulberries. Allergic to cacao? Cinnamon, ginger, and cardamom will also add a distinctive flavor profile to the recipe. You can of course present these as an edible gift to someone special. But you may be tempted to keep them close to home, because they're a perfect holiday dessert or snack. Roll them in shredded coconut for a festive, snow-covered look!
Raw Cacao Goji Truffles
Author -
Grind the almonds, goji berries, and salt together in a food processor until you have a course meal.

Add the cacao, medjool dates, and almond butter. Continue processing until the mixture is sticking together and sticks together very easily when you squeeze a portion in your hand.

Roll the "dough" into 1-inch balls. Roll them in the coconut if you like. Truffles will keep in an airtight container for up to two weeks.
I hope you'll enjoy giving them and eating them. Tis the season.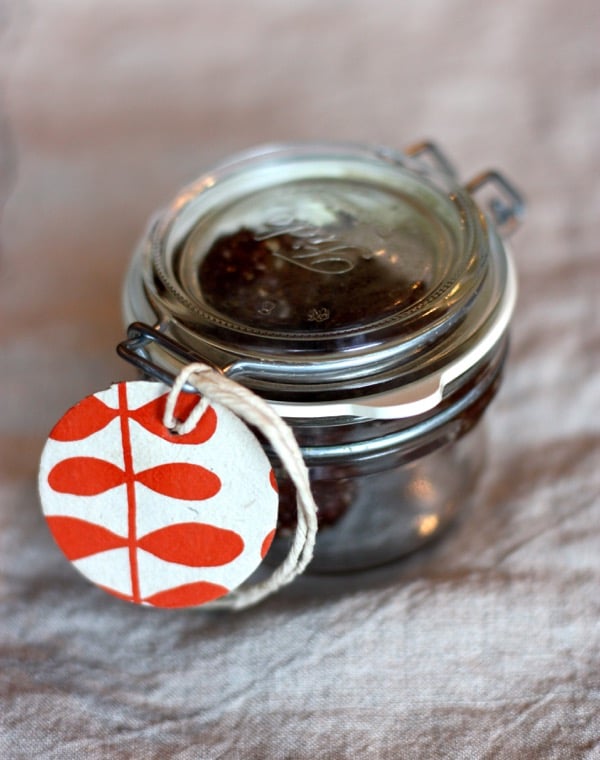 I have a really special announcement to make before I sign off tonight.
This spring, between April 4th and April 11th, I'll be participating in a new and exciting culinary certification course at Hacienda Del Sol in Costa Rico!

Hacienda del Sol—or "estate of the sun"—is a jungle oasis in Costa Rico's "blue zone," the Nicoya Penninsula. The beautiful resort offers an immersive, "360-degree" wellness experience, including spa treatments, raw food cuisine, open air yoga, educational health classes, jungle treks, and loving, positive care. All of these features are included in the basic packages.  Guests leave with a long-lasting, healing experience.

Hacienda del Sol is now offering a "conscious chef" culinary training course—a concept I love starting with the name. The intention of the certification is as follows:
The aim of this certification course is empowerment. We wish to empower the head of every kitchen, from traditionally trained chefs to at-home cooks, with the information and tools needed to create delicious, healthy, and clean food, no matter their background or experience. It is our hope, that with every new Conscious Chef this course cultivates, we will help give a stir to the collective consciousness about food, vitality, spirituality, and our environment.
This immersion course will integrate practices to help students explore the relationship between food, body and spirit, with 40 hours of culinary and nutrition curriculum, complemented by daily yoga, group meals, and life-coaching sessions. We will encourage students to 'measure themselves'; via live experimentation – eating and listening to the body, and learning what effect food can have the body and soul – and through steady support and guidance. We will invite students to develop menus, meals, and food philosophy according to how one feels, not according to what others dictate.
With 25 hours of hands-on kitchen hours, students will learn to navigate recipes and techniques pertinent to the preparation of clean spa cuisine, covering everything from knife skills, to plating, and raw food nutrition.
The architect of this special course is the fabulous Meghan Pearson of MAP Wellness. Meghan's green recovery story appeared on CR in 2012. I've watched her blossom and grow into a health leader in the two years since. It is so often the case that, as we move further away from our struggles, we're more able to use our voices and energy to help others. Meghan now serves as an advocate for women with EDs, and like me, she offers them the possibility of healing with foods that are nurturing to the body and compassionate to animals and mother earth.
Meghan and I are both excited about this course, which has both a practical focus and a strong mind-body component. It's vitally important for health and wellness practitioners to look after their own bodies and spirits in order to stay strong for clients, but self-care is often overlooked in our training. This course is as intent on teaching skills that can be shared as it is on giving to those who wish to march out into the world as educators.

I'll be leading the raw foods curriculum for the course, and I couldn't be more excited; this is a chance for me to share my passion for food with others, but it's also a chance for me to recharge my spirits and—after four years that have kept me immersed in academics and a work/school grind—allow me to reconnect with the passion for raw food and the culinary playfulness that animated my life so much when I started this blog.
Sound like something you may be interested in? Awesome. Come join me for a meaningful and FUN week in jungle paradise. Full details can be found here, but here's a general overview:
7 Night Conscious Chef Culinary Course Inclusions
-25 hours of in class workshops
-10 hours of off-site/take home assignments
-5 hours special guest lectures
-1 off-site local food education tour
-Final night Conscious Community Dinner
-All meals & daily yoga
-Hacienda Del Sol Conscious Chef Chef's jacket
-Hacienda Del Sol Conscious Chef Certification Manual
-Hacienda Del Sol Conscious Chef Certification Certificate (upon completion of final exam)
The projected daily schedule includes yoga, free time, culinary training, guest talks, coaching, and meals. For a look at the projected culinary curriculum, check out this preliminary lineup!
For more on rates and accommodations, you can see the conscious chef culinary course details. If you decide to join this special group of students and foodies, please mention CHOOSING RAW in the notes section of the online booking. And let me know if you sign up, of course!
That's it for tonight, friends. Happy hump day!
xo