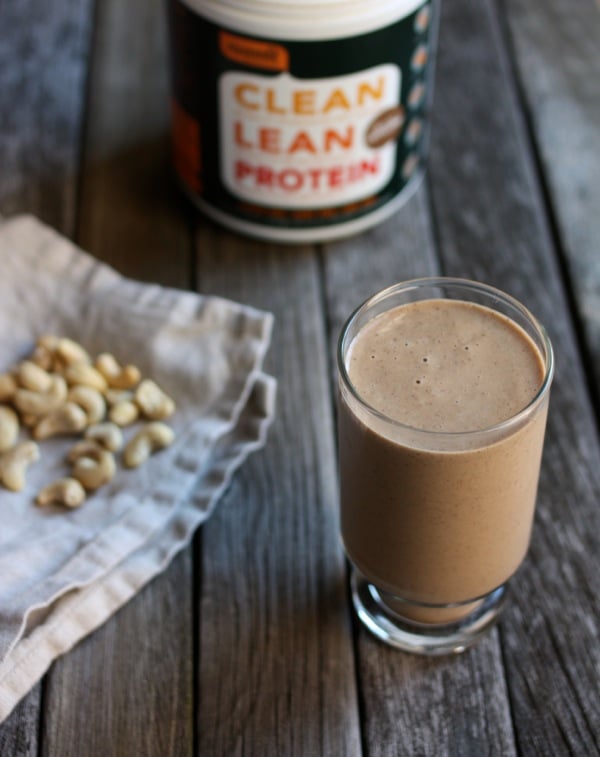 Back in May, I wrote about NuZest USA protein powder. It's a pea protein, available either in a neutral flavor or in subtle varieties of plain, vanilla, cappuccino or chocolate. It's nut free, soy free, gluten free, vegan, non-GMO, and rich in complete protein (more info here).
I sample a lot of vegan proteins. Some of them I love, and some of them just don't hit the mark. Typically my deal-breaker is an excess of stevia; I don't love the flavor and don't tolerate it well, so I'm mindful of vegan proteins that are too heavy in the stuff. While I wish that more vegan proteins were sweetened with moderate amounts of date sugar, coconut sugar, or other natural sugars, rather than artificial ones, I must confess that the sweetener NuZest uses–thaumatin, harvested from the katemfe fruit (native to West Africa)–is much more palatable to me than is stevia. And I really do like the flavors, as well as the texture (not too chalky).
Since I first sampled NuZest a few months ago, I've been using the company's protein powder often in shakes and smoothies. I still enjoy brown rice and hemp protein, and I think that getting a variety of protein is wise overall, but it's nice to have NuZest as a go-to option these days. Last week, I finally sampled the one flavor I hadn't tried yet, cappuccino. It is, not surprisingly, my favorite, because there's practically nothing coffee flavored that I don't like.
In honor of this new treat, and because I haven't posted a smoothie in a while, I thought I'd share the smoothie/shake that made me fall in love with this NuZest flavor, a creamy blend of bananas, cashews, NuZest protein, espresso, and almond milk.
Raw Cappucino Milkshake (Featuring NuZest Pea Protein)
Author -
Yields:
1
large or 2 small servings
2

bananas

peeled, chopped, and frozen

1 1/2

cups

almond milk

2

teaspoons

ground espresso beans

or instant espresso

1

pitted date

1/4

cup

about 1.5 oz. raw cashews

1

serving

2 scoops NuZest USA protein (preferably in the cappuccino flavor, but chocolate and vanilla will be great, too)

4

ice cubes

Optional: 1 tablespoon unsweetened cocoa or raw cacao powder

if you're hankering for a mocha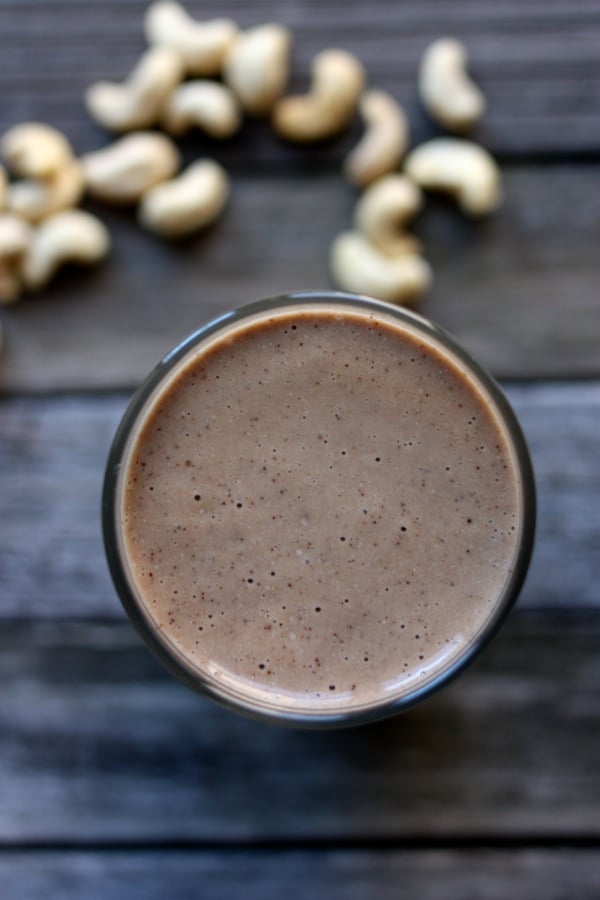 That photo should tell you everything you need to know about how rich, creamy, and exquisite this drink is. A perfect pick-me-up or breakfast.
If you'd like to make the smoothie without NuZest, that's of course fine. You can substitute another protein powder that you have on hand, or you could omit the protein altogether. The shake will still be delightful.
Or, if you don't have any protein powder at home but would like a chance to win some protein powder from NuZest, here's the deal: NuZest USA is offering three lucky CR winners 2 tubs of NuZest protein each (in any flavor of their choosing)!! In order to enter, follow the steps below. (Note that the contest is for US and Canadian residents only.)
I'll announce the winners in two weeks, so stay tuned.
Additionally, NuZest is offering all Choosing Raw readers 10% off and free shipping at checkout with the code "Choosing Raw." So, if you don't want to wait for giveaway results to get some of this awesome pea protein, check out the NuZest site today and take advantage of the offer!
On that note, it's been a long week, and I'm about to revel in an early bedtime. Have a great Saturday. I'll see you on Sunday with weekend reading.
xo