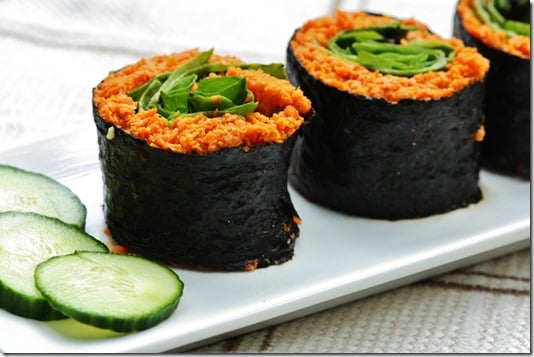 Recently, I mentioned that I think about raw food recipes in terms of "templates" than recipes. What do I mean by template? I mean zucchini spaghetti: it's not a particular recipe, but it's a preparation method that can be endlessly variable, depending on one's mood, what's seasonal, and what's in the fridge. Another template? Blended salads. The idea is always the same, but modifications abound.
Raw rice is another raw "template." It's usually made simply by processing a vegetable in a food processor till it's finely ground like "rice." Sometimes, nuts, nut butters, or seasonings are added. My favorite raw rice is definitely parsnip rice (see this recipe for a how to) or a mixture of parsnip and hemp, as in my parsnip rice and hemp seeds with spring peas.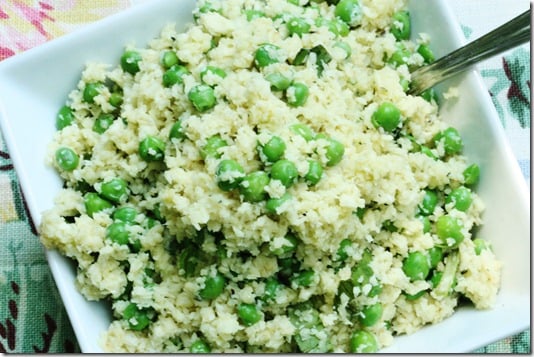 Cauliflower rice is also a raw foodist favorite, as is jicama. I love the latter, though I don't often find jicama in my grocery runs, but am not a great fan of the former. I suppose it's natural that most of the veggies we use to make vegetable rice are white, but this week, I got to thinking: why shouldn't I make "rice" out of a non-white vegetable?
I was thinking in particular of carrots, which are one of my favorite veggies. If parsnip rice is a favorite, why on earth shouldn't carrot rice be, too? I immediately got to chopping up some carrots in my processor, and I am delighted that I did! They work beautifully as "rice," with only the qualification that I dehydrated the rice a bit to reduce moisture. If you don't have a dehydrator, you should give the carrot "rice" a squeeze with cheesecloth or paper towels before mixing in the seasonings.
Raw Carrot Coriander Rice (vegan, gluten free, raw)
Serves 2
4 large carrots
2 tsp tamari
3 tbsp almond butter
1 tsp coriander (dried)
1/2 tbsp rice vinegar
1. Peel and chop carrots roughly. Add them to a food processor and pulse to process until they are chopped to the size of rice. For best results, squeeze the carrot rice through a cheesecloth or paper towel to remove some moisture, and then return to the food processor.
2. Pulse in the almond butter, coriander, tamari, and vinegar. Adjust seasonings as desired. If you have a food dehydrator, you can skip the cheesecloth/paper towel step and dehydrate the mixture at 115 degrees for an hour or so. Serve in raw nori rolls, or as a raw side dish!
Me? I served wrapped in nori, with some spinach, too: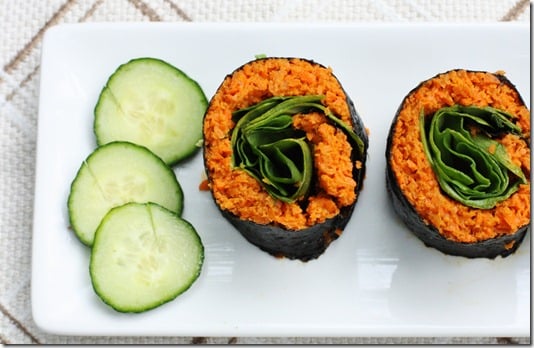 Great texture!
I'd serve this rice dish with a nutrient dense salad of choice. The sushi rolls also make a great appetizer.
Hope you enjoy this easy recipe soon. And tune in tomorrow afternoon, because I have a very scrumptious new chia pudding recipe comin atcha!
xo