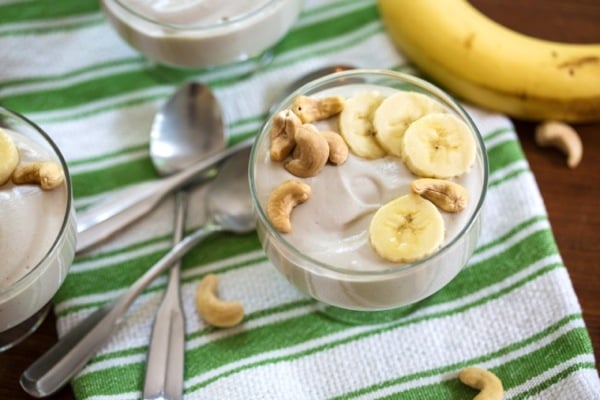 This raw cashew banana yogurt is one of the recipes I'm most proud of from my cookbook. It's tart, sweet, and satisfying, and it's the sort of recipe that's so easy and sensible that, after you prepare it, you'll wonder why the idea never occurred to you before. I've had many vegan yogurt experiments, most of them involving coconut (one with young Thai coconut, which you can find here, and another with coconut cream, which you can find here). I like them both, but I will admit that this is my favorite homemade vegan yogurt recipe. I was delighted when it came together for the book, and I'm delighted to share it with you all now.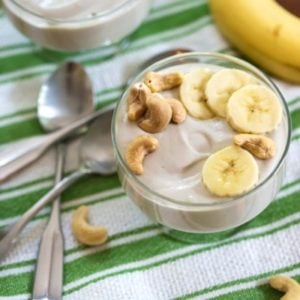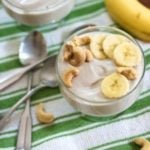 Raw Cashew Banana Yogurt from Choosing Raw
Author -
1

cup

cashews

soaked for 2 hours or more, then drained

2

large bananas

1 1/2

tablespoons

freshly squeezed lemon juice

2/3

cup

coconut water

1/2 cup if you're using a food processor

1

pinch

sea salt

1/2

teaspoon

probiotic powder

optional; you can simply open up a few probiotic capsules for this!
Blend all the ingredients in a high-speed blender until smooth. Alternatively, place all the ingredients, except the coconut water, in a food processor and pulse a few times to combine. Turn the motor on and drizzle in the coconut water in a thin stream. Keep processing until the mixture is very smooth. Stored in an airtight container in the fridge, the yogurt will keep for 2 days. From Choosing Raw by Gena Hamshaw. Reprinted with permission from Da Capo Lifelong, © 2014.
The yogurt is great plain, but I also love it with some raw granola (especially my raw cocoa crunch granola or my beet and hemp granola) or some fresh berries. Amanda, who recently reviewed the book, featured the recipe, and her husband took some incredible images. I can't help sharing them!
Beautiful work, Amanda and Aaron!
So, hey. It occurs to me that the book has now officially been published for three weeks. And I have yet to offer my readers–the folks whom I wrote this book for–a couple of free copies. Clearly, this must be fixed. There would be no book without this blog and the folks who have kindly, critically, and intelligently supported and engaged with it for so long.
Tonight, I'm running a giveaway for five copies of Choosing Raw, the book. I hope that the book finds its way into hands of readers who will enjoy it, and feel inspired by the images and information inside. The giveaway will run until August 4–two weeks from today. Enter below!
As I've said before, the real joy of this book wasn't in recipe development (though I did love that). It was in sharing nutrition information, responding to some common myths and misconceptions about vegan and raw diets, and in formulating 21 days of wholesome, flavorful, and accessible meal plans, all of which will give you a sense of how to seamlessly integrate raw and cooked vegan fare. I hope you'll enjoy the book as much as I enjoyed writing it. Good luck!
And see you tomorrow.
xo