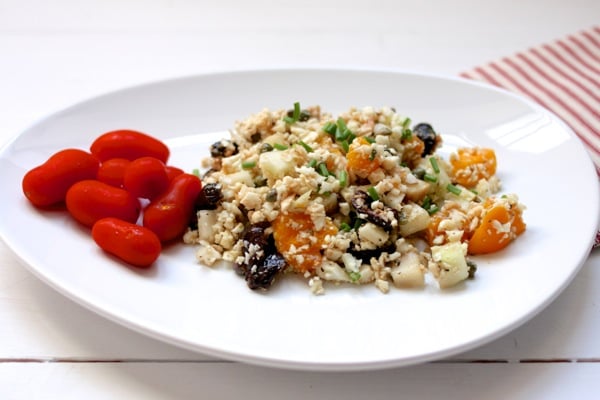 It's so difficult to believe that summer is winding down. When I saw that it was September first on Monday, I marveled at how quickly the last few months sped by, hastened by the business of book promotion and moving. It's no secret that I'm an autumn/winter person, but it's always a strange sensation to realize that a season just flew by.
In honor of September, I've been all over the last crops of summery produce: zucchini, tomato, melons, corn, herbs, and peaches. The following dish came together very, very quickly on a weekday at lunchtime, and I was really pleased with the distinctive, bold flavors. I came to olives late in life (never used to love them), but I really enjoy them these days, especially in salads. I used Nicoise olives in this recipe, but any black olive would probably be great. Also worth noting that, if cauliflower rice isn't your thing, you can totally make this recipe with parsnip rice or jicama rice instead.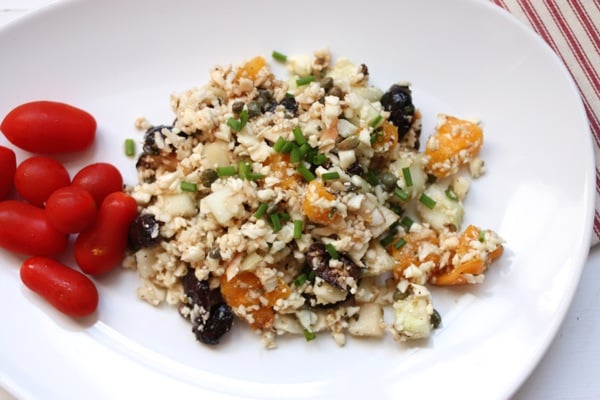 Cauliflower Rice Nicoise
Ingredients
1

medium head cauliflower

cut into florets

1/2

cup

black olives

pitted and halved

2

cups

heirloom or beefsteak tomatoes

chopped (try to remove as many seeds and moisture as you can)

3

tablespoons

capers

1-2

tablespoons

lemon juice

2

tablespoons

olive or avocado oil

2

teaspoons

fresh oregano

chopped
Instructions
1. To make the cauliflower rice, you can either grate the cauliflower on a box grater to form rice-like grains, or you can process it in two batches in your food processor, pulsing with the S blade till it resembles rice. When you're finished, transfer the rice to a large mixing bowl.

2. Add the olives, tomatoes, capers, lemon juice, oil, and oregano. Give everything a toss.

3. Serve, garnished with some fresh chives, if desired.
This is quite a light dish, so I'd serve it as a side at dinner or with something else at lunch: maybe a cup of your favorite whole grain. It's a great way to celebrate the end of summer's bounty.
If you're on the hunt for another raw rice recipe, my friends at Food52 recently shared my Mediterranean cauliflower rice with smoky red pepper sauce, which is one of my fave recipes from my cookbook. Check it out here!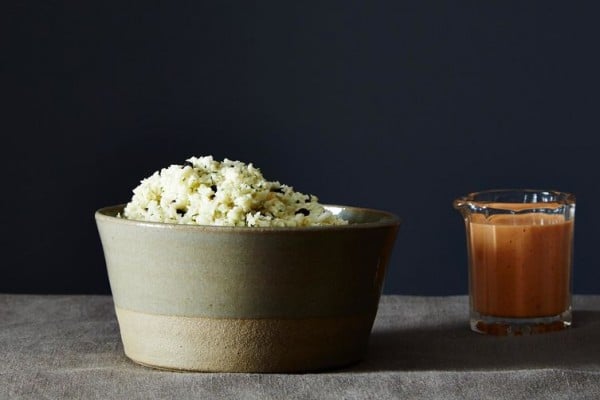 I am, sorry to say, headed to New Hampshire tomorrow for a funeral; my paternal Grandmother passed away. I'll be back very soon, and in the meantime, I wish you a good end of the week and a happy start to the weekend.
xo