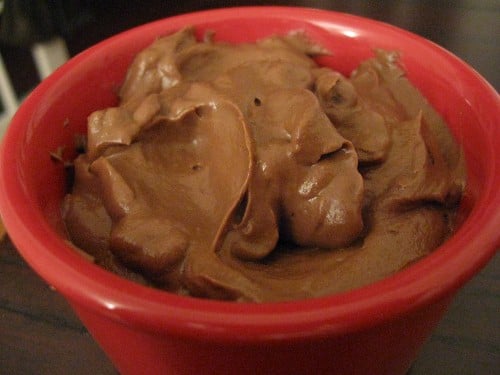 Rain, rain, go away!
I am not impressed with NYC weather lately. First, we endure over twenty days of rain and cold in June. Then, we're deprived of all save two weeks of a proper summer. Now, temperatures have already taken a turn for the autumnal. I love fall, but not without a proper summer preceding it. And today is the annual Columbus Avenue Street Festival, an occasion I look forward to yearly, and it's raining out. Not cool.
OK, now that I'm done whining (and fishing out my fall jackets from storage), I'll get onto a recipe that never fails to brighten my spirits. It is a staple of every self-respecting raw foodist's bastion of sweets. It is the first raw dessert I ever made, and it continues to be the one I like most. And unlike most raw desserts, it takes about ten minutes from start to finish. I just whipped it up, in fact, and I look forward to snacking on it today as I edit and contemplate the gloom outside my window.
The dessert is avocado chocolate pudding—aka "chocomole"—and it is a winner.
This recipe has a cheerful celebrity spokesperson in the form of singer/songwriter Jason Mraz—who, if y'all didn't know, is a high-raw vegan! Jason has made numerous press appearances speaking about the benefits of a vegan diet, and he's shared his chocomole recipe for all the world here. Thanks, Jason!
My own chocomole recipe is slightly different (for one thing, it's a smaller yield, as I'm usually cooking for one), but the idea is the same: blend a ripe avocado with dates or sweetener, chocolate powder, and vanilla. What emerges is a smooth, creamy pudding that you'll never imagine to be vegetable-based and dairy-free. It's full of healthy fats, so it makes for an excellent pre-or post-workout food, and it's a delicious dessert to combine with starch-based meals. No matter how many times a friend or family member (ahem, Mom!) wrinkles her nose when I mention an avocado-based pudding, this recipe wins fans!
You can use any chocolate powder in your chocomole, though I recommend an unsweetened and organic brand if you can (Green and Black makes a good one). Today, I had the benefit of using raw cacao from Navitas Naturals, who are the makers of a wide array of high-quality "superfoods." Recently, the folks at Navitas were generous enough to send me a box of goodies to sample. These included raw cacao, raw lucuma (a root-derived powder that has a mellow, fruity taste, and is a great alternative sweetener), cacao nibs, and yacon syrup (also root derived, and a low-GI alternative to agave).
If you have any questions about these individual products, I encourage you all to peruse the very informative Navitas website!
The shipment reminded me that regular cacao powder is no substitute for raw, unsweetened cacao powder—the latter may be pricier, but the taste is well worth it! Thanks to the Navitas cacao powder, this was one of my all time best batches of chocomole.
Here's the recipe:
Avocado Chocolate Pudding (aka, Chocomole!)
1 ripe avocado, pitted
6-10 dates (depending on size of dates and desired sweetness – I'm usually happy with 8 medjool dates), soaked if necessary
½ tsp vanilla
4 heaping Tbsp cocoa or 2 Tbsp. carob powder
½ cup water
Place all ingredients in a food processor (you can use a blender or Vita, but food processors work much better for this recipe) and begin blending.
Drizzle water in, stopping to scrape sides of bowl if need be, until the mixture resembles a thick, chocolate pudding. Let it continue mixing until smooth and creamy, like so:
For this batch, I used 3 dates and 3 tbsp of the new yacon syrup, which I'd never tried. It turned out nicely.
If you are on a low-sugar or anti-candida diet, I recommend using stevia to taste in place of dates or agave.
I challenge you to have a gloomy day after sampling this chocolately goodness:
Take that, rain!!!
Get blending, people. Happy Sunday!
xo