Great responses yesterday! Talking about skincare turned out to be not a snoozefest at all. We all agree on one thing: it's important to care for skin "from the inside out," to quote Bitt. Nourishing foods, avoiding synthetics and toxins, and having healthy habits: this is all a big part of the skincare picture.
A few weeks ago, I created a very bad habit when I went on a raw picnic dinner with my friend Nelly. That day, I had discovered some raw flatbreads from Chocolatree, and I made a couple of open faced raw sammies with them:
The problem is that I'm now totally addicted to raw flatbread sandwiches! I've been on a kick for the last two weeks, loading them up with all sorts of toppings (like my dilly sunflower cheese, hummus, nut butter, etc.) and veggies. I've also made some "deconstructed" flatbread sandwiches with Lydia's crackers when I didn't actually have a full piece of flatbread on hand. Like so:
Is this basically the same as raw crackers and dip? Yes. But it's fun to say "deconstructed flatbread sandwich."
Naturally, this isn't a bad habit for my tastebuds or belly. But it is a very bad habit for my wallet, since I've been purchasing all of the crackers and flatbreads. About a year ago, I started getting adept at making dehydrator food (like my lucky hemp bread or my carrot raisin bread), and found that it can be easy, fun, and economical to make one's own raw breads and crackers, rather than relying on store bought. I've simply fallen out of the good habit, and allowed the stresses of work to prevent me from staying organized with my kitchen prep and planning.
Well, no more 'scuses, Lucy. It's a new season, and I've sworn that this will be a carefully budgeted autumn. And that means getting friendly once again with the 'ole Excalibur. This week, I kicked off what I hope will be a nice little marathon of homemade raw flatbread making, starting with a sweet, rather than a savory, recipe.
Ages ago, HEAB posted this recipe for raw cinnamon raisin bread. Cinnamon and raisin lover that I am, I've had it bookmarked ever since. A few nights ago, I decided to put my own spin on the bread, following Heather's instructions pretty closely. The result is a crispy, tasty, bread/cracker hybrid. It's sweet, so it works nicely with fruit or as a breakfast bread, but it's definitely not too sweet, so you could also very easily eat this with lunch or dinner. Versatile, tasty, and simple to make? My kind of recipe.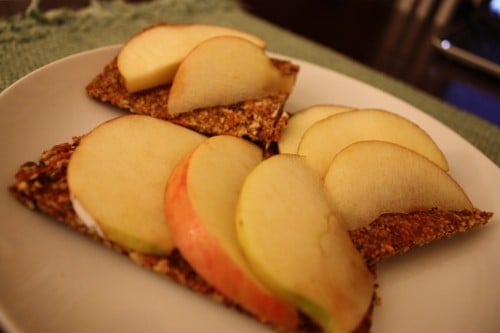 Raw Cinnamon Raisin Bread (Inspired by HEAB)
Yields about 22 slices
2 cups almonds
1/2 cup sunflower seeds
1/2 cup pumpkin seeds
1/4 tsp salt
2 heaping tsp cinnamon
1/2 cup flax meal
1 zucchini
2 carrot
1 apple
1/2 cup water
4 tbsp agave nectar
1 cup raisins
1) Grind almonds, sunflower seeds, pumpkin seeds, salt, and cinnamon in a food processor fitted with the S blade. Dump the contents into a large mixing bowl, add the flax meal, and set aside.
2) Using the shredder attachment of your food processor, process the carrot, 'zuke, and apple. Alternately, you could grind the nuts/seeds with a Vitamix, and then use a box grater for the veggies, but this recipe will work best with a food processor.
3) Add all the shredded veggies to the mixing bowl with the spices and the ground nuts/seeds. Add the 1/2 cup water and agave, and mix well with your hands. It should be pretty moist. Add carrots and mix again.
4) Return everything to your food processor, and pulse it till the veggies are a little more broken down and the raisins are all chopped up. You certainly don't have to do this last step–you could leave the mix much coarser–but I liked the relative smoothness and even texture that re-processing gave the bread.
5) Spread the mix onto two dehydrator sheets fitted with Teflex sheets. It should be just shy of 1/4 inch thick, and very even.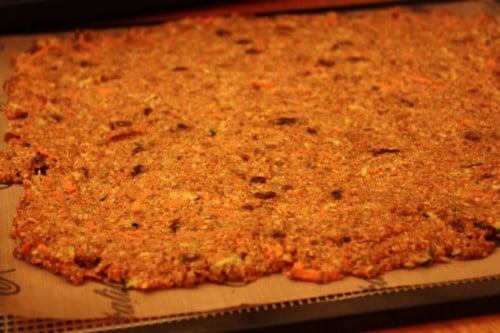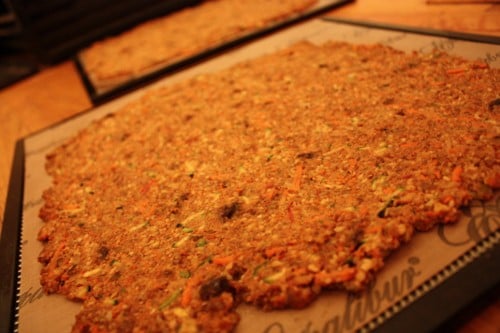 6) Dehydrate at 115 degrees Farenheit for about 4-5 hours or so. Flip the dough, score it into squares or rectangles, and dehydrate on the other side for another 4-5 hours. Depending on the temperature of your home and the moistness of your dough, this may take more or less time. I pulled mine out of the dehydrator when it was nice and crispy, but you can also easily choose to leave it a little more flexible.
7) Break into pieces, and enjoy!
So far, I've most enjoyed this bread topped with some crispy slices of my favorite fall apples!
Or today, at work, topped with some fresh farmer's market apple butter and Fuji slices: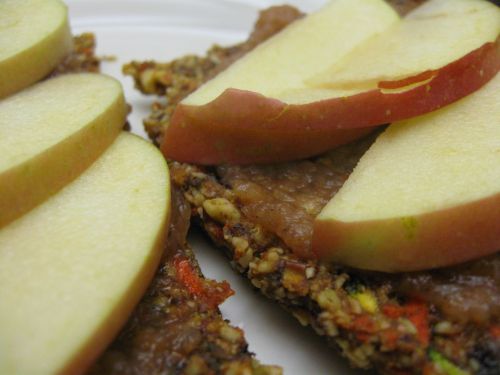 Delicious! A light, crispy, and nicely autumnal breakfast.
From this moment on, I want you all to hold me to my promise to get better about using my dehydrator for breads and snacks. I certainly don't want to deny myself the occasional fun raw foods purchase: I love Lydia's foods and other raw brands, and on top of that I think that raw food companies deserve my support. But there's a reason I have a dehydrator, and it's so that I can save money when I do crave these kinds of goodies.
On that note, I wish you all a lovely start to the weekend. What kind of food do you plan on prepping–and eating?
xo