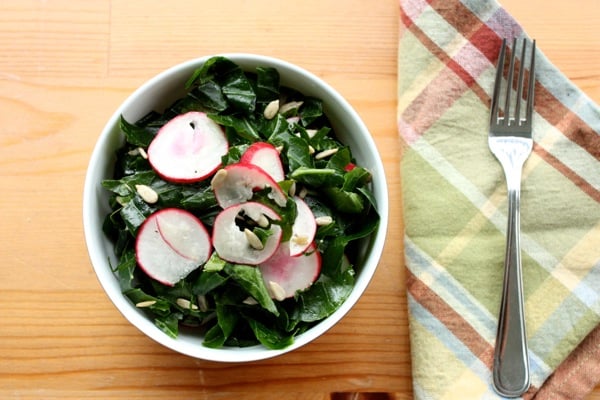 Surprise!
Thank you, everyone, for bearing with me as this blog went through a little makeover. I hope you're into the new look, which is all thanks to the wonderful work of Erin and Melissa at Wooden Spoons Kitchen. Hopefully you'll now find that my recipes are much easier to browse, that my nutrition counseling services are easier to locate, and that CR on the whole has been given a breath of fresh air. I hope you'll also note that Green Recovery stories are now featured much more prominently on the blog–as they should be.
While you get used to the new look, I'm sharing one of the recipes that I mentioned when I wrote my review of From the Farmer, a weekly farm-to-consumer delivery company in the D.C. area. I mentioned that using From the Farmer had encouraged me to work with vegetables I don't usually buy too often, and to try new preparation methods with vegetables I already love.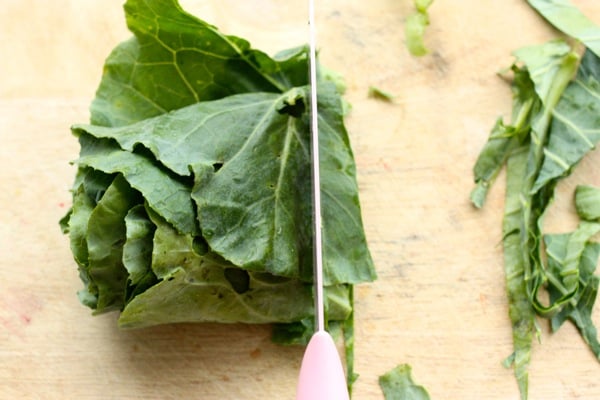 I love collard greens plenty, but I usually love them in raw wraps or in green smoothies. Sometimes I sautee them, but other than that, I don't use them as often as I do kale or spinach. Having a giant bunch of them last week was impetus to try something new. I got a lot of great suggestions on Twitter (my favorite was Hannah's: cook them low and slow with tamari and coconut milk), but in the end, muggy temperatures and laziness compelled me to do what I do best: salad.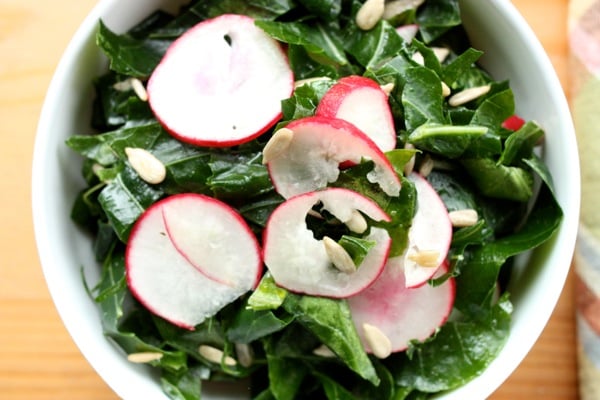 This was my first raw collard salad, and I think it was a success. I was surprised at how not-bitter it was, at how tender the collard leaves got after I massaged them, and how nicely the leftovers kept. They're especially good if you throw a handful into another salad, or serve them atop avocado toast.
Raw Collard Green Salad
Author -
Yields:
2
large or 4 small servings
1

medium bunch collard greens

stems removed, leaves rolled up and sliced into thin strips

2

tablespoons

olive oil

or your favorite oil for salads

1

tablespoon

champagne

or apple cider vinegar)

1

teaspoon

dijon mustard

Healthy dash sea salt

Black pepper to taste

1/2

cup

radishes

sliced very thinly

1/4

cup

raw sunflower seeds
1. Whisk together the oil, vinegar, mustard, sea salt, and black pepper.

2. Massage the dressing into the collard leaves, using strong hands and taking your time. Collards should become soft and well coated with the dressing.

3. Toss the collards with the radishes and sunflower seeds. Serve.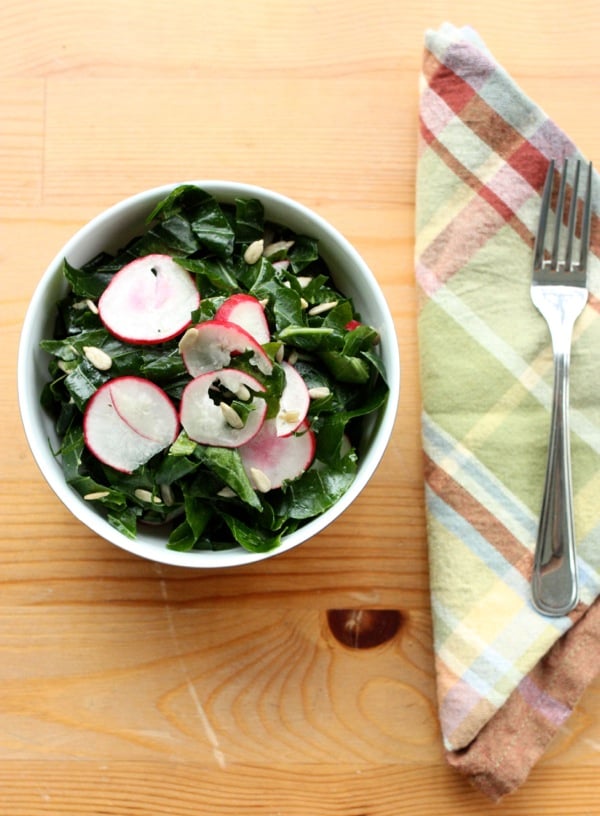 This makes for a great summer side dish, but if you're looking to make something more substantial, you can mix half of the salad with some cooked green lentils, some brown rice, or some toasted chickpeas.
On that note, enjoy the new look, and happy weekend! I'll be checking back in with weekend reading.
xo