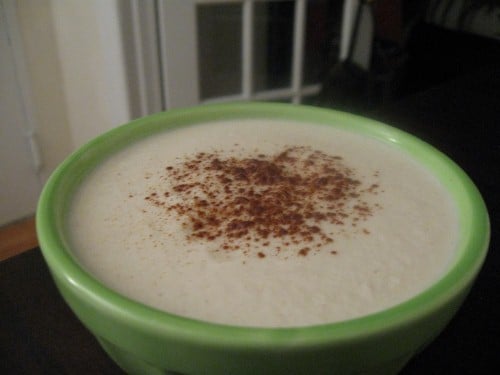 Boo!
Happy post-Halloween. I just finished folding up my slutty schoolgirl costume and putting it away for next year. Score!
Yeeeah. Kidding, people. It's been a while since this girl "dressed up" for October 31st. I did stop by a party last night, but I was dressed up in the very creative guise of a book editor and nutritionist living in New York City. Translation: jeans, flats, and a top. End of story.
In any case, I did take advantage of the weekend to whip up some tasty food. Remember how I promised you an abundance of soups in the week to come? True to my word, I decided to whip up one of my very favorites: raw cauliflower soup.
The last time I shared a raw cauliflower recipe, a bunch of you expressed some trepidation about eating this cruciferous gem in the raw. I assure you, friends, that there's no reason to be afraid. With its super mild taste and pleasantly crunchy texture, raw cauliflower is a highly palatable treat! The trick is, of course, to prepare it in pleasing ways. Nothing could be more pleasing than this rich and creamy soup, which elevates cauliflower and autumn spices to a new level of perfection. It's very reminiscent of regular cream of cauliflower soup, but uses healthy pine nuts in place of dairy.
Raw Cream of Cauliflower Soup (serves 2-3)
Ingredients:
½ head (4 heaping cups) chopped cauliflower
½ cup pine nuts
2 tbsp olive oil
4 large dates, soaked and pitted
1 tbsp mellow white miso
1 tbsp lemon juice
1 cup water
½ tsp nutmeg
½ tsp celery seed
1/8 cup chopped onion or ¼ tsp onion powder (optional)
¼ tsp cinnamon
1/2 tsp salt
1/8-1/4 tsp pepper (to taste)
Procedure:
Blend all ingredients in a blender or food processor till well combined. Sprinkle with a touch of nutmeg, and enjoy!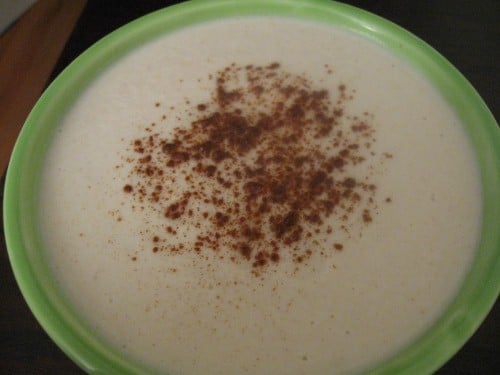 Yesterday, I had a kitchen tutorial with one of my local clients. The topic? How to open a young coconut. After a pleasant hour of coconut hacking and food chatter with my client—and faced with the prospect of a few long hours of work—I returned my apartment inspired to whip up a tasty, sweet, coconut-based treat. Fortunately, I had some leftover butternut squash cubes in the fridge that were begging to be used up, and in no time at all, my spooky pumpkin smoothie—a sweet treat in honor of Halloween—was born.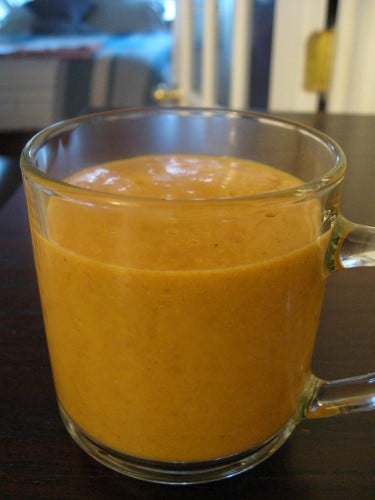 I call this a pumpkin smoothie because I think pumpkin would make it perfect. But any winter squash will do (the butternut was great), and so would yams.
For those of you who have regular blenders, I recommend steaming the pumpkin lightly before you blend. Or, if you've got some organic canned pumpkin or squash on hand, feel free to substitute 1/3 cup of it for the cubes!
Gena's Spooky Pumpkin Smoothie (serves 2)
Ingredients:
Meat of one young coconut
1 cup coconut water
1/3 cup pumpkin, cut into small cubes (raw will work in a VitaMix; steamed in a normal blender; use canned if you've got it!)
4 large dates, pitted and soaked for ten minutes or so (you can use stevia, too)
1 tsp cinnamon
Dash (each) nutmeg and cloves
Procedure:
Blend all ingredients on high till the mix is super thick and smooth. You may need to add a touch more water to the mix. It should be on the sweet side, but if it's not, feel free to add a touch of agave. Far more satisfying than mini-Butterfinger bars, or whatever the kids are eating these days!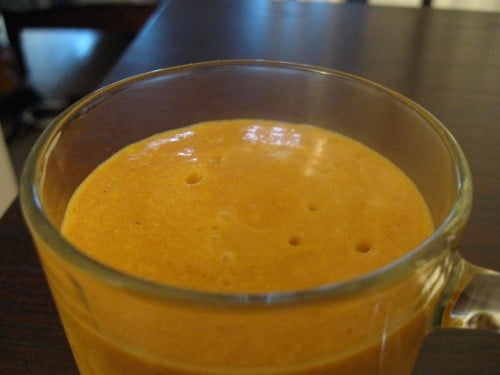 I hope you've all had a lovely weekend and enjoyed the extra hour of sleep. I'd like to take a moment to give all of the amazing folks in the NYC marathon a big shout out – especially the brave and unbeatable Melissa, who's running right now! Additional props to Katherine, who completed a marathon of her own last week.
xo