As usual, thanks for the feedback on Friday. I mentioned that I'd be spending the next two weeks resting and spending a little time in the kitchen (OK, a lot of time), and these scrumptious raw dark chocolate and cherry cookies are one of the fruits of my labor!
These cookies are inspired by one of my favorite One Lucky Duck cookies: the dark chocolate cherry macadamia cookies. These cookies, like all of Sarma's cookies, are delicious, and shockingly authentic. The texture is quite a bit like the "real thing," but I think the taste has even more depth.
The secret to Sarma's cookies, I suspect, is a mixture of almond flour and oat flour. My version features these same ingredients: I used almond meal from Bob's Red Mill (a favorite baking ingredient for me) and I ground raw oat groats in my coffee grinder (which I use only for grains and seeds) for the flour. You could, of course, grind regular rolled oats, or you could use store bought oat flour. Because I didn't have maple powder (which is in Sarma's ingredient list), I used dates, but in order to make the cookies work, I needed to use more almond meal than oat flour. I like the slightly drier (less chewy) texture that the oats created, but you could use all almond flour if oats don't agree with you (Bitt!)
If you like dark chocolate, and you like dried cherries—and how on earth can you not?—you'll love the taste of these treats. I was super decadent and used 1/4 cup chopped raw dark chocolate (Fine & Raw), but vegan dark chocolate chips will be just fine, too.
Raw, Vegan Dark Chocolate Cherry Cookies (raw, vegan, gluten free if you use GF oats, soy free)
Makes about 8 large cookies; recipe can be easily doubled
1 cup almond meal (you can use store bought, like the Bob's Red Mill brand, or you can grind almonds finely in a food processor)
1/3 cup oat flour (I ground raw oat groats in my coffee grinder, but you can use store bought, too)
3 tbsp raw cacao powder
12 large, pitted medjool dates
1/3 cup dried cherries
1/4 cup chopped raw dark chocolate, or vegan dark chocolate chips
1. In a food processor, process almond meal, oat flour, and cacao to combine.
2. Add dates, and process until the mixture is thick and sticks together easily when you clasp a little in your hand (look for similar texture to when you make homemade raw energy balls or Larabars). If the mixture is too dry, add an extra date, a drizzle of agave, or a tablespoon of almond butter!
3. Add cherries and chocolate. Pulse to break down the cherries and chocolate into small pieces and mix them evenly throughout.
4. Place "dough" onto a sheet of saran wrap that has been laid onto a flat surface. Cover with another saran sheet, and use a rolling pin to flatten the mixture to just over 1/4 inch thick. Refrigerate for a few hours, or overnight.
5. Cut dough into desired shapes with a cookie cutter, and enjoy!
These make for good snacking, as well as good dessert.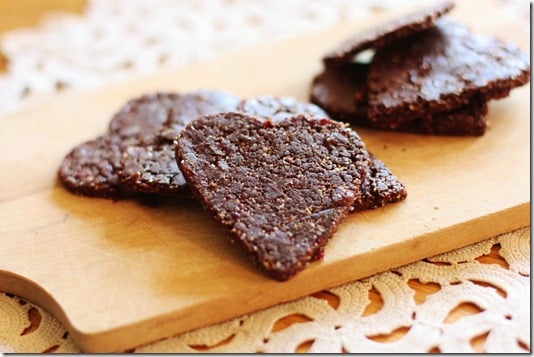 I thought hearts would be appropriate here, because nutritious raw and vegan desserts are heartwarming indeed.
Hope you get a chance to test these cookies for yourself. Of course, you can use any dried fruit you like (raisins, gojis, cranberries), and you can use walnuts or hazelnuts as the base, too.
I'm in the middle of getting ready to go to the filming of the finale of The Celebrity Apprentice, and the afterparty. Not a typical Gena Sunday—it's usually a big deal when I get to watch Mad Men—but a friend of mine had a plus one. So off I uncharacteristically go, and I'll see you back here tomorrow!
xo