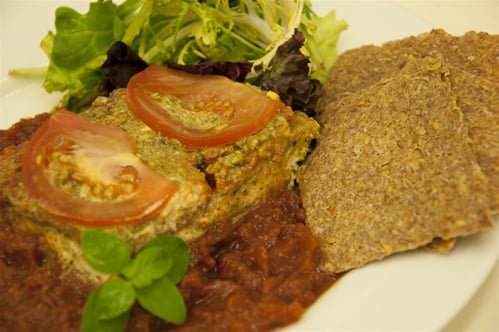 Lasagna and Garlic Bread (c) Pure Market Express
Yesterday, as I announced the lucky winner of Living Raw Food, I hinted at my upcoming review of a new raw foods delivery service. "A raw delivery service?" one reader commented. "Man. Only in New York."
Au contraire. You guys will be surprised to hear that raw foods delivery services are cropping up all over the country. They ship intricate, high-quality, organic, and all raw food right to your front door—no matter where you are. Most offer various packages (you sign up for a certain number of breakfasts, lunches, dinners, and snacks) or the option of ordering a la carte. And in my experience, most of these companies have been started with love and passion by someone whose life was touched by raw foods.
This is certainly true of Rebecca Irey, the co-founder and executive chef behind Pure Market Express, an incredible raw delivery service based in Minnesota. Rebecca grew up on the Standard American Diet: meat and potatoes, goulash and steak. A few meals at a raw restaurant in Minneapolis, though, were enough to pique her interest in the raw diet. If raw foods were as sumptuous and tasty as the foods she tried there, she figured, eating raw might not be so difficult after all. Rebecca was soon a regular at the restaurant, a raw foods convert, and she became a student of Alissa Cohen's.
Thousands of recipes and a fully raw pregnancy later (Rebecca and her husband and co-founder, Quentin, have six children), Rebecca is committed to making the raw lifestyle accessible and delicious for those who may not have the time or motivation to embark on a culinary journey at home. And she's particularly interested in re-creating the tastes and textures of familiar and beloved dishes, from tostadas to pizza to lasagna. The dishes are prepared with love and passion, packaged fresh, and shipped frozen so that clients can enjoy enzyme rich, ready made meals in an instant.
When the Iveys got in touch with me about the chance to sample their cuisine, I was delighted. I've never tried a raw delivery service before, but I've always been curious (if only to see how much dry ice goes into shipping!). I had the chance to make a few menu selections (I went with lasagna and garlic bread, pineapple slaw, chocolate cheesecake, chili lime crackers, and I got a bonus of banana cream pie), and within days the food arrived neatly packaged to my office. It was light to transport home, and when I opened it, I was delighted to find fresh, carefully bundled meals: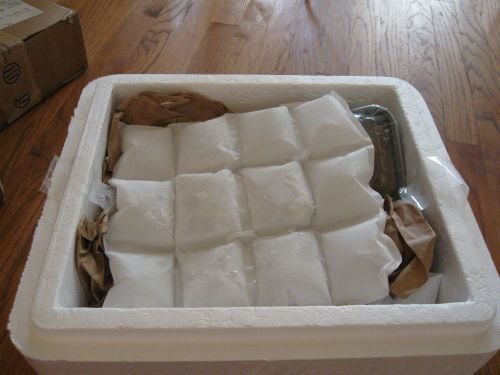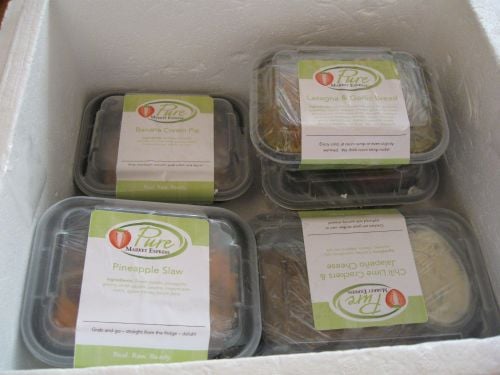 Knowing I'd only be able to sample a few of them this week (it's another busy one, with some meals out, so I didn't want anything to go to waste) I refrigerated half and froze the other half. And I can't wait to sample the goods!
Now, I'll admit that my feelings about raw delivery services are slightly mixed. All of these services purport to  encourage raw lifestyles by giving clients meals that they wouldn't necessarily be motivated or able to make at home. This is certainly admirable: if home delivery is going to help a busy new working mom to sustain her raw lifestyle as she attempts to juggle mothering and her job, or to motivate a businessperson who has virtually no free time to cook between travel and work, that's great. If it's going to motivate a newcomer to eat raw consistently by impressing his or her tastebuds, that's great, too.
But many of us aren't quite as strapped as new working moms or CEOs, and some of us aren't quite newcomers to healthy eating. Most of us reside in a slightly in between place: we have a slice of time in which we know we can take healthy steps, but we're not quite sure how to begin; or, we're in the habit of establishing healthy cooking habits once in a while, but ultimately we get lazy and fall back on packaged foods.
In my mind, it's important for this group—those of us who are busy, but have some time in which to prepare food—to understand that eating raw needn't mean sumptuous recipes and hours in the kitchen; it can be as quick and easy as any kind of routine food preparation. And I'm not entirely confident that food delivery (or dining at a raw restaurant) encourages this awareness; if anything, it may compound a fear of taking ownership of one's raw lifestyle and applying it on a consistent, day to day basis.
As a counselor, I see it as one of my main tasks to give my clients the life skills they need to sustain healthy habits. I know that, long after a client and I are no longer working together, he or she will have the greatest chance of success if I've been able to pass along a set of simple, practical, and easily implemented skills: how to throw together a raw dinner quickly; how to pack healthy, yet filling lunches, how to order in a restaurant. Do I love it when clients become inspired to reach new levels of culinary artistry? Yes! But I would rather see a client emerge from our time together with a set of skills that, if not all raw and vegan, is practical and lasting. In fact, I'd rather know that a client has taken on a few major habits permanently (for instance, eating mostly plant-based till dinner; mastering certain basic healthy dishes for weeknight suppers) than worry that a client who seems to have made a sudden lifestyle transformation is going to burn out when the novelty wears off.
Raw delivery services (and even juicing services, like the Blueprint cleanse), serve an important and valuable function. They show newcomers—including some who would never think to juice or eat raw—how absolutely delicious uncooked and plant based foods are. They allow those who have the means to indulge in healthy, delicious raw cuisine on a day to day basis, so that the lifestyle becomes habitual. And they give those who are interested in raw foods, but live far away from raw restaurants or even decent health food stores, a chance to experience raw dining at its very best. It may be my hope that all of my readers become proficient raw chefs, but that is no reason why they shouldn't also have the option of having tasty, nourishing raw food delivered to them when they feel like it.
We're not all born kitchen lovers, after all; even when it comes to regular cooking, there are those who like it, and those who don't; those who eat in and those who eat out or get takeout. Raw delivery gives those in the latter category a huge and delicious array of options.
And even for those of us like me—guys and gals who love to be in the kitchen—there is always a night (or a week, or a month!) when the thought of preparing something—anything—is overwhelming. I know for a fact that this will be such a night for me. I'll be leaving work, doing an interview for the blog, running home to change, and meeting a friend, and dinner will have to happen in the thirty minutes I'm home. Could I throw together a soup and salad? Sure. Am I really, really excited that I have an amazing lasagna to sample? Hell yes. What would otherwise be a rushed dinner is, thanks to Pure Market Express, going to be a special one.
And as you all know, I'm a slacker on raw desserts. I rarely find time to make them. But this doesn't mean I don't love it when other people make them for me! Naturally, the first dish from Pure Market that I sampled was the chocolate cheesecake. And I can say honestly that it was one of the best raw desserts I've ever eaten (it's long gone now, but here's a shot of the goods after my first bite).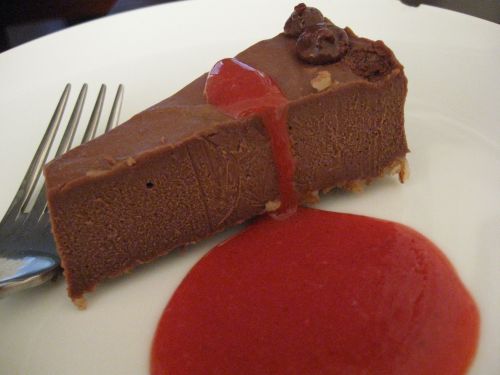 If all of the food continues at this level of excellence, I'm in for a delectable week.
Expect more reviews of my meals as the week goes on. And don't take my word for it—check out the service for yourself! You can learn more about the food options, pricing, philosophy, and story of Pure Market Express by checking out their website. Note the exceptionally reasonable prices and the warm, welcoming spirit behind the company. If you're looking to get a break from food prep—especially as August assaults us with a little heat wave—I recommend Rebecca and Quentin's work.
Just remember to get the chocolate cheesecake.
xo