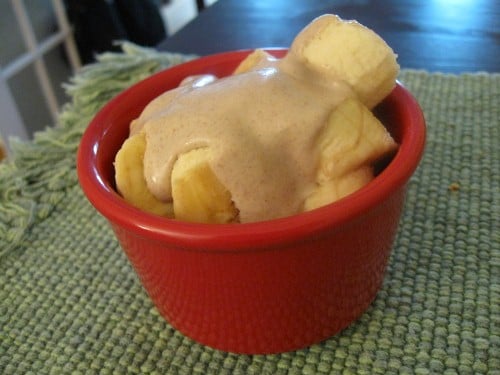 Hey guys!
Hope you enjoyed good weekends. Aside from a heaping helping of work, mine involved some holiday festivities (parties, tree decorating) and a raw eggnog experiment that proved that even culinary failures can often be made into successes.
You see, when my One Lucky Duck newsletter arrived on Friday, it contained a recipe for raw holiday nog that I just couldn't pass up. "Rawnog," you may recall, is one of the raw recipe requests I've gotten for the holiday season. As much as I'd love to concoct my own version, I thought I'd humbly defer to Pure Food and Wine chef Neal Harden, whose recipe looks scrumptious:

I followed the recipe exactly, as a good friend who'd come over to help me decorate my tree waited patiently to be my recipe guinea pig. When it came to straining the 'nog, though, I hit some trouble: it wasn't straining enough. The mixture was so rich and creamy that it only yielded a tiny amount of liquid (maybe 1/4 cup) over the course of an hour in a nutmilk bag. The 'nog I tasted was delicious, but there simply wasn't enough of it: even if I'd squeezed it through the bag (as Neal recommends), it still wouldn't have yielded enough to serve me and my friend.
So I decided to make lemons out of lemonade. I scooped the pulp out of the bag, re-mixed it with the 'nog, and decided to serve the (very thick) mixture just as it was. And as it was, it resembled and tasted a whole lot like my magical raw "whipped cream" — only with a festive touch in the form of nutmeg, cinnamon, and vanilla.
Anyone own Dreena Burton's amazing Eat, Drink and Be Vegan (my fave vegan cookbook just about ever)? Dreena has a recipe for something she calls "celestial cream," which is essentially a thick, rich dessert cream that uses Earth Balance and silken tofu as a base; this recipe, I think, is highly reminiscent, but without the Earth Balance, which is a little more processed than I'd like.  I'd call it an eggnog-spiced cream, but forget the title: it's absolutely delicious, and in spite of the fact that it didn't turn out as eggnog, it made for a darn tasty topping to some frozen bananas I had at home:
The whole experience was a pleasant reminder that, when you're working with good ingredients and flavor profiles, it's pretty hard to "mess up" a recipe. A little creativity goes a long way in reconfiguring the premise of your dish.
And I didn't stop at eggnog spiced cream: this morning, I thinned out half of the mixture with some fresh almond milk, added 3 tbsp chia seeds, and made a recipe that's quite like Kristen's amazing holiday chia pudding.
I'm pleased to report that, though my kitchen success was mixed this weekend, my tree selection and decoration was not. I'm basking in the glow of this little fellow right now:
Who said that you can't stick a Christmas tree in a small NYC apt?
Enjoy a cozy Sunday evening, friends.
xo