So then this happened: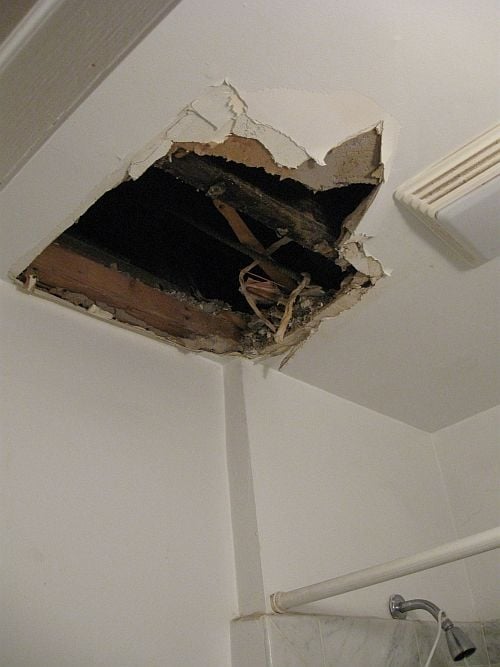 Wait, wait. Let's back it up a bit.
One of the many fun benefits of blogging is entrance into a community. Choosing Raw has allowed me to connect with so many incredible men and women, in and out of the blogosphere. In the last week, I've been lucky enough to spend some quality time with a few bloggers who have become friends in the real world, as it were. On Saturday, I headed over to my favorite culinary mecca, Pure Food and Wine, for dinner with two such friends, Diana and Katherine. Dinner at Pure is always delightful, but it's even more fun with newcomers to the restaurant! I got to watch as Diana and Katherine experienced the asparagus sushi (one of my stanbys):
Summer mache salad (a nice addition to the summer menu):
And trumpet mushroom scallops (which taste so much like regular scallops that I find them borderline-creepy, but are salvaged by a delicious truffle "mousse"):
For the first time. With lots of help from me 🙂
And then came our entrees. Both ladies got Pure's classic lasagna: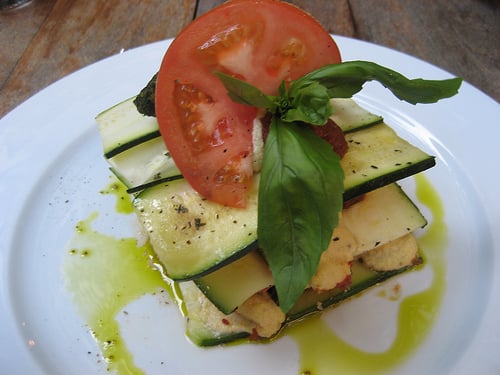 While I decided to be hopelessly boring and get my signature salad (greens, dulse, avocado, tomato, cucumber, carrots, argon lemon vinaigrette) and guacamole: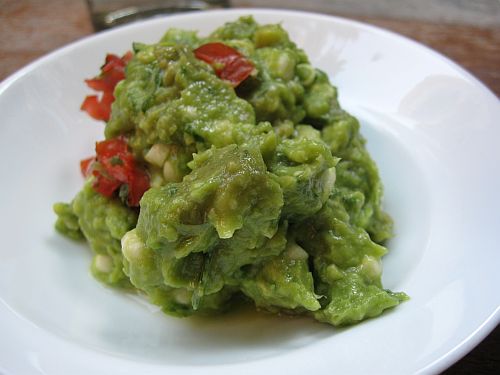 And no dinner at Pure would be complete without the mint sundae with three spoons: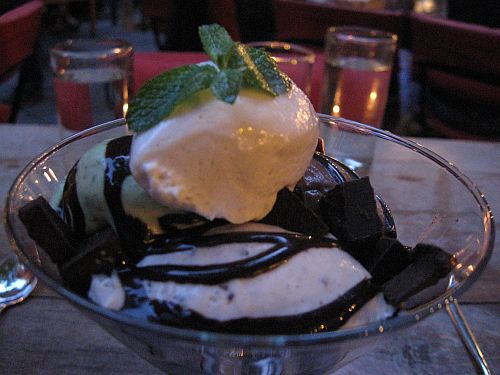 It was a lovely evening, and even lovelier company.
Fast forward to last night. As you all know, Lindsay (the Happy Herbivore) is one of my favorite gals. So I couldn't be more pleased that she has just moved back to her hometown and mine! In honor of her arrival, I had some of Lindsay's and my mutual blogger friends over for cocktails last night. On the menu were my raw appetizer favorites. (You can expect recipes for all of the following within the next few days.) We had two kinds of jicama rolls. The first were stuffed with cucumber and carrot and served with an Asian dressing: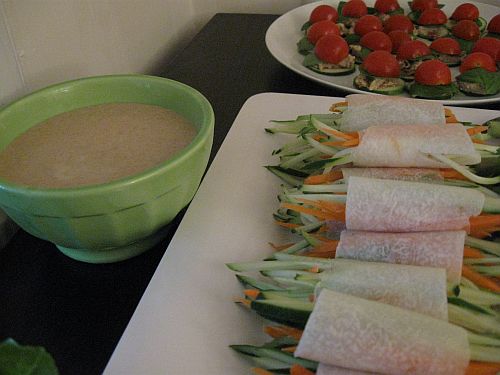 The second were stuffed with asaragus, yellow pepper, and cilantro, and served with an avocado cumin dressing: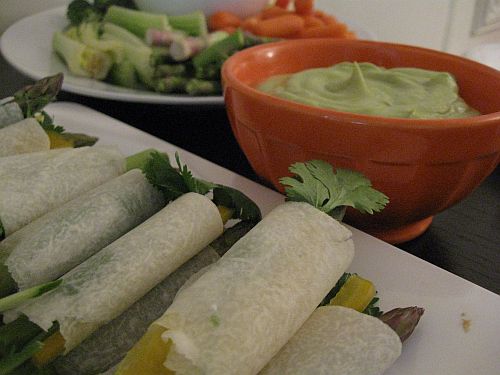 I also served raw mini-pizzettes, which is a fancy way of saying zucchini rounds topped with my raw pizza cheese, basil, and an heirloom cherry tomato: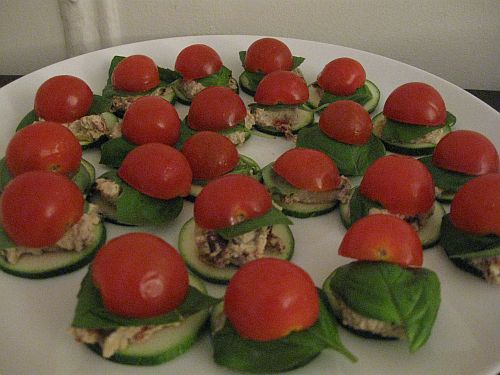 Crudites with my raw zucchini hummus: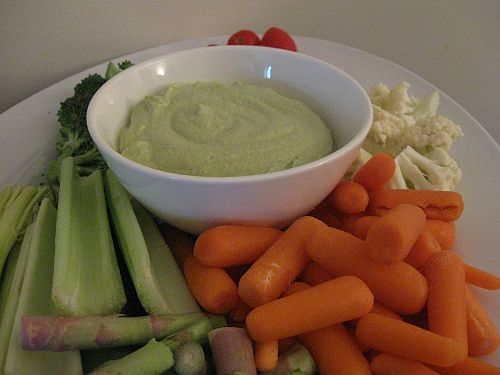 And no meal at my place would be complete without guac:
In the midst of chatting and chewing, we were interrupted by a deafening rumble. I kid you not when I say that this sounded like an avalanche of sorts. I ran into the kitchen, certain that my shelves had collapsed, to find nothing amiss. Then I peered over to the bathroom and noticed some grime and dust peeking out from under the crack of the bathroom door.
Aha.
Upon opening the door, I found this: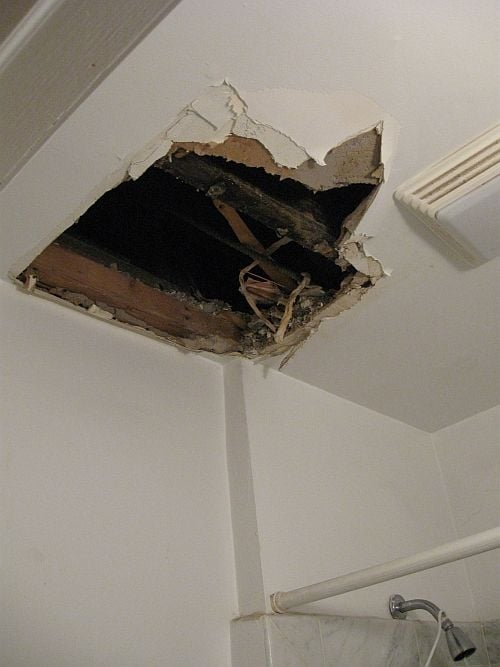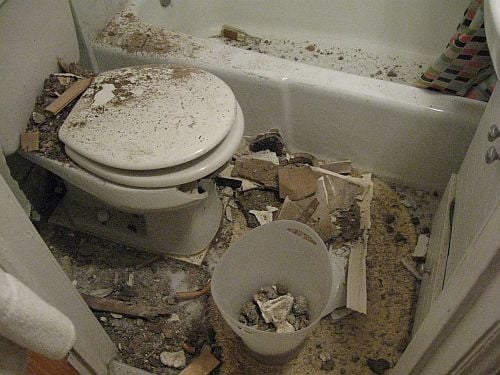 Yes. That is a hole in my bathroom ceiling. A nice chunk of it collapsed, leaving chaos in its wake. Lord knows what my upstairs neighbors have been up to.
As unpleasant as this was, I have three things to be grateful for:
1)    My mother lives close by.
2)    I had much comfort in the form of my six lovely guests, who bolstered my spirits as I called my management company.
3)    No one happened to have been heeding nature's call when this happened. Thank god.
So I'm camping out at my mom's until my super can fix the damage. In the meantime, thank you Heather, Diana, Lindsay, Ashley, Elise, and Katherine for having shared this singular experience with me. I know we won't soon forget it.
On that note, my friends, have a great day. And, um, watch your heads.
xo