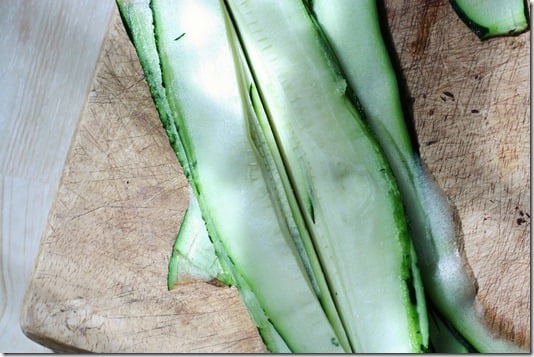 If you have any acquaintance with raw food prep at all, then you've surely experimented with "zucchini pasta"—zucchini that has been cut into long, thin strands to resemble regular spaghetti. There are all sorts of ways to do this: you can use a simple vegetable peeler if it's all you have. You can use a box grater or mandolin. And if you feel like making an investment, you can get a "spiralizer." The most popular, fancy model is the Paderno spirooli, seen below. It cuts zucchini into a linguinie shaped noodle: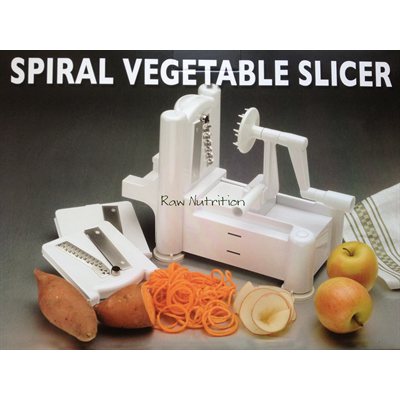 But my personal preference, actually, is for the Joyce Chen saladacco spiral slicer, which makes vermicelli shaped zucchini noodles:
That said, variety is the spice of life, and it's as easy to tire of one type of zucchini pasta as it is to tire of one kind of wheat pasta. On Thursday, I was really inspired by the long, flat, thick zucchini noodles I tried at Maurepas, which were marinated delicately in a touch of salt, lemon or vinegar, and olive oil, then served with a blueberry dressing: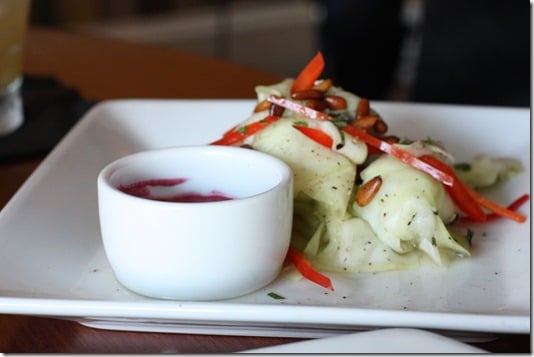 They were so elegant and lovely, and I thought, "why has this never occurred to me?"
The next day, I set out to make thick, flat zucchini noodles of my own—zucchini tagliatelle, if you will—and the results were fantastic.
Want to try it yourself? The trick is simply to lay the zucchini flat on a table, trim off the ends, and then use a vegetable peeler to shave off one long, lengthwise piece.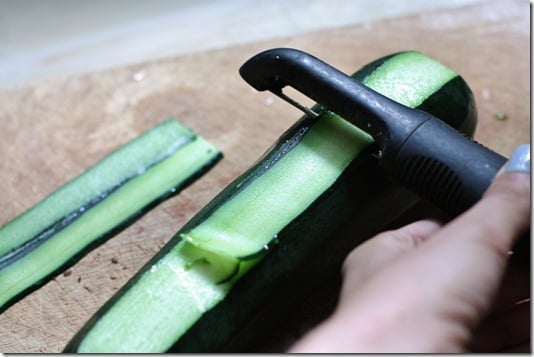 Keep working from end to end, creating long, flat noodles (they'll get wider as you near the center of the zucchini!).
If they're so wide it's silly, cut them in half when you finish: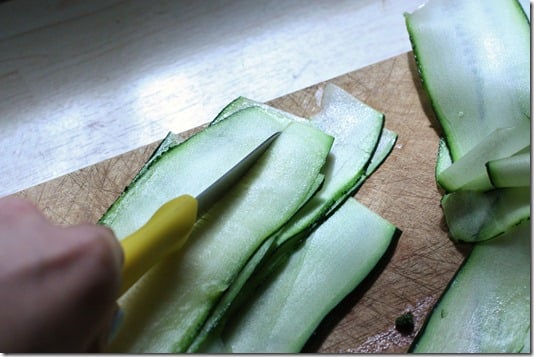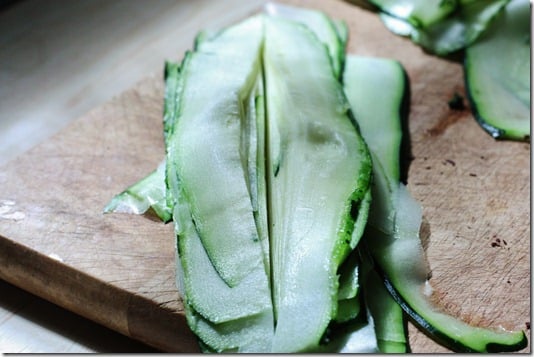 Then, marinate your noodles in a tablespoon of lemon juice or vinegar, a teaspoon or two of olive or avocado oil, and a sprinkle of sea salt for a few hours to soften them. After that, you're ready to use!
A few days after I made my wonderful heirloom tomato and pumpkinseed basil napoleon in New Orleans, I still had some of the pumpkinseed basil spread leftover. I figured that it would be lovely in a pasta dish, and I was right: after prepping my zucchini tagliatelle as specified above (slicing, then a quick olive oil. lemon, and sea salt marinade), I tossed them with some spoonfuls of the pumpkinseed basil spread. It was a simple, delicious, and elegant lunch dish:
Talk about raw food made easy!

I'd serve this dish with a salad of mixed vegetables, legumes, and/or quinoa. White bean salad would be a particularly good accompaniment!
This post just goes to show that, even after years of a single food prep method (zucchini pasta), one can be surprised and delighted by a new trick of the trade. One of the best things about this method is that it requires no fancy food equipment at all, but still makes a beautiful presentation. Who said raw food had to be difficult or complicated? Dishes like this one prove how simple, creative, and lovely raw vegetable prep can be.
xo