Hello, all.
It's Sunday, which means another week is looming. As I stave off thoughts about unread manuscripts and neglected editing, I'm checking in to share—as promised—some recipes from Tuesday's highly eventful cocktail party.
Raw entertaining (is it just me, or does that sound naughty) can be great fun. It's a chance to show guests just how delicious raw foods can be. And, if you're lucky enough to have open minded friends, it's also a nice chance to share some green juice!
My advice for the newbie raw hostess (or host) is the same advice I give all raw foodies: keep it simple. Believe me when I tell you that planning elaborate raw dinner parties or hors d'oeuvres can be rough, at least at first: you'll spend a few days prepping and a lot of time stressing. My first raw dinner (Christmas '07) was, good intentions notwithstanding, a true disaster. It involved a soup that demanded three strains through a cheesecloth, not to mention eight hours of soaking walnuts; a salad that involved ungodly expensive truffle oil; the lasagna from Raw Food, Real World (which is truly delicious, but seriously time consuming); and a raw cheesecake that would not, in spite of my superhuman efforts, set in my freezer. Oh, and did I mention raw flax crackers? Those too.
Since that fateful night, I've learned that well-prepared salads and simple soups are usually enough to wow family and friends; I've never served a kale salad that wasn't a hit. For special occasions, I typically just break out my spiralizer and make some cashew alfredo, and I watch my guests marvel over the fact that they're eating a vegan sauce.
It's very much the same for cocktail parties. A few simple appetizers are enough to please my friends and keep my sanity intact.
With that in mind, I present to you Gena's quick and easy tips for a raw cocktail or dinner party:
1)    Be selective. It's tempting to plan a five-course tasting menu that features all of the recipes you've been eying for ages. But it's more satisfying to get two or three recipes (say, carrot-avocado bisque and simple raw sushi) right, than to attempt four or five and feel harried—or, worse, to produce culinary flops. Quality over quantity folks: for any hostess, this is a good lesson!
2)    Think about pairing dishes together that utilize the same ingredients (in the meal I'm about to share, the avocado cumin dressing and guacamole are a good example; so are jicama rolls two ways). This will help you save on time and on an outrageous grocery bill. And if you honor food combining, it will of course help you to keep your tummy in tune 🙂
3)    Select dishes that are somewhat familiar. If your guests are somewhat new to raw foods, this may not be the night to test out that sprouted buckwheat breat and seaweed soup you've been meaning to try. Stick with foods that are recognizable enough to be welcoming, but utilize them in fun ways: stuff guac into romaine leaves, rather than serving it with chips and salsa, or make a bit of zucchini "pasta" with marinara sauce.
4)    Rely on dips and sauces! It's so much easier to make a few simple foods (veggie roll ups, a crudite platter, some nori rolls) with a variety of dressings and sauces than it is to make a variety of dishes themselves. In the case of the cocktail party lineup I'm about to share, dressings truly made all of the difference.
For last Tuesday's event, the pressure was on: my guests comprised a bevy of seasoned chefs (and by the way, I am still grateful that Heather and Ashley provided the desserts, since it's not my specialty!). My first recipe was inspired by the asparagus and summer squash rolls I made some time back. I loved these, but I figured that jicama would make an even easier and more delicate wrapper than squash. I was right. These were perfectly light and tasty.
To make the jicama rolls, simply peel a whole jicama root. Next, cut it in half (so that you have to half moon shapes). Lay it with the cut side facing down and slice the two narrow sides off so that the cut side takes on a rectangular shape. Next, slice the root, cut side still down, thinly on a mandolin.
Take the slices, and stuff them with veggies of your choice! For this party, I made one set stuffed with cucumber and carrot, and another stuffed with asparagus, yellow pepper, and cilantro.
I served them alongside two dipping sauces. The first was my avocado cumin vinaigrette, inspired by a Myra Kornfield recipe. I've blogged about it before, but here's the recipe again:
Creamy Avocado Cumin Dressing (makes 1 cup)
Ingredients:
1 tsp whole cumin seeds
3 Tbsp fresh lime juice
3 Tbsp EVOO
1 ripe avocado
½ tsp salt
¼ tsp Dijon mustard
1 garlic clove, minced
¼ to ½ cup water (depends how thick you like it)
Black pepper
To make the dressing, dry toast the cumin seeds in a heavy bottomed skillet until fragrant. Grind into a powder using a spice grinder. Add the cumin, lime juice, oil, avocado, salt, mustard, garlic, and water and blend in a blender until very smooth. Sprinkle with pepper and season to taste.
The other was an Asian dressing:
Asian Dressing (Makes 1 1/2 cup)
Ingredients:
1 inch ginger
1 cup olive oil (or flax oil)
2 tsp sesame oil (toasted)
Juice of 1 lime
4 tbsp mellow white miso
6 dates, pitted, or ¼ cup maple syrup
2 tbsp nama shoyu
1/3 cup water
Blend all ingredients on high till creamy and emulsified.
Here are the carrot and cucumber rolls with the Asian dressing:
And the asparagus rolls with the avo-cumin dressing:
I decided that no evening at my pad would be complete without some of my famous guac. So I whipped up a batch.
This is so easy to serve: you can pair it with crudités, healthy tortilla chips (in case you guys are wondering, I recommend the Guiltless Gourmet brand), or my serving method of choice: some romaine leaves so that guests can make their own tacos. Like so:
To round out the party, I decided to show off some of my pizza cheese. And how better than in mini "pizzettes"? I made a batch of the nut cheese, sliced a zucchini, and topped each slice with about a tablespoon of the cheese. I covered each with a basil leaf and half of a cherry tomato and voila! A fancy looking but uber-simple hors d'ouevre.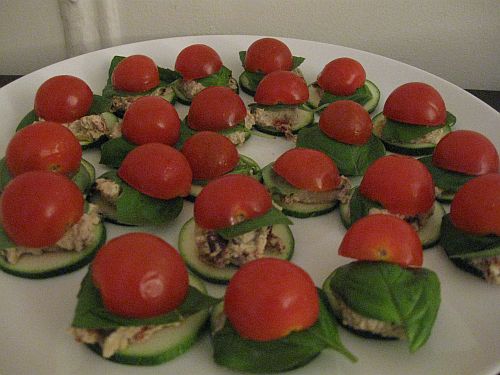 This was all I was planning on, but I had a late-day realization: two of my guests (a Hangry and a Hippie) are hummus fiends. So I figured I had to keep them happy. I whipped up some raw zucchini hummus and paired it with a big crudite platter.
What about drinks? Since I don't drink myself, I always encourage guests to bring over whatever they like. Elise was kind enough to bring over a lovely bottle of Zinfandel. But I always like to offer my guests some green juice, too; why not alkalize as we socialize? (WOW. Did I just write that? I think blogging has officially decreased my cheesy humor threshold). Because juicing for six (let alone two) is a major pain in the a**, I'll always hit up Liquiteria for some bottled juice on the day of a dinner party. On this evening, we were all treated to greens with apple, lemon and ginger.
(Photo courtesy of Heather)
The best thing about this menu? None of it required more than a few extra minutes of chopping and blending in the days before the party. On the Sunday before, I whipped up both dressings (which took about thirty minutes, Vitamix washing included), chopped my jicama and shredded my veggie fillings for the rolls (another 20 minutes), and chopped my zucchini and cherry tomatoes. I put everything in airtight containers, so that it would be ready to assemble and roll the day of the party.
On Monday, I made my hummus for the Hangry Hippies, and I made the cashew cheese (another 30 minutes). The day of the party, I spent a grand total of thirty minutes rolling the rolls, assembling the pizzettes, and laying out the crudités and hummus. After everyone arrived, and as they were chatting, I mashed up my guac. And away we went.
See? No sweat. Much less sweat, actually, than if I were to make hors d'oeuvres that necessitated  oven time or stovetop prep. Best of all, the food kept nicely for a few days hence. (All but the guac, which was pretty much gone by the time the girls left, anyway!)
I hope this gives you all a sense of how to put together some easy raw nibbles for a party! And if it doesn't, here are some other appetizer ideas:
-My spicy thai dressing with spring rolls (you can make your own, or order from a thai joint – these have rice paper rolls, but they're basically raw-ish!)
-A raw soup, like the carrot avocado bisque, served in individual shot glasses
-Cucumber or zucchini rounds topped with a nut pate
-Flax crackers (you can purchase them if you don't have time to make them) and dip of choice
-Celery sticks filled with raw almond butter or tahini
I hope you'll all be inspired to invite some friends over for some fresh and energizing raw treats and some good conversation soon. And hopefully your bathroom ceiling won't collapse while you're at it.
I wish you all a great start to the week!
xo