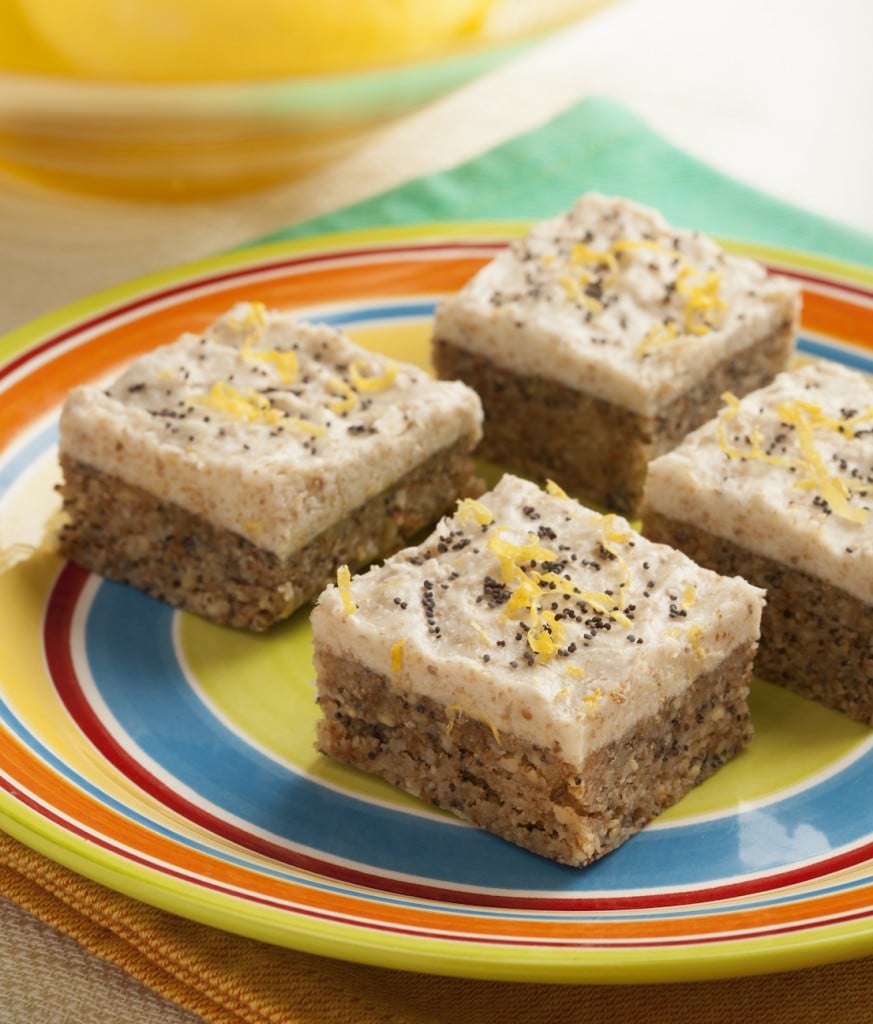 From Naturally Sweet & Gluten Free by Ricki Heller. Photo by Celine Saki. 
At least a few months before I started writing Choosing Raw, I had begun reading Ricki Heller's blog (then called Diet, Dessert n' Dogs) avidly. I was immediately drawn to Ricki's witty, carefully crafted writing (no surprise that she's an English professor), the thoughtfulness and self-awareness with which she discussed her health struggles with candida and weight, and the passion and enthusiasm she showed for creating recipes that are both healthful and satisfying. When CR was up and running, I immediately asked Ricki to contribute a recipe to my post on low-sugar/candida friendly dessert recipes, since many of my clients at the time were struggling with candida themselves. From that moment forward, we became friends from a distance. And only a year later, we were able to bring our friendship into "real" life with a lovely and memorable lunch at Bonobos (now closed, alas) in NYC.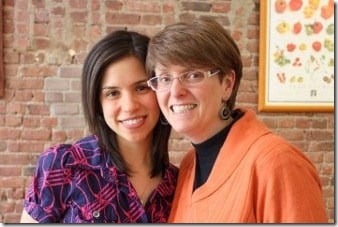 I'm always amazed at the quality and precision of recipes on Ricki's blog. I know from our offline conversations that Ricki tests, re-tests, and tests her recipes again, to be sure that they're perfect. She once told me that if a reader makes a recipe and it's not good, she considers it her failure even if the reader accidentally omitted an ingredient or misread directions; she thinks that the instructions should be so crystal clear that mistakes don't happen. I admire Ricki's perfectionism and commitment to giving her readers recipes that work, every single time. Errors and imprecision creep into my own recipes all the time, so I have a lot to learn from her culinary rigor!
Ricki's recipes range from savory to sweet, but it's her desserts and breakfast foods that tend to be her "signature" dishes. Why? Because she manages to make these dishes, which tend to be fairly laden with refined sugars and refined flours in their conventional form, accessible to people who follow low-sugar and low-allergen diets. As you'll see from Ricki's response to my interview questions in just a moment, it's her goal to create sweet and delectable options for people who have recently been diagnosed with food allergies or other conditions that preclude a lot of common foods. Since many of my readers eat specialized diets–and since I myself have often had to adjust my diet to accommodate my digestive health struggles–I so appreciate Ricki's determination to make delicious food that everyone can enjoy.
Ricki's new book, Naturally Sweet & Gluten Free, is an ode to the wide array of sweet treats that can be available to people who eat vegan, low-sugar, and allergy-friendly diets. It incorporates 100 recipes, all free of gluten, dairy, eggs, and refined sugar. They range from quick breads and pancakes to bars, cakes, cookies, and puddings. They are expertly crafted, meticulously tested, and absolutely stunning (I could stare at the photos in this book all day long). Along with her incredible desserts, Ricki offers clearheaded, accessible information on choosing GF and healthful flours, binders, and sweeteners. She tells the story of her candida diagnosis and how it changed her life. And she shares all of the passion and enthusiasm for culinary arts that has always made her blog a joy to read.
No one can describe this book to you better than Ricki herself, so I invited her here to answer a few questions about NS & GF. Here, in her own eloquent words, is Ricki Heller.
What was the main thing you were hoping to accomplish with this book?
 When I owned my organic bakery several years ago, I often heard from parents with kids who had food allergies, and how they felt really deprived.  On my blog, I tend to receive emails from readers who have been recently diagnosed with either allergies or other conditions that prevent them from consuming foods they've been used to eating for years. What I wanted to show them all with Naturally Sweet and Gluten Free is that, even with dietary restrictions, they can still enjoy all of their favorite desserts—and the treats can taste just as good as they remember them to be.
Over the years, I've found that there is always a way to recreate something delicious, no matter what the allergy or food sensitivity. These days, if I'm given a recipe to create, I see it as a fun challenge. The same can happen for anyone else, too. Once people learn the basics and have used the "new" ingredients for a while, baking this way will feel like second nature. There's no need to feel deprived, and there's no need to make excuses for the food you eat. Nowadays, when my husband and I have friends over for dinner, I serve them my kind of food without mentioning that it's "special" in any way. Everyone still cleans their plates eagerly—and they always ask for seconds on the brownies!
I know it's probably impossible, but if you had to choose a favorite recipe from the book, what would it be and why?
You're right: it's impossible! So I'm going to cheat and give you a few instead (hope that's okay).
I love breakfast foods, so I'm a huge fan of pancakes. I just adore the Carob and Buckwheat Pancakes with Chopped Almonds and Chocolate Chips, because I think they'll make a carob (or buckwheat) lover out of skeptics. They're light and fluffy and perfect with a fruity topping, or melty nut butter (which is how I eat most pancakes). I'm also in love with the Cinnamon Buns, which are my take on the usual ones, except without eggs, yeast, or sugar!
I'm also total chocoholic, so of course I have to pick a brownie as one of my faves.  The Sweet Potato Brownies are my first choice when I need to serve something to people who are neither vegan nor gluten-free, because they always win them over with their fudgy texture and intense chocolate flavor. My friends' kids request this one all the time.
I can't leave out the Butter Tarts, a Canadian classic dessert (sort of like pecan pie without the pecans), because it's one of my hubby's favorites, and it just makes me feel patriotic! If you like gooey fillings with flaky pie crust, this one is for you.
Finally, I have a soft spot for the Allergy-Friendly Chocolate Buttercream Frosting, which first appeared on my blog. It's the perfect frosting for any with almost any allergy, as it's free of white sugar, butter, eggs, dairy, gluten, nuts, soy, or corn—and yet it tastes like regular buttercream frosting and is pipe-able; it will hold its shape at room temperature, so it's perfect to decorate birthday cakes. When I used to make birthday cakes for clients' whose kids had allergies, I used this frosting. One of the most gratifying aspects of the work was hearing back from many parents about how it was the first time their child could eat her or his own birthday cake along with friends. Stories like that have  stayed with me over the years. That's the frosting you see on the cover of the cookbook, too.
What are the major challenges of creating sweets without refined sugars? 
When someone first starts out baking this way, the most important point to keep in mind is that, since most natural sweeteners are liquid, the process is not as simple as switching up one cup of sugar with one cup of the alternate sweetener. You need to keep in mind both the texture (wet vs dry) and the level of sweetness. Some natural sweeteners, such as agave nectar, are actually sweeter than sugar; others, like yacon syrup or coconut nectar, are not quite as sweet. Finally, if you use stevia, it's an entirely different ball game altogether, since stevia is both much sweeter than sugar and also so much more concentrated; sometimes just 1/4 teaspoon (1 ml) of stevia is enough to sweeten an entire recipe. Clearly, if you replace one cup of sugar with 1/4 teaspoon of something, that's going to change the balance of ingredients in your baked good.
Another challenge is the taste. I love natural sweeteners and haven't found one I don't enjoy (yet!), but of course they don't all taste identical to sugar. Some have stronger, more robust flavors (such as yacon); others are milder or even tasteless (such as stevia). The more you bake with them, the more you learn which you prefer for certain things. For instance, I usually choose agave for vanilla cakes because of its mild flavor, but also because it's so light in color; you could bake a vanilla cake with coconut sugar that would taste just fine, but it would be light brown, which might be visually unappealing to some people.
I discuss these concepts at length in the opening chapter of Naturally Sweet and Gluten-Free, because I wanted readers to be able to use their own preferred sweeteners (such as maple syrup, which unfortunately I can no longer eat on my lower glycemic diet) with confidence. In the end, I provide the guidelines on how to substitute one for another, and leave it up to each individual reader to determine which sweeteners they'll use.
What are your magic tricks for creating authentic desserts without refined sugar or flour?
Well, let me first say that just because they're not white doesn't mean they're not authentic! In other words, so many of us are used to the look and texture of white flour and sugar, but I think that it's really easy to become accustomed to eating sweets that are just as delicious without the refined ingredients. I feel confident that my brownies can stand alongside anyone else's, and even someone accustomed to conventional sweets will find them delicious!  If you take a look at the photo of chocolate cupcakes with vanilla buttercream frosting in the book, though, you'll notice that the frosting is just as white as regular buttercream. In other words, sometimes it's important to reproduce the conventional look of a baked good; other times, not so much.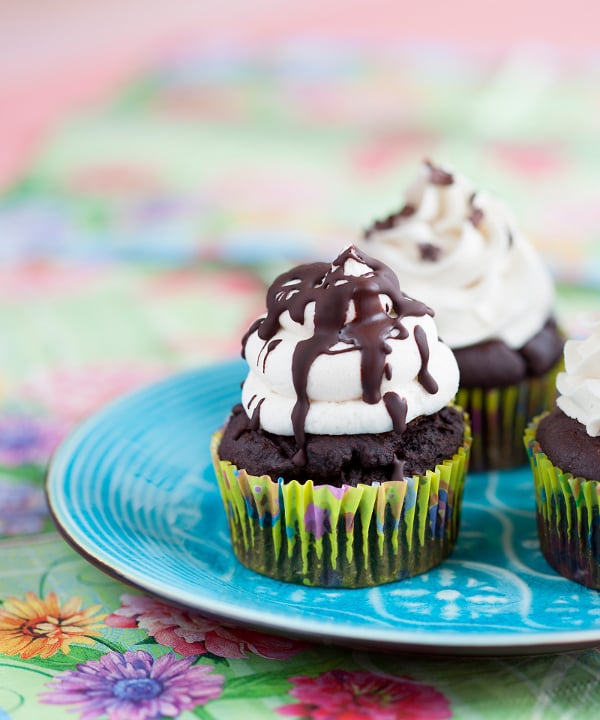 From Naturally Sweet & Gluten Free by Ricki Heller. Photo by Celine Saki.
One of the techniques I use to ensure that my cakes and other baked goods are light and fluffy is to use additional leavening. Vegan baked goods don't have the leavening power of eggs (which often add airiness to the final product); add to that the fact that gluten-free baked goods don't rise as much as conventional ones, and you need something to contribute additional lift.  Using just a bit more baking powder, baking soda, or both will ensure a great final product.
There are a lot of alternative sweeteners out there (and a lot of confusion about them, too, I think). What are a few of your favorites, and why do you like working with them?
As I mentioned above, I love stevia, but it's the most challenging when it comes to baking, because the proportions are very different, and you need to learn what can replace all that bulk of the sugar you're taking out. It's been fun learning, though, and I use it a lot in my book, but in conjunction with other sweeteners. I would advise people to use pure stevia only, however, rather than the blends that are made to measure equally to sugar (they usually contain fillers like cellulose or maltodextrin).
I also love coconut sugar, for various reasons. First, it's the only natural sweetener that's also dry like sugar, yet it scores around 35 on the glycemic index, which is considered fairly low (sugar is around 65). I also love the caramely flavor. Most sources will say that coconut sugar can be measured one-for-one instead of regular sugar, but I've found that it doesn't taste quite as sweet as sugar, so I always mix mine with a little stevia to boost the sweetness. That way, I also use less coconut sugar, and the final product is still very low GI. For similar reasons, I like coconut nectar, which is the liquid sap from the coconut palm tree that hasn't been dehydrated—it's basically the liquid form of coconut sugar.
Agave is also a sweetener I enjoy on a much more limited basis. It's low on the glycemic index and has a lovely, light flavor, but there has been controversy about the amount of fructose in agave, and the fact that this can be hard on the liver. My take on agave is to use it sparingly, but not worry about it when you do. If an entire recipe has 1/4 cup (60 ml) of agave, an individual serving is about 3/4 teaspoon (7.5 ml), not something about which I would be overly concerned.
Finally, I just got some lo han guo (monkfruit) powder and can't wait to play with it! It's a low calorie, low glycemic sweetener that's about 300 times sweeter than sugar and has been used in China for decades. I'm guessing it's going to be the "next big thing" in natural, low glycemic sweeteners.
Thank you, Ricki!!
When I received my copy of NS & GF, I was particularly delighted to see a huge chapter on raw and no bake desserts–my favorite kind!! Since I know my readers love raw treats, too, I asked Ricki if I might reprint her delectable recipe for raw lemon poppyseed squares. She graciously agreed. This recipe perfectly demonstrates Ricki's ability to make healthful desserts beautiful and satisfying.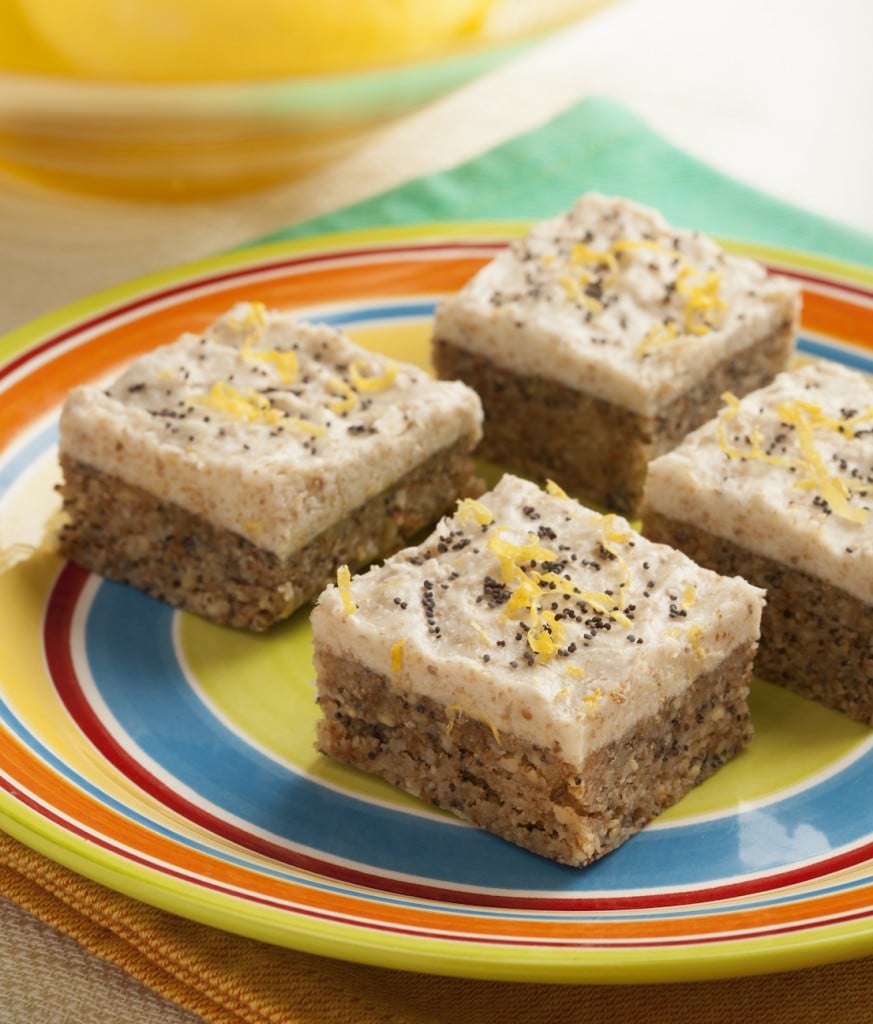 From Naturally Sweet & Gluten Free by Ricki Heller. Photo by Celine Saki.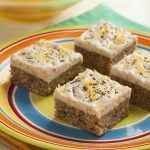 Raw Frosted Lemon Poppyseed Squares from Ricki Heller
Author -
For the base:

2

heaping Tbsp

35 ml ground chia seeds

from about 1 Tbsp or 15 ml whole seeds

1

cup

165 g natural raw skin-on almonds, preferably organic

¾

cup

115 g natural raw cashews

Pinch

fine sea salt

2

tsp

10 ml grated lemon zest (about 1 large lemon), preferably organic, divided in half

Juice of 1 lemon

preferably organic, divided in half

2

Tbsp

30 ml agave nectar or yacon syrup

15 to 20

drops pure plain or vanilla stevia liquid

or to taste

1

tsp

5 ml pure vanilla extract

Up to 1 tablespoon

15 ml water, if needed

2

Tbsp

30 ml poppy seeds

For the frosting:

Heaping ¼ cup

70 ml ground chia seeds (from about 2 Tbsp or 30 ml whole seeds)

1/3

cup

80 ml coconut oil, at room temperature, preferably organic

1

Tbsp

15 ml raw smooth cashew or macadamia butter, at room temperature

Reserved lemon zest

from making base, above

Reserved lemon juice

from making base, above

15 to 20

drops pure plain or vanilla stevia liquid

or to taste

For the garnish

optional

Extra grated lemon zest

from an additional lemon

Extra poppy seeds
Make the base. Line a regular loaf pan with plastic wrap. Set aside.

Combine the chia, almonds, cashews, and salt in the bowl of a food processor and process until the mixture looks like a fairly fine meal (no pieces of almond should be visible). In a small bowl, mix together half of the lemon zest, half of the lemon juice (about 2 tablespoons or 30 ml), the agave nectar, stevia, and vanilla until everything is well combined. Pour the lemon-juice mixture over the dry ingredients in the processor and blend until it comes together in what looks like a sticky dough (if it's too dry, add up to 1 tablespoon or 15 ml water). Sprinkle with the poppy seeds and pulse just until they are incorporated. Turn the base into the prepared loaf pan and, using wet hands or a silicone spatula, press it down firmly and evenly. Place the pan in the fridge while you prepare the frosting.

Make the frosting. In the bowl of a food processor or using a hand blender, blend the chia, coconut oil, nut butter, reserved lemon zest, reserved lemon juice (you should have about 2 tablespoons or 30 ml), and stevia until perfectly smooth. The mixture may liquefy as the coconut oil melts; this is fine.

Frost and unmold. Pour the frosting over the base in the pan and swirl the top. If desired, sprinkle with additional lemon zest and poppy seeds to garnish (see photo, page 208). Refrigerate until firm, at least 2 hours. (Tip: If the frosting is too liquid to hold a shape when you first pour it over the base, refrigerate about 15 minutes until it firms up a bit, and then add any swirls that you like.) Once the top is firm, fold the plastic wrap over it to cover.

To unmold, peel back the plastic on top and invert onto a cutting board; turn right-side-up and cut into 12 or more pieces (they should be relatively small). Serve immediately; store leftovers, covered, in the refrigerator, for up to 5 days. May be frozen. Defrost in refrigerator. Makes about 1 dozen.
I can assure you all that these delicious lemon squares are only one tiny sample of Ricki's extraordinary range and talent. If you're looking to add more allergy-friendly, vegan, and low glycemic treats to your repertoire, I highly recommend checking out Naturally Sweet and Gluten Free!
To connect with Ricki, you can also visit her website, follow her on Twitter or Facebook, or check out her Pinterest boards.
I can't wait to share some new recipes this week!
xo