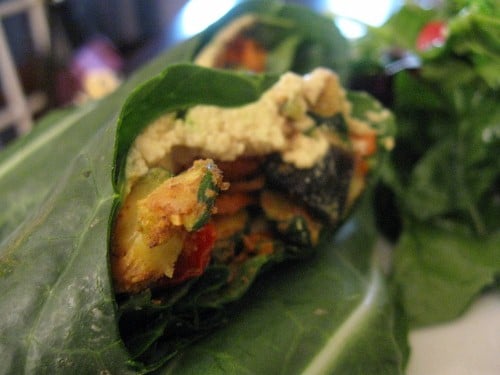 Happy Friday!
Wow! What an incredible response to my post on building nutrient-dense salads. I'm so, so glad it was helpful. I often fret when clients (or friends) skimp on dressing, toppings, and sources of good nutrition when they make salads, so let's all vow to load up on energy and volume when we make a salad for a meal. Recently, a reader wrote in to tell me how refreshing she finds it that she sees generous portions and lots of food on CR. "One thing I appreciate about you," she said, "is WOW YOU EAT A LOT!!!! I am always amazed at how HUGE your meals are. I, like many, have had a very unhealthy relationship with food most my life, and it is very refreshing to find a blogger who celebrates vibrant, healthy food choices."
Thank you! What a compliment! I love to eat, and I love that you guys love it, too.
Speaking of loving to eat, I have been eagerly looking forward to sharing this recipe all week. I think Indian food fever must be in the air. In addition to a certain bloggie pal who likes to feast on Indian food on the reg, Lori and Michelle posted an awesome Indian recipe a few days ago. And me? I'd had this recipe in my head for weeks, and I finally had a night at home in which to make it! It's an raw, Indian-flavored wrap, and it's totally scrumptious.
It begins with a curried cashew pate. This, like my lentil-walnut pate, was inspired by a dip at Angelica Kitchen here in Manhattan. Their version is made with sprouted chickpeas, which I'm not fond of, so mine is a simplified version, made only from cashews, lemon, and spices. It's so unbelievably tasty that I was tempted to give it a dedicated blog post of its own! The recipe:
Raw Curried Cashew Spread (yields 1 1/2 cups, or approximately 6 servings)
1 1/2 cups cashews (soaked at least one hour, preferably several)
2 tbsp lemon juice
1 1/2 tbsp agave nectar, or 3 pitted dates, soaked
1/4 tsp salt (the next ingredient is miso, so if you're sensitive to salt, start with a little less and add more as needed)
1 tbsp mellow white miso
1 tsp mild (but high quality) curry
1/2 tsp cumin
1/4 tsp cinnamon
Blend all ingredients in a food processor, stopping a few times to scrape the bowl. When the mix becomes relatively smooth, add a thin stream of water until it's very creamy, but still thick in texture — akin to a hearty hummus. Serve on its own, in wraps, on salads, or as a dip!
This spread is a stand alone hit, and you should make it just as fast as you can. If you want to turn it into a meal, though, give this amazing wrap a try!
Gena's Raw Indian-Spiced Wrap (yields 2 wraps; serves 1)
Along with your spread, you'll need to make my Indian-spiced veggies. These things are genius! And simple as heck to make. I was inspired by the dehydrated veggies that I made a while ago for my rockin' hummus wrap. This time, I wanted to dust them with spices before the dehydration process. I began with chopped veggies–about 1/3 cup each of eggplant, zucchini, red bell peppers, and carrots. I tossed them in a few teaspoons of coconut oil; if you like, you might try Spectrum's coconut oil spray.
Then, I sprinkled them with salt, pepper, a tiny smidge of agave nectar, and 1 tsp garam masala. After tossing them to be sure they were all coated in spices, I stuck them in my dehydrator at 105 overnight. In the morning, they were warm, fragrant, and also drastically reduced in size!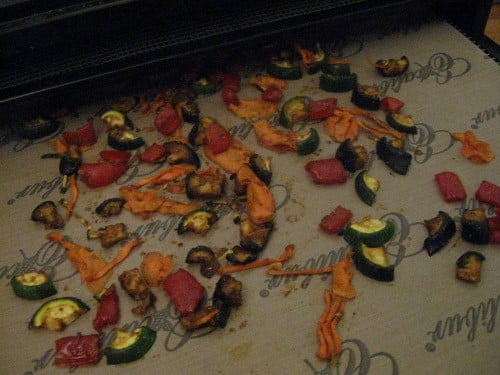 If you don't have a dehydrator, go ahead and stick them in the oven at a low temperature till they're soft and fragrant. If you don't care much about cooking temp, just go ahead and roast them in the same spices!
To put these wraps together, you need to little more than combine your tasty spiced veggies with the curried cashew spread in a collard wrap! Simple, quick, easy. If you're rusty on using collards, it's very easy: just slice a V shape at the bottom where the very thick stem is:
Then, use a paring knife to shave down the remaining "vein" in the leaf:
Spread a few tablespoons of curried cashew spread about an inch from the bottom of the leaf, and top it with half of your dehydrated veggies. Tuck in the sides, and roll upwards, and you'll end up with something that looks like this:
Repeat with a second wrap, and you're ready for dinner!
I cannot tell you how wonderful this meal was. So simple, yet exotic and unbelievably satisfying. I'd forgotten how dearly I love Indian spices–they appeal directly to my penchant for sweet-savory combinations. This is a good reminder to whip out my garam masala more often!
The meal: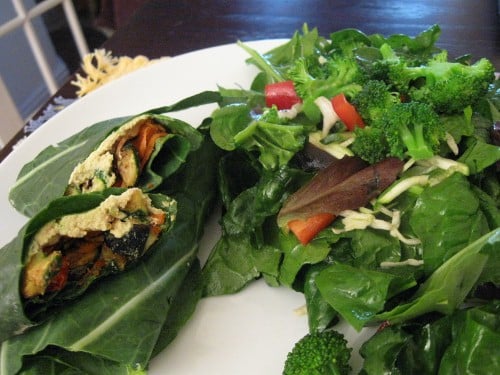 Check out this amazingness: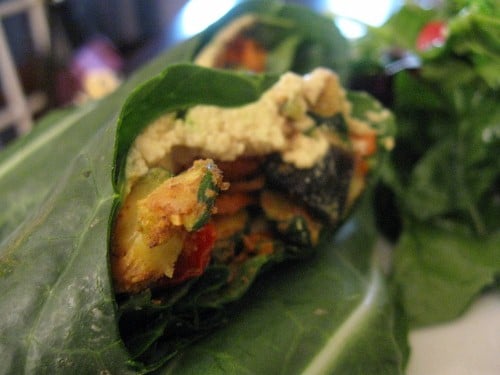 And again:
Oh yes.
Hope you all give this one a try — at least try the cashew spread! It's truly awesome, and it would work just as nicely in an Ezekiel wrap as it does in a collard or chard leaf. And we all love versatility.
I'm writing from upstate New York right now, where the lilacs and wisteria are blooming. It's beautiful and peaceful, and I'm so happy to be here. Have a wonderful weekend — I'll be back on Sunday.
xo