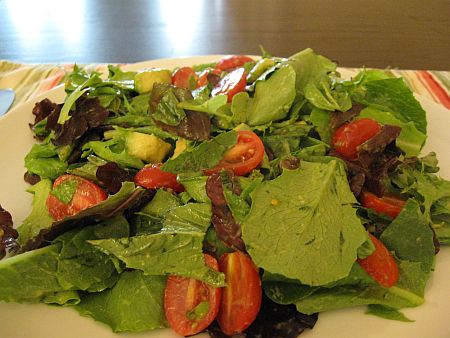 Greetings all!
Dearly though I love making—and posting—recipes for you all, it can be a true pleasure (and a welcome break) to take inspiration from a fellow blogger. Tonight, I'm posting a simple, yet incredible raw tip I got from fellow raw lifestyle coach, Casey!
If you're reading this blog, there's a good chance you love salad as much as I do. I'm not ashamed to say that I could eat salad night and day for the rest of my life without tiring of it. This said, I'm always looking for ways to lend variety to my salads. One of my recent and more fortuitous discoveries is the addition of fresh herbs to my salad: it's extraordinary, but this had never occurred to me until recently! Chopping some fresh basil, cilantro, thyme, chives, oregano (or a combination of them) and adding them to a leafy green salad will elevate and brighten the flavor tremendously.
Here's another genius idea: add fresh ginger to your salad. When I first saw this recipe on Casey's blog, I was dubious: I'm used to putting ginger in juice and in soups, but it had never occurred to me to add it directly to a salad. Then again, ginger may very well be my favorite herb, so I figured, "why not?" And indeed, the recipe did not disappoint. I shouldn't have been surprised, since Casey and I have similar food personalities: simple palates, a penchant for fresh flavors, and a mutual passion for avocado. You can find the link for the recipe here. And here is my modified version—sans onion!
Casey's Simply Delicious Salad (Serves 2)
100g spinach leaves
2 handfuls of very fresh basil leaves
1/2 inch ginger, peeled and diced very finely (or minced but only use fresh ginger)
20 cherry tomatoes, halved
1 large avocado or 2 small
Juice of 1 lemon
Sea salt and freshly cracked black pepper to taste
Optional: stevia drops
This was a perfect lunchtime treat: fresh, satisfying, and summery. I recommend it!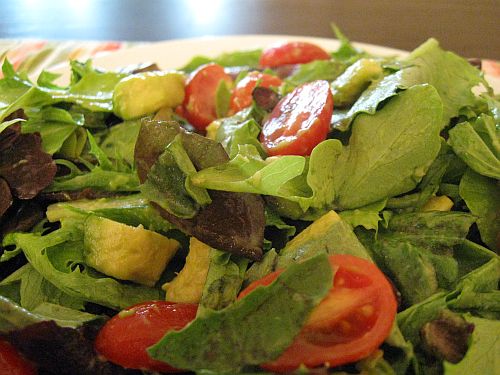 Thanks, Case!
Before I sign off, friends, a few noteworthy announcements:
Zestycook is posing the fun question: what's a food that you hated as a child, but now love? Check out the fun responses, and add one yourself!
Gina is giving away a copy of Sarma Melngailis's new cookbook!
Val is hosting her first giveaway.
Raw banana soft serve has been sweeping the blogosphere! If you haven't enjoyed it yet, get busy.
Happy Friday, all.
xo