Image © Food52
Hey all! I'm delighted to be posting today with exciting news. Starting today, I'll be contributing a biweekly column to Food 52, which is one of the most beautiful, clever, and inspiring food websites around. I first discovered the site through Chloe, who is a great resource when it comes to all things gastronomical. The site is intended for eaters of all inclinations, but I get plenty of inspiration from even the non-vegetarian or vegan recipes: they give me ideas about what kinds of things I might like to veganize, and they're chock full of technical instruction for the home cook. If you're just starting to find your way around a kitchen, this is a fantastic place to master classic dishes and learn basic techniques.
Most importantly (to me), the writing at Food 52 is consistently excellent, and I enjoy the variety of columns and topics. Right now, I'm enjoying witty musings by Nicholas Day, who writes about "cooking for children, and with children, and despite children. Also, occasionally, on top of."
My column will be called "The New Veganism." It's a coy little double entendre, because although it's aimed at all readers, one of my hopes is that the column will help new vegans (or the vegancurious) to get started. It is also my hope that the column will introduce people to a kind of vegan cooking that defies most new vegans' fears and doubts about the lifestyle. Before I became vegan, I was really worried about a) cost, b) the amount of time the recipes would demand, c) creating balanced meals, and d) the fact that my only real acquaintance with vegan food suggested that there was a lot of meat replication involved, and I didn't really want to replicate meat. I think faux meats are great if you enjoy them, but at the beginning, I needed more basic instruction on what I could do with vegetables themselves!
So that's what The New Veganism is all about. I hope you guys will check the posts out, and share your thoughts at Food 52 just the way you share them here! And even though you're all regulars, I hope that the column will refresh your interest in mastering the art of vegan and raw cooking—the simple, easy, and fun way.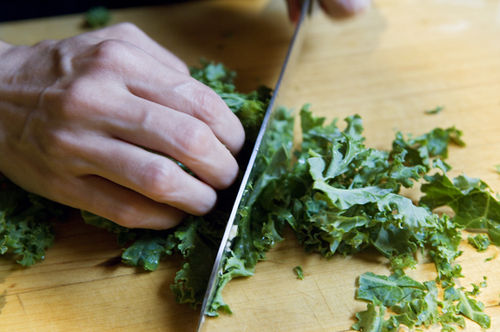 For my first column, I thought it was only fitting to present a kale salad. I'll never forget the first time I tried kale raw, and was so delighted and surprised to realize how absolutely delicious it is. As I was writing this particular recipe down, I felt little pinpricks of nostalgia for my first bowl of "massaged" kale. I hope you will, too. And I can assure you that this particular salad: massaged kale with puy lentils and sweet apricot vinaigrette—is just the thing to make if you haven't had kale salad in a while!
Head on over to Food52 and check it out! And feel free to leave feedback, too.
Before I go: thanks for so many thoughtful responses to yesterday's post. One thing that occurred to me after I wrote it was that people like me spend so much time trying to show the world how delicious, abundant, and ultimately fulfilling the lifestyle is that we can sometimes forget to talk about the moments when it's a little challenging. The problem with talking about all of the (many) rewards without addressing any of the challenges is that, when new vegans do encounter their first moment or two of difficulty, it's easy for them to feel as though something must be wrong with them, or to conclude that something is wrong with the lifestyle.
My hope is that yesterday's post showed you that it's OK to feel as though it's hard sometimes: the important thing is to realize that many other vegans have felt the same way at one point or another, but that we remained hopeful about what the lifestyle could give us, and what we could give back to others through the lifestyle. There is so much joy to be had in making healthful, compassionate, and conscious food choices; if you feel in your heart that veganism is right for you, stick with it. And you can always access this community for support!
xo
All images © Food52.com