The following recipe was born out of indecision–a rarity in my kitchen, since I'm a doggedly decisive person. It was a warm summer evening, and I was in the mood for something sweet. The thought of my lime-in-the-coconut smoothie crossed my mind, but quickly retreated: too sweet. The thought of chocolate crossed my mind (let's face it, when doesn't it), but also faded: too rich. The thought of some banana soft-serve crossed my mind, but even that treat, in all of its splendid simplicity, wasn't tempting me. What I wanted was something fresh and light, but substantial, too. And so lemon chiffon pudding was born.
My Greek Yaya uses lemon in everything, from avgolemono soup to broiled chicken to lemony roasted potatoes. She even used to squeeze lemon on bagel chips, as if it were a dip or spread (odd, yet true). I share her passion for lemons, if not her love of poultry; I could season just about anything with lemon juice, and do. Lemon and oil is the dressing on most of my salads; lemon goes in my guac, my green juices, my blended salads, and my pates. And I've now made the fortunate realization that it has a worthy place in my desserts, too.
You know the lemony layer in traditional lemon squares–that gooey, sweet part that is without a doubt the highlight of the dessert? While it would be lame (and untrue) to suggest that this is a direct replica of that, I have to admit that it's the first thing I thought of when I tried this. Unlike the lemon layer in lemon squares, though, this recipe is free of white sugar, free of flour or constarch, and demands no time in a hot oven! In fact, it takes about five minutes to prepare.
And it's delicious. As you probably know from reading about my choco-avocado pudding (in the recipe tab), I find that avocados make for terrific pudding bases: they're creamy and versatile and neutral tasting. To make this recipe pop, all you have to do is add a generous portion of lemon to a single avocado, along with a sweetner of choice. And voila: a rich, yet light and fresh-tasting treat for any summer night.
Here's the recipe:
Raw Lemon Chiffon Pudding (serves 2)
Ingredients:
1 avocado, cut into chunks
Juice of 1 large lemon
3 tablespoons maple syrup
3 tbsp water (start with 2 and adjust based on how thick you prefer the pudding)
Directions:
Blend all of the ingredients together in a food processor or a high speed blender. Put the pudding in the fridge for at least thirty minutes to thicken and set before digging in!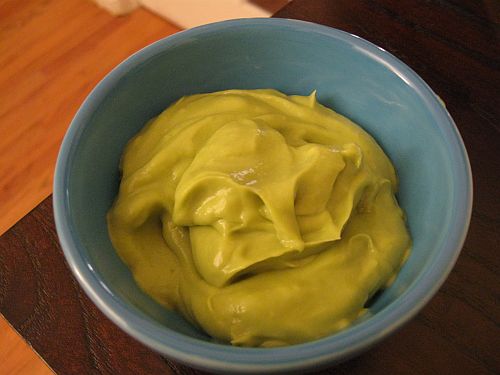 I hope this is a sweet start to your weekends, guys. Enjoy it.
xo
Edited to add: For those of you who read this when I first posted (last night) I forgot to mention that you want to use the juice of one large lemon, not the lemon itself (you could throw the whole lemon in the Vita-Mix, but in that case I strongly recommend using half). Enjoy!!