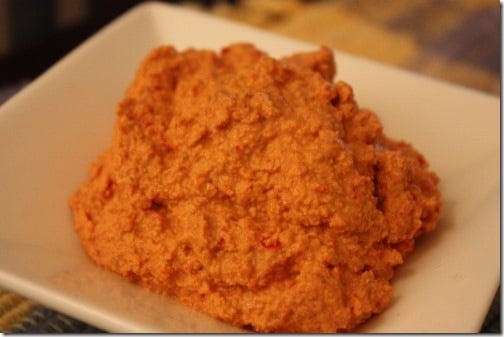 I love Middle Eastern cuisine. It's spicy, fragrant, warming, and nearly always vegan friendly. Wherever I travel—be it a small town or a big city—I know that I can find at least one Middle Eastern restaurant nearby, and that it will be brimming with gently spiced rice, spreads like hummus and baba ghanoush, and plenty of vegetables.
When I was a lowly assistant at FSG, I got invited to quite a few company dinners, and I was always anxious about causing a scene at some upscale dining establishment that turned its nose up at vegans. What would my bosses think? As it turns out, FSG-ers have impeccable taste, and a good 60% of our outings occurred at a local, upscale Middle Eastern restaurant. It was a stroke of good fortune for this happy vegan, who never went home hungry.
We all expect hummus and baba ghanoush when we eat Middle Eastern. But one of my very favorite Middle Eastern spread/dips is a dish called muhummara, which is a dip made from roasted red peppers and walnuts. It's spicy, tart (there's typically lemon juice in it), and absolutely delicious. The dish is Syrian in origin, but it's often on the menu of Middle Eastern restaurants of all varieties—especially Turkish restaurants. No matter where you're lucky enough to find the stuff, order it: you won't be sorry.
Typically, one makes muhammara by roasting red peppers and blending them with walnuts (which may also be roasted). For a long time now, I've wanted to make a raw version, and this week seemed like as good a time as any. I didn't want to use raw red peppers, because I knew they wouldn't have the deep, sweet taste of roasted ones. Instead, I dehydrated some bell peppers for four hours with olive oil, salt, and pepper, and then processed them with raw, soaked walnuts. The result was, I must say, a whole lot like the original: smoky, sweet, and a little spicy. You can adjust heat by adding red pepper flakes at your discretion, and you can certainly amp up the garlic if you like!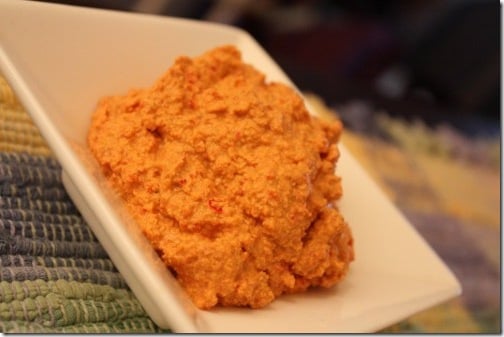 Raw Muhammara (makes 1 1/2 cups)
1 cup walnuts, soaked 8 hrs
2 red bell peppers, quartered or cut into thick wedges
4 sundried tomatoes (optional)
1/2 clove garlic, minced
Juice of one freshly squeezed lemon
1/4 tsp cumin
Salt
Red pepper flakes
1) Rub peppers in olive oil. Place them on a Teflex-lined dehydrator sheet and sprinkle with salt and pepper. Dehydrate at about 115 degrees for 3-4 hours, or till reduced and soft.
2) Drain walnuts and place in the bowl of a food processor. Process till very crumbly.
3) Add red peppers, tomatoes (if using), lemon juice, and cumin in the food processor, and process till very smooth. If you need to, add a touch of water. Check mixture for seasoning and then season well with salt and pepper flakes. Serve!
I enjoyed mine stuffed into romaine leaves and served up with salad: fresh, tasty, and just my kind of lunch.
If you're a fan of Middle Eastern food—or even if you're not—you'll want to give this savory spread a shot. I think it would make for a lovely pre-dinner appetizer or party dip, and you can easily double it!
And now, some news: starting tomorrow morning, I'll be out of touch for a few days. Before orientation and class begins in mid-January, I'm trying to take some precious time to myself and recuperate from a really hectic few months. Between now and Sunday, I'll be doing that most impossible of things—going offline. Or rather, I'll be sans wifi for a week. After that, I'll be in DC for a week or so. Let's see if I survive the wifi part.
Between now and Sunday, as I discover anew what it means to disconnect, I've asked a few of my dearest blogger friends to fill in for me with guest posts. Now, I know that we all have a tendency to skip over guest posts: I have to admit, I do it too. We read blogs for the voices of the people who write them, and when that voice is on vacation, our attention is too. But please, let me make a case for why you should read this week:
Tomorrow: The gutsy Melissa blogs about the importance of counseling in ED recovery
Wednesday: My friend Anne shares two 5 minute raw snack recipes
Thursday: My friend Melody blogs about an exciting new community agriculture project
Friday: Leslie shares not one, but FIVE scrumptious vegetable recipes
Saturday: The ever inspiring Mara talks about the dangers of perfectionism
Sunday: My friend Bitt opens up about her journey from all raw to high raw (not to be missed)
All of these posts are going to be stellar—I know, because I just finished editing them—so please, please tune in!
And I'll miss you all enormously, and be ready to share more food porn than my camera can hold by Monday of next week. For now, I wish you all a happy, healthy, and wonderful New Year's Eve. Eat some kale for me.
xo