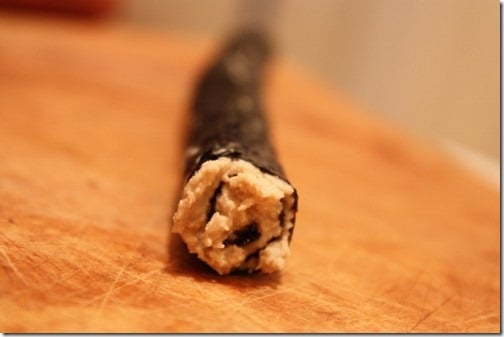 Since I've started student life anew, my week as a foodie is firmly divided: on weekends, I relish every free moment I have to cook, and I go big: casseroles, pizzas, extensive raw entrees, and even the occasional baking venture. During the week, I have four priorities:
Portability
Ease
Taste
Health
I want food that'll nourish me quickly and feed my brain; that's easy to make and transport, and that tastes great. So far my lunches and dinners have been marinated kale salads (of course), raw collard wraps, leftover cups of soup and stew, almond butter and raw strawberry jam sandwiches on sprouted grain bread, and—when I have a little time to eat and don't mind more mess—a nutrient dense salad. But I'm not just hungry at lunchtime and dinnertime; there seems to be a direct correlation between the number of physics problem sets I do, and my appetite. So snacks are quickly becoming a priority, and my goal is to come up with snack ideas that meet all of those criteria.
The following snack succeeds. It's portable, easy to make, delicious, and packed with vital nutrition in the form of healthy fats, Vitamins E, B1, and B5, and protein. It's also a good source of iodine, which most of us tend to skimp on in our diets. Best of all, and unlike most of my snacks, it's not sweet: it's a savory snack, and a welcome break from raw bars, fruit, and trail mix. Behold, the nori cigar: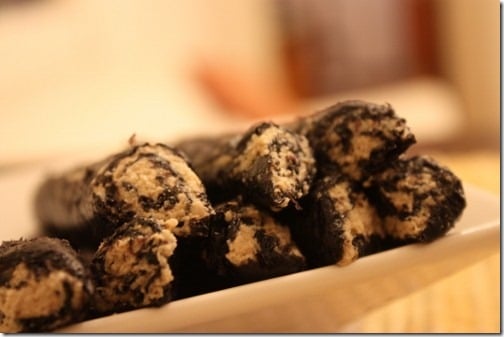 These guys are inspired by a snack item at Bonobos. When Ricki visited NYC, she was so impressed with Bonobos raw nori cigars that she created a version of them over at her blog, Diet, Dessert & Dogs. Today, I offer you mine, made with a super simple (and versatile) sunflower seed pate.
Raw Nori Cigars (Raw, vegan, gluten free, soy free)
Yields up to 10
For the cigars:
5 sheets raw, untoasted nori
1 recipe gingery sunflower pate, below
Gingery Sunflower Seed Pate (Raw, vegan, gluten free)
Yields about 1 1/2 cups
1 1/4 cup sunflower seeds, soaked for at least 1 hr
Juice of 1 lemon
2 tbsp tahini
1 1/2 tbsp Bragg's liquid aminos
1 tiny garlic clove, minced (optional)
1/4 tsp powdered ginger (more if you like the taste)
Black pepper to taste
Water
Handful chopped scallions (optional)
1) Place all ingredients in a food processor and run motor till it's relatively smooth.
2) With motor running, drizzle in enough water for the pate to be thick, but easy to spread (careful not to add too much!).
To assemble cigars:
Cut a sheet of nori in half. Spread each half with two generous dollops of pate:
Using a knife or spatula (I used an inverted spatula—great kitchen tool, if you don't have one), spread the pate in a thin, even layer over the nori:
Beginning at the shorter end of the sheet, roll the nori carefully up to make a single cigar:
Keep working with all of the nori, until you've got about 8 or 10 cigars: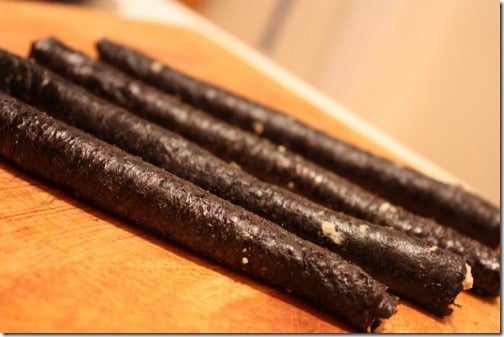 These guys are so easy to cut in half and transport! And in spite of their convenience, they make a nice presentation:
I recommend these for all of the snackers among you. And keep in mind that they'll also be a perfect component of a nutrient dense salad; just chop two or three up and arrange them over your greens!
And now, for the third installment in my week of "Go Pack!" recipes.
Two days ago, you guys got my semi-raw three layer dip:
Which, I realized this week, makes for an awesome salad-topper:
Today, I'm asking you to recycle the delicious jicama-mango salsa (and you ought to have a little bit leftover after you make your three layer dip) for a soup garnish.
Raw soup isn't exactly the sort of thing I usually serve to guests. I love the stuff, but it's a little far left of center on the foodie spectrum. Nevertheless, a lot of popular soups are chilled: gazpacho is the most notable example! And the following soup, while very simple, has never steered me wrong with friends (or even when I feed myself). It's the most basic of all of my avocado based soups, and it's also my favorite.
Avocado Soup with Lime (Raw, Vegan, Gluten Free)
Serves 4
3 ripe avocadoes
4 cups of water or coconut water
3 tbsp lime juice
A few sprigs parsley
1 tbsp mellow white miso
3/4 tsp sea salt
1/2 tsp smoked paprika
Dash cayenne pepper
Optional: Salsa of choice for garnish
Blend all ingredients in a blender on high. If you find that it's too thick (this will happen if you use giant avocados), add 1/2-1 cup additional water, till the texture is perfect.
Pour soup into glasses, and top with your salsa.
What makes this Super Bowl worthy? The fact that there's green and yellow in the dish.
No, I kid. It's easy. It's tasty. It's a little spicy. It's a raw, vegan dish that feels totally accessible. It's a fun alternative to guac.
And it's very pretty. My idea for how you'd serve this to company is to pour it into shot glasses and spoon your salsa on—avocado shooters!
On that note, I have other great game eats to contemplate, some homework to master, and a weekend in DC to look forward to. Night all.
xo