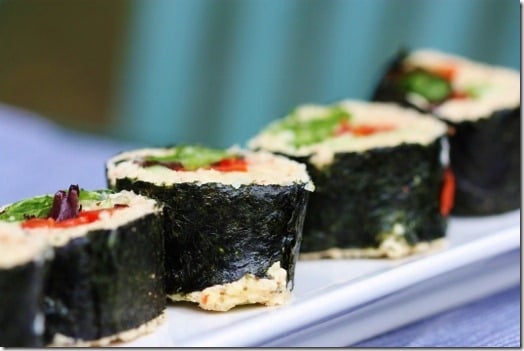 I'm here today to talk about an unexpected affinity.
If you've been reading my blog for a while, you've probably picked up on the fact that I'm a pretty picky eater. OK, I lie: I'm a very picky eater. Maybe it's the fact that I love food too much to accept anything less than what I really enjoy; maybe it's the fact that I write a food blog, and I've gotten used to being in the company of people who have really strong feelings about what they eat; maybe it's the ED history, and maybe it's just germane to who I am. I was a pretty picky eater as a kid, too (it's not unheard of for children to refuse meat, but how many kids do you know who refuse to eat fruit?). Whatever the case, when it comes to me and food, I tend to know exactly what I like, and exactly what I don't.
Except that, if you'd asked me about raw parsnip a few months ago, I'd probably have made a face. This is not to say I've never eaten raw parsnip: I sure have. I even made a root vegetable salad featuring it, which I quite enjoyed. But aside from that, I've always found the taste of raw parsnip to be…well, weird. Strong, and weird. A lot of raw foodies use parsnip as a raw rice substitute. To that I've always said, "I'll take jicama. Or cauliflower. Thanks."
Much to my surprise, this all changed when I went to Great Sage recently for dinner, and decided to try their raw nori roll. It used parsnip as a base, but everything I've tried at Great Sage has been outstanding so far, so I thought to myself, "why not." And I'm so glad I did, because the sushi was fantastic. So fantastic, that I vowed I'd have to perfect the art of raw parsnip rice myself. "Perfect" is a big word, but let's put it this way: this may be the best raw rice I've ever made. And parsnips are henceforth going to become grocery staple veggies for me, because I can't wait to make this again, and again, and again.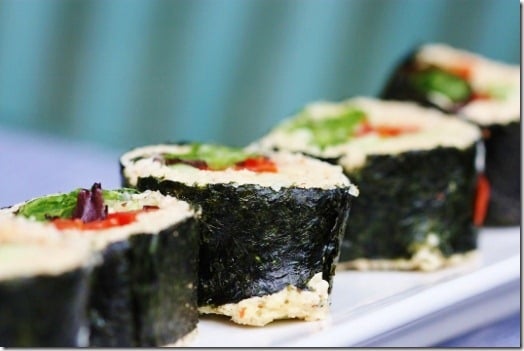 Raw Parsnip Sushi Rice (raw, vegan, gluten free)
Makes 4 nori rolls, or about 2 1/2 cups rice
4-5 parsnips, peeled and roughly chopped
2 tbsp almond butter (tahini would be lovely, too)
1 tbsp tamari or nama shoyu
1 tsp toasted sesame oil
2 tsps apple cider vinegar (rice vinegar would also be great)
Pepper to taste
1) Place parsnip in a food processor and process till it's quite broken down, but not quite "rice" sized in texture yet.
2) Add remaining ingredients, and then pulse until the mixture does resemble rice.
3) Serve over salad, in lettuce cups, as a side dish to a raw entree, or stuffed into nori rolls. Like so: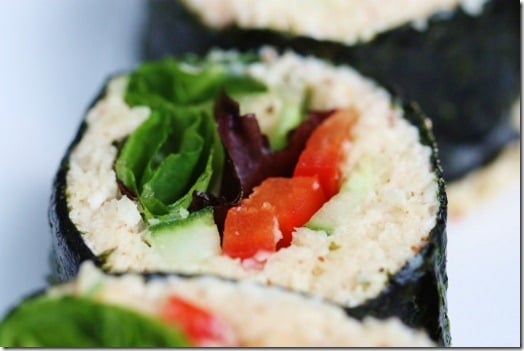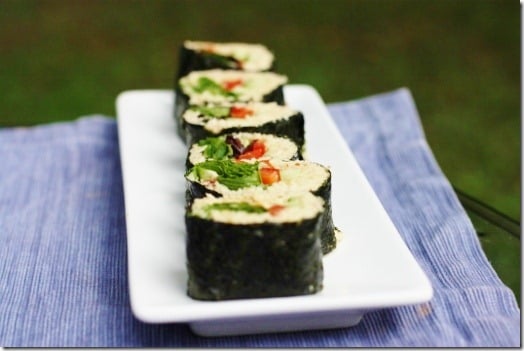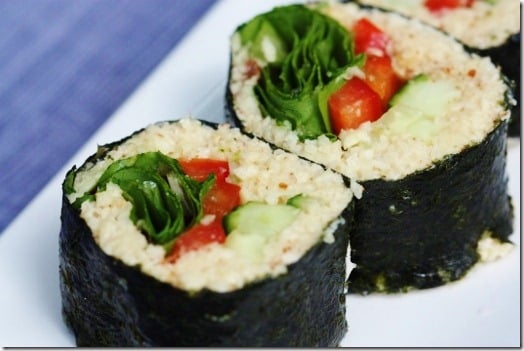 I followed instructions similar to my instructions for rolling my raw beet and veggie nori rolls from last week, and used filling of cucumber, red pepper, and fresh greens. I think green onion, carrot, and sprouts would be fantastic here, too!!
Raw sushi seems to be my obsession food of the moment. I'm thinking of a colorful new "rice" concoction for next week—can anyone guess what it'll be?
With that, it's time for some Orgo lab work and, if I can manage it, a little "me" time. In addition to school, I'm now volunteering at Georgetown University Teaching Hospital in the pediatric ward. It's tremendously rewarding and wonderful work, which I hope to write more about, but the combination of that, school, and CR is catching up to me! Thank goodness for yoga.
Sending you all love from the ether…
xo