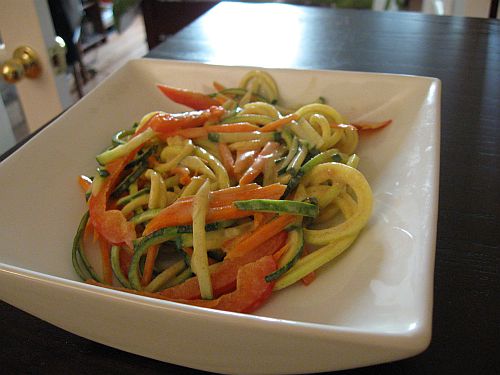 Hi all!
Hope you had a wonderful weekend.
This recipe is a great lesson in what to do with leftovers. Remember the Asian dressing I mentioned as a part of my raw dinner party? Well, I found myself with a small surplus last week. Since the dressing is highly reminiscent of the peanut sauces one might find in Thai or Chinese restaurants, I figured I would break out my spiralizer and do my best impersonation of peanut noodles. The result? A cool, simple, and delicious summertime recipe.
Gena's Peanut Noodles (serves 1-2)
Ingredients
Asian Dressing (Makes 1 1/2 cups)
Ingredients:
1 inch ginger
1 cup olive oil (or flax oil)
2 tsp sesame oil (toasted)
Juice of 1 lime
4 tbsp mellow white miso
6 dates, pitted, or ¼ cup maple syrup
2 tbsp nama shoyu
1/3 cup water
Blend all ingredients on high till creamy and emulsified.
Noodles:
1 large or 2 small zucchinis, spiralized or sliced with a vegetable peeler
1/2 red pepper, sliced into matchsticks
1/2 carrot, sliced into matchsticks
1/4 large or 1/2 small cucumber, grated or peeled into long strips
Scallions or green onion to garnish
To make the dish, simply prepare and mix all veggies, save the scallions or green onion. Toss them with 1/4 cup sauce, adding more if necessary, and sprinkle with scallions.
Sugar snaps, shitake mushrooms, snow pea shoots, or mung bean sprouts would also be a great addition to the noodles. Experiment with stuff you like, and enjoy!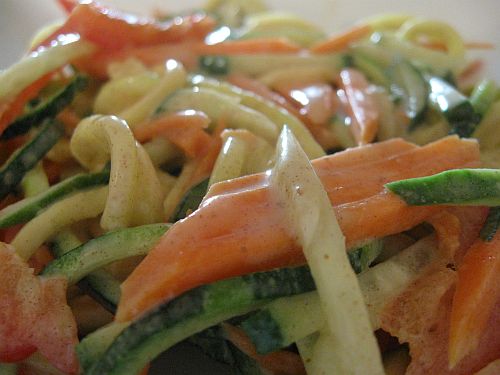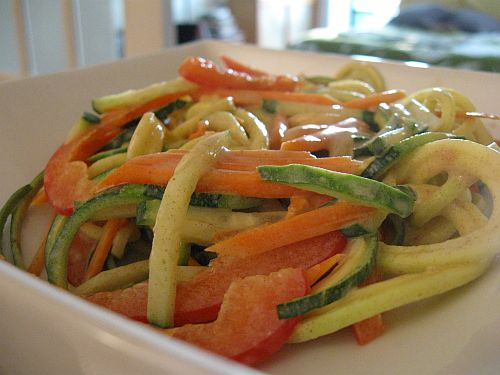 Speaking of cooking (or un-cooking), I hope everyone caught Michael Pollan's terrific piece in the Times Magazine yesterday on Julia Child and the rise of the Food Network. If you didn't, please read it: among many other things, it's a tribute to the value of cooking, rendered in Pollan's characteristically intelligent prose. I find that, among my clients, one of the most decisive predictors of success with a healthier lifestyle is the development of enthusiasm for cooking. It never ceases to amaze me how many of my clients have been divorced from the process of preparing food for years or even decades; in spite of an active interest in healthy eating, and often a working knowledge of nutritious food, they're accustomed to eating from boxes, mixes, bags, packages, and plastic squeeze bottles.
Unfortunately, the idea of cooking has often become entangled with rhetoric about women's rights — the central argument being that cooking is a tedious, gender-biased, and oppressive activity for women of all occupations, and particularly for working mothers. I was raised by a hard-working single Mom, and I assure you all that no category of person ranks higher in my estimation.
Even so, the notion that cooking is disempowering strikes me as misleading. To be sure, it's an added use of one's time and energy. But isn't the alternative — becomg divorced from a sense of what one is and isn't putting in one's own body — infinitely more disempowering? All too often, intelligent women simply trust in the integrity of brand names, when the makers of those brands have anything but their health interests in mind (for more on this, I recommend checking out Food, Inc.).
Preparing food from scratch — even if the recipes are quick and simple — gives us all an understanding of what's in our food, where it comes from, and whether or not it is indeed health promoting. As a woman with two jobs and not a lot of time, I can say that the payoff of cooking and preparing food — in spite of the time it might cost me at the end of a long day — is always worth it. It's true that I'm also the kind of person who finds cooking relaxing and enjoyable, but that is only one part of the reason I do it; having an intimate connection to what I'm putting in my body and how it's made is the other part. Next time you find yourself loathe to wash and chop greens, or bake a piece of fish, try to shift your frame of mind: see cooking as an act of empowerment, rather than a burden.
And remember that the best recipes (at least in my mind) are simple, anyway!
Have a great start to the week.
xo