First things first: I'm sorry if I had you all craving chocolate at your desks yesterday!
Any top chef fans out there? Though my loyalty to the show wavered significantly when they awarded the title to season 5's aging frat boy, Hosea, I'm still a devoted fan. I've actually been enjoying this season. I'm rooting for Angelo. Why? Because he's arrogant, and arrogant cheftestants are by far the most fun to watch. I still miss Stefan like crazy.
A cheftestant who I didn't much like was season 3's Sara: I thought she was whiney and childish. But if I'm correct, she did make a cool "upscale barbecue" dish at the start of the season, which was really just a spin on a familiar favorite: grilled beef lettuce wraps. (To be fair, I'm sure that I'm ignorant of the nuances of this dish, and that there are many varieties out there that I'm not aware of. So perhaps grilled beef lettuce wraps aren't really the same as what Sara made. But work with me here.)
If you google "Asian lettuce wraps," you'll get a whole lot of recipes that look vaguely similar. They all involve lettuce cups (obviously), and most of them also involve a layer of rice, a layer of cucumbers, and a layer of beef–either ground beef, or grilled beef strips. This is one of the many dishes I discovered post-veganism, so I've never actually tried the original version, but I have to say that, if we can somehow ignore the whole beef thing for a moment, these guys look like my cup of tea. They're simple, tasty, semi-raw, and feature clean ingredients and flavors. All of my favorite thigns.
So, when I found myself with some jicama on hand a few nights ago — jicama being the vegetable I most enjoy using as a raw "rice" base — I thought, wouldn't it be easy to rawify and veganize Asian lettuce wraps? All that needs to go is the beef, really; these can be made with jicama "rice," but regular rice would work nicely, too.
Here's the dinner that resulted from this little moment of brainstorming. It was one of my favorite raw entrees of the past few weeks: a little sweet, a little spicy, and easy to make, if you put aside 8 hours of time to marinade your vegetables. It would also be a fun dish to serve with company: if you doubled the quantity, everyone could enjoy the process of assembling their wraps, and you could definitely add to or vary the toppings. Sky's the limit!
Raw Vegan Asian Lettuce Wraps (makes 4 wraps, and serves about 2)
For the marinated cucumbers:
1 small cucumber, very thinly sliced
1 tbsp rice wine vinegar
1 tbsp agave syrup
1 tsp nama shoyu or tamari
1 tsp sesame oil
Healthy dash red pepper flakes
Mix all liquid ingredients with the cucumber and add red pepper to taste. Let marinate for at least 8 hours. When you're ready to use them, they'll look like this:
1 extra large portobello mushroom, or two small, sliced into strips
2 tbsp olive oil
2 tbsp nama shoyu or tamari
1 tbsp balsamic vinegar
1/2 clove garlic, minced (if you like! I don't like, but lots of people do)
Combine all iquid ingredients and garlic if you're using it, and submerge the mushroom strips into the marinade. Let sit in the fridge overnight or for eight hours, flipping the mushroom once or twice.
1 medium/large jicama, peeled and cubed
1.5 tbsp mirin. If you don't have mirin or can't afford it, use 2 tsp agave syrup instead
1.5 tbsp rice wine vinegar
1) Chop jicama in a food processor till it resembles "rice." Remove it, and squeeze it through a nut milk bag, cheesecloth, or simply some paper towels to release a lot of excess moisture.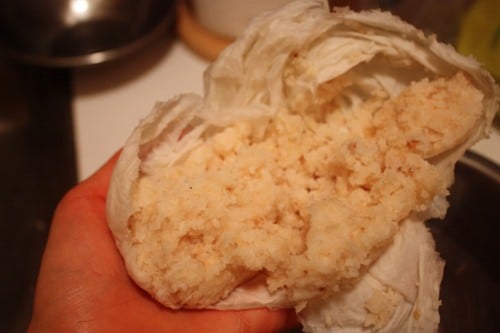 See? I just used paper towels. When you're done, it should be relatively dry and crumbly.
2) Mix jicama "rice" with mirin and rice vinegar. If you think it needs salt, add a dash or tamari or nama shoyu.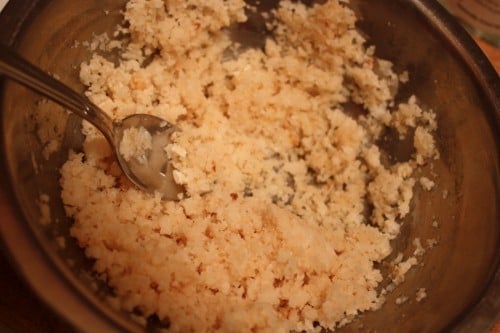 For the wraps:
4 large butter lettuce leaves
To assemble the wraps:
1. Prepare the marinated cucumbers and portobello, and let sit overnight (or for eight hours) in the fridge.
2. Prepare the jicama "rice."
3. Before you're ready to eat, lay out the butter lettuce leaves. Top your first with some of the jicama rice, some of the cucumber (you'll obviously want to remove them from the marinade!), and then a few strips of the mushroom (ditto!). Repeat with the three remaining lettuce leaves, and add any leftover fillings to the others, so that you have four fully loaded wraps. Enjoy!
See how cool they are?
A perfect, flavorful bite.
To go along with my wraps, I threw together a simple summer salad: 1/2 cup of garbanzos, 1/3 cup cucumbers, sea salt, lemon, fresh dill, olive oil, and 1/2 cup of the best cherry tomatoes I've ever eaten–no joke!–fresh from the farmer's market:
Yum.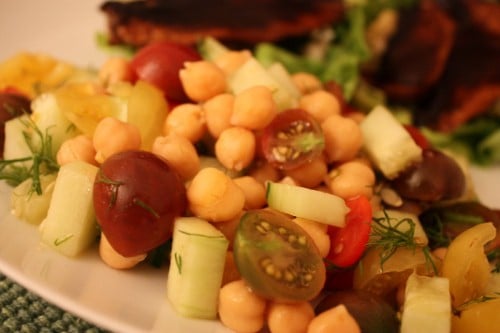 This salad almost vied with the wraps for the starring role in my dinner. But in the end, the wraps won:
What a fresh, easy meal! And perfect for this week long heat wave we've had.
Hope you guys are interested in giving this dish a shot. As I said, you could absolutely use a cooked grain if you don't have a processor to make the jicama "rice," and you can use any number of sauces, marinades, or veggie toppings with it. As with all of my favorite meal ideas, this isn't a recipe so much as it is a template for you to run with.
I'm pleased to say that, as of last night, my internet is back up and running. I'm even happier to say that, at this time tomorrow, I will be wandering the streets of San Francisco!
A few words about the genesis of this trip: as you all know, I have a best friend. Her name is Chloe. Chloe and her husband, Knud, live in New Orleans. This is sometimes cool, because I get to visit The Big Easy, but most of the time it's rather sucky, because I miss having Chloe nearby. Whenever she and I have a chance to hang out, I grab it. Chloe and Knud were supposed to come to NYC for Labor Day, but they realized that tickets to San Francisco were even cheaper, so they booked a weekend there. When I learned about this change in plans, there was only one thing to do: follow them.
This will be my first trip ever to the west coast (east coaster that I am, I've never been further west than Chicago), so I'm very excited. Most of all, I'm excited to eat at some of San Fran's amazing vegan restaurants, to visit its markets, to hang with my favorite girl crush, and to hug Chloe so often that she wants to strangle me by the time we leave. (Get excited, bun.) Some of you have asked if I'm planning a blogger meetup: to be honest, this is such a short weekend (2 full days, 2 travel days), that I really want to devote most of my time to being with Chloe and Knud. But I do have plans with some friends who I've made through blogging, and vegan dining aplenty is of course on my agenda. Get ready for some serious food porn!
I'll check in tomorrow, then, from The City by the Bay. Have a great afternoon!
xo