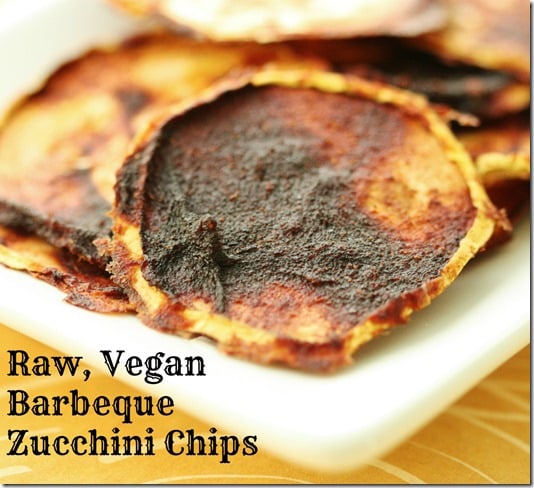 Last week, I reviewed the Queer Vegan Cookbook, a project curated by Sarah Brown of the Queer Vegan Food blog. The idea was to feature recipes that combine unusual flavors or ingredients in a delicious, healthful way. One of the recipes that caught my eye was Sarah's own recipe for raw, vegan barbeque zucchini chips. She had posted these on her blog a while back, and I remember thinking they looked great, but purchasing the e-book inspired me to finally create my own version. I'm so glad that I did!
I'm a huge fan of savory snacking, but I tend to find that savory snacks aren't as easy or convenient as sweet ones. It's easier to throw a Pure bar or a cup of trail mix into my backpack than it is a container of veggies and hummus, especially when I'm also lugging around a lot of books and a a packed lunch, too. I've always been a firm believer that dehydrators are NOT essential for enjoying or exploring raw food recipes, but when it comes to savory snacking, they really can help. They make kale chips easy and foolproof—no worrying about whether you might burn your chips, or render them soggy by undercooking them in the oven—and they allow me to make things like raw, vegan nori snacks. Which are savory, salty, and precisely the kind of snack food I love.
So I set out to recreate the chips, with a personal spin: I used homemade raw, vegan barbeque sauce. It was my first attempt to make such a thing, and I think it turned out pretty well!
I can imagine this sauce being delicious on roast or grilled veggies, in wraps, on sandwiches, or as a marinade for dehydrated veggies of all kinds (zucchini, mushrooms, peppers, etc.). A keeper for sure.
Raw, Vegan Barbeque Zucchini Chips (raw, vegan, gluten free)
Author -
1

cup

sundried tomatoes

soaked in warm water for an hour or so and drained of liquid

2

pitted medjool dates

1

tbsp

blackstrap molasses

you can omit to make this recipe strictly raw

2

tbsp

apple cider vinegar

1 1/2

tbsp

nama shoyu or tamari

2

tsp

chili powder

1

small clove garlic

1

tsp

smoked paprika

1 1/2

cup

water

1

large zucchini
Begin by blending everything except for the zucchini in a high speed blender till smooth. Add more water if the sauce is too thick!

Slice zucchini into slices that are about 1/4 inches thick. Pour about a cup of the barbeque sauce over them, and make sure they're well covered.

Lay the zucchini chips onto a Teflex-lined (or parchment lined) dehydrator sheet. Dehydrate at 115 degrees for about 6 hours. Flip and dehydrate for another 2 hours. Enjoy.

Recipe makes about 25 chips and 2 cups of sauce.
Yum!
For now, the dehydrator instructions are all I have. I didn't have time to test the recipe in the oven. I'm sure that a lower oven setting (say, 300) for 25-35 minutes would work well, but the truth is that there can be significant differences between dehydrating and baking, so I don't want to lead you guys astray with poor instructions. I'll try to make an oven version before too long, and if any of you give the recipe a try and have good results, please let me know!
On that note, it's back to studying for me. I have a lot of ED themed stuff coming up this week for NEDA week, but there will, of course, be some tasty eats, too. See you soon.
xo