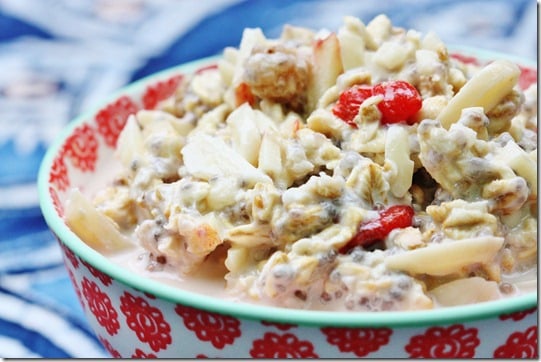 Did you know that Swiss physician Maximilian Oskar Bircher-Benner is thought by some to be the father of the raw foods movement? At his sanitarium in Zurich, Bircher-Benner encouraged his patients to eat less meat and bread and more raw fruits and vegetables. He also advocated strict portion control, as did his contemporary, Arnold Ehret, who is well known today for his administering of water fasting to sick patients. For better and for worse (better for the fruits and veggies and discouragement of meat, worse for the Spartan attitude toward eating) these men's ideas are still deeply embedded in the language of raw foodism. And it is Bircher-Benner who invented muesli, a now ubiquitous morning cereal made of dry rolled oats, dried fruit, and nuts that remains popular worldwide today.
I first heard of "Bircher Muesli" in one of Ina Garten's books. From what I could tell, the thing that made it different from the muesli I was used to eating from a cereal box with cold milk was that it was soaked overnight in milk and yogurt. I'm not entirely sure that I have the distinction right, but regardless, I made the recipe as directed, with yogurt and milk, and I thought it was delicious. Though I make overnight oats and oat/chia parfaits all the time nowadays, I have never thought to recreate that wonderful dish in vegan form. Until this week.
This breakfast bowl is an instant keeper. If you're trying to go raw-er and you want a breakfast option that's denser than a smoothie or a chia pudding, it's a perfect option: though rolled oats are not technically raw (they've typically been processed under heat), they're still uncooked, which will help you get used to cool breakfasts. The meal is also packed with raw foodie staples like goji berries, mulberries, and chia seeds, which provide antioxidants and Omega-3 fatty acids galore. And if you make it with homemade almond milk, you'll find that you hardly miss the rich, indulgent creaminess of a whole milk and yogurt base in traditional Bircher muesli.
Although this is a very filling breakfast, it's appropriately cool for the summer months. A typical summer dilemma for me is that I want the density and comfort of whole grains in the morning, but I don't want hot food. Soaked oats to the rescue! And if they're imbued with tons of other healthy ingredients, well then, so much the better.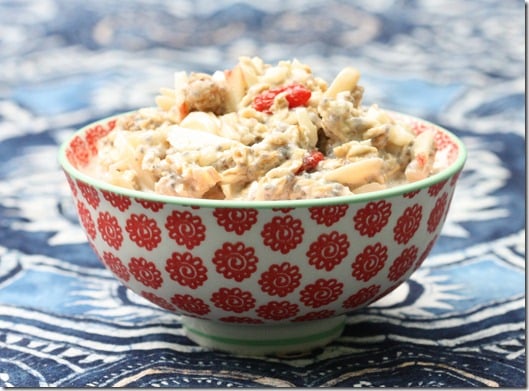 Raw, Vegan Bircher Muesli (superhigh raw, vegan, gluten free if you use GF certified oats, soy free)
3 small and 2 generous portions
1 *heaping* cup rolled oats (use GF certified rolled oats if you are allergic to gluten)
1/3 cup slivered almonds
1/2 fuji or honeycrisp apple (or apple of choice) grated with a mandolin or box grater
1/4 cup goji berries
1/4 cup dried mulberries
2 tbsp chia seeds
1 3/4 cups non-dairy milk
Place all ingredients in a bowl and soak overnight. Dig into breakfast bliss.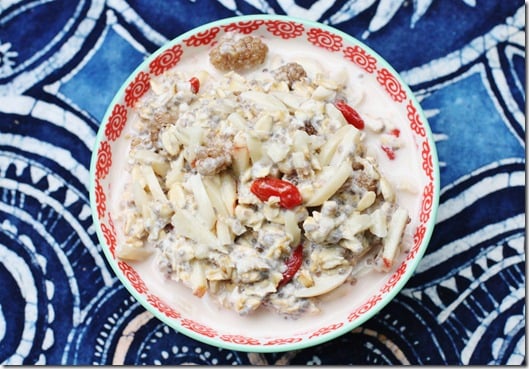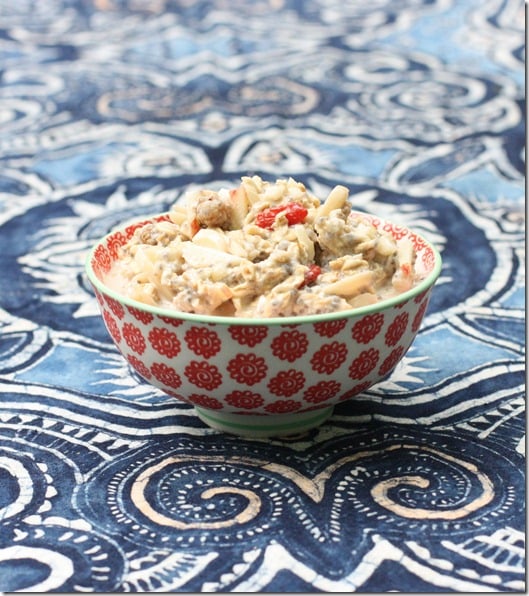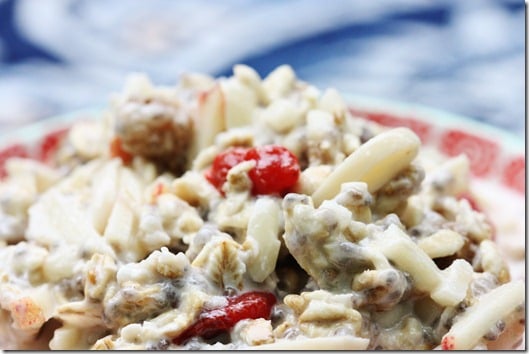 I don't have much to say about this meal, except that it's one of the most heavenly and satisfying breakfasts I've concocted in a long time. I hope you'll all agree.
Speaking of breakfast, remember how I gave a mini-scone option for my gluten free, vegan goji and almond scones? I thought I'd show you how cute they look as such: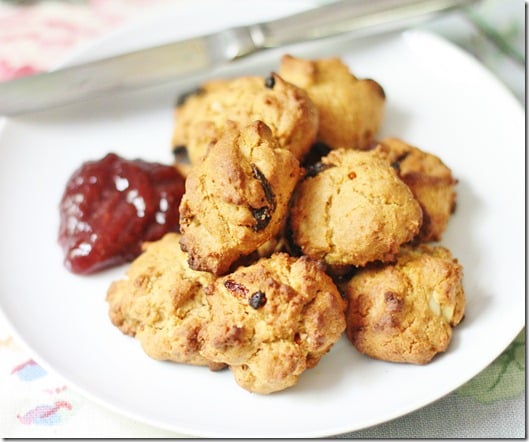 I think your breakfast recipe queue just got a little longer.
Night, friends.
xo