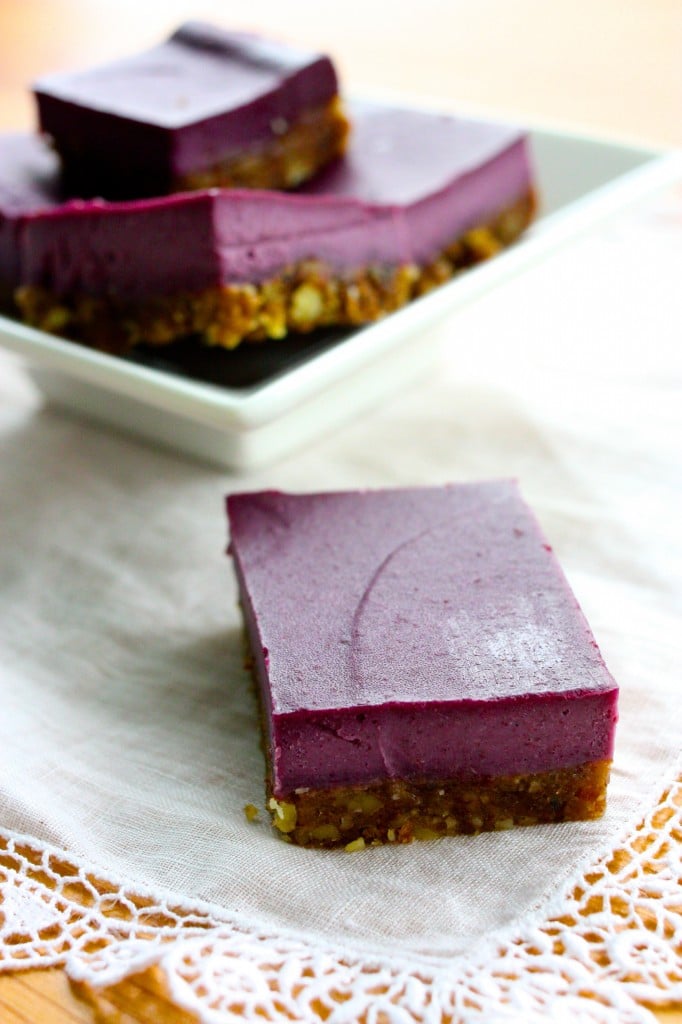 A few glances around the blogosphere suggest that people are gearing up for autumn. Pumpkin is starting to appear on Instagram, honeycrisp apples are being spoken of with glee, and I can practically smell the cinnamon wafting from certain granolas. It's all incredibly delicious, but as much as I love fall flavors, I'm not ready. I'm still busy saying goodbye to the last of heirloom tomatoes, sweet corn, arugula, cucumbers, and plump berries. While a lot of the veggies I just mentioned may last another few weeks (or in the case of corn, another few months), berries are just about to slip away for a while. So this weekend, I decided to create a little ode to summer 2013 with these raw, vegan blackberry cheesecake bars.
As beautiful and vibrant as these bars look, they're quite easy to make. I suggest making the bottom layer a day in advance, and then simply blending up the top layer on the day you want to cut and serve these. You'll need to let them set in the fridge for a few hours, but thanks to the magic of coconut oil, they won't need too long. When they emerge, they'll be sweet, firm, and ready to eat.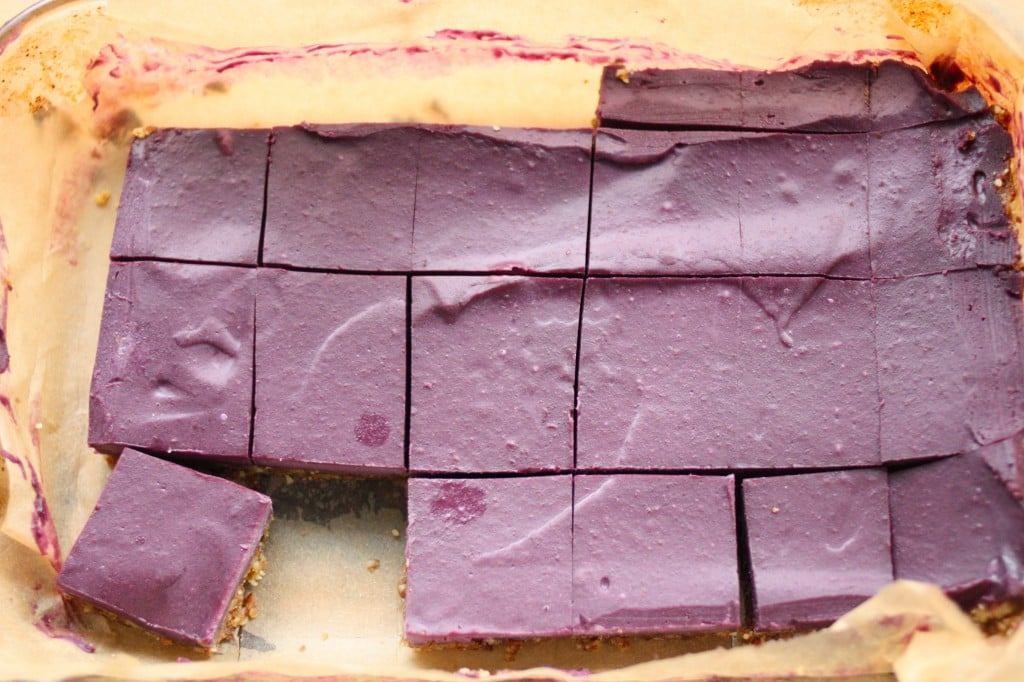 Raw, Vegan Blackberry Cheesecake Bars
Author -
To make the bottom layer, place the walnuts, dates, and 1/8 teaspoon sea salt in a food processor and pulse to break the ingredients down, till they're crumbled. Run the motor and process till the mixture is ground up and sticking together when you squeeze a little in your hand.

Press the bottom layer into a small casserole or baking pan that has been lightly greased with olive or coconut oil (I used 11" by 7.5"). Set aside while you make the top layer, or chill overnight.

To make the top layer, blend the cashews, blackberries, oil, remaining 1/8 teaspoon sea salt, and syrup in a high speed blender or food processor till they're as smooth as possible. Pour the top layer over the bottom layer in the pan. Use a spatula or inverted knife to smooth the top layer over very evenly.

Transfer the dish to your fridge and chill for at least three hours. Cut into bar shapes and serve.

Yields 15-20 bars, depending on how big you'd like them.
These bars are sweet, a little tart, full of delicious fat from walnuts and coconut, and deliver all the joy of raw cheesecake with a little more portability.
I'd say more about this recipe, but there's just really not much to say that photos don't say a lot better.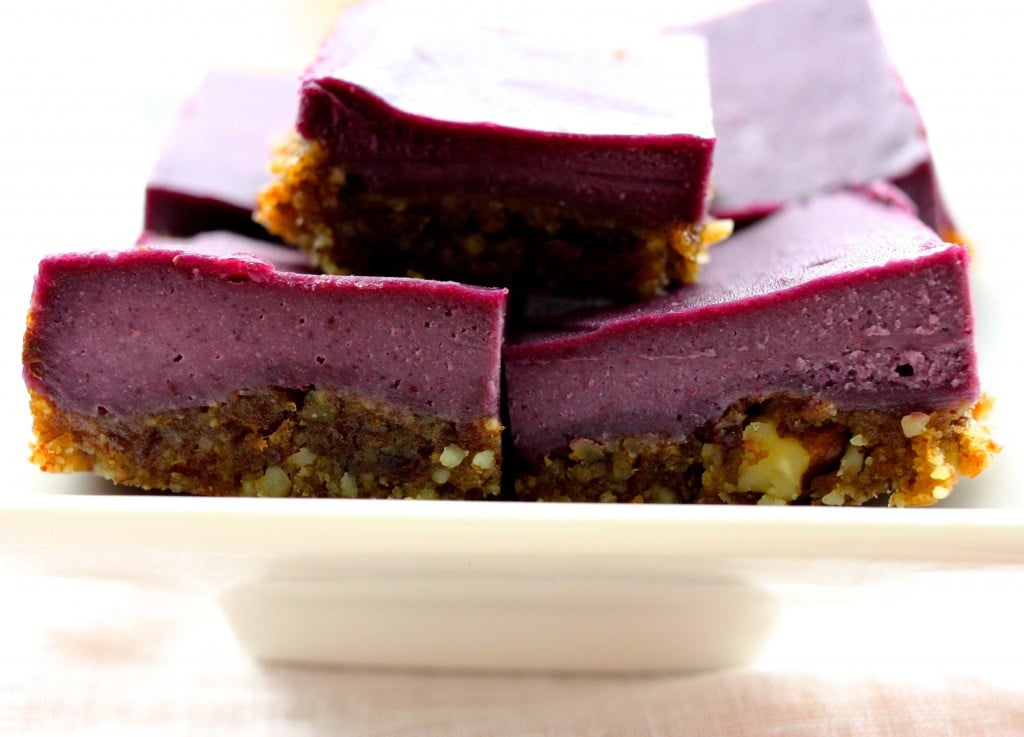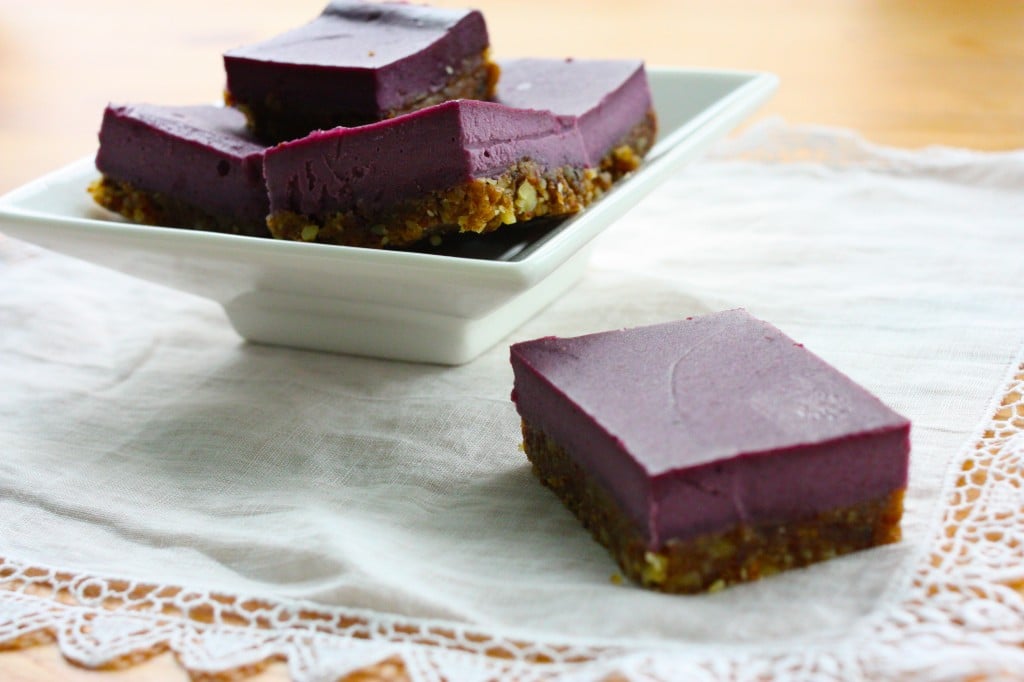 If you're so inclined, clasp the last golden days of summer with this wonderful dessert. Enjoy.
xo