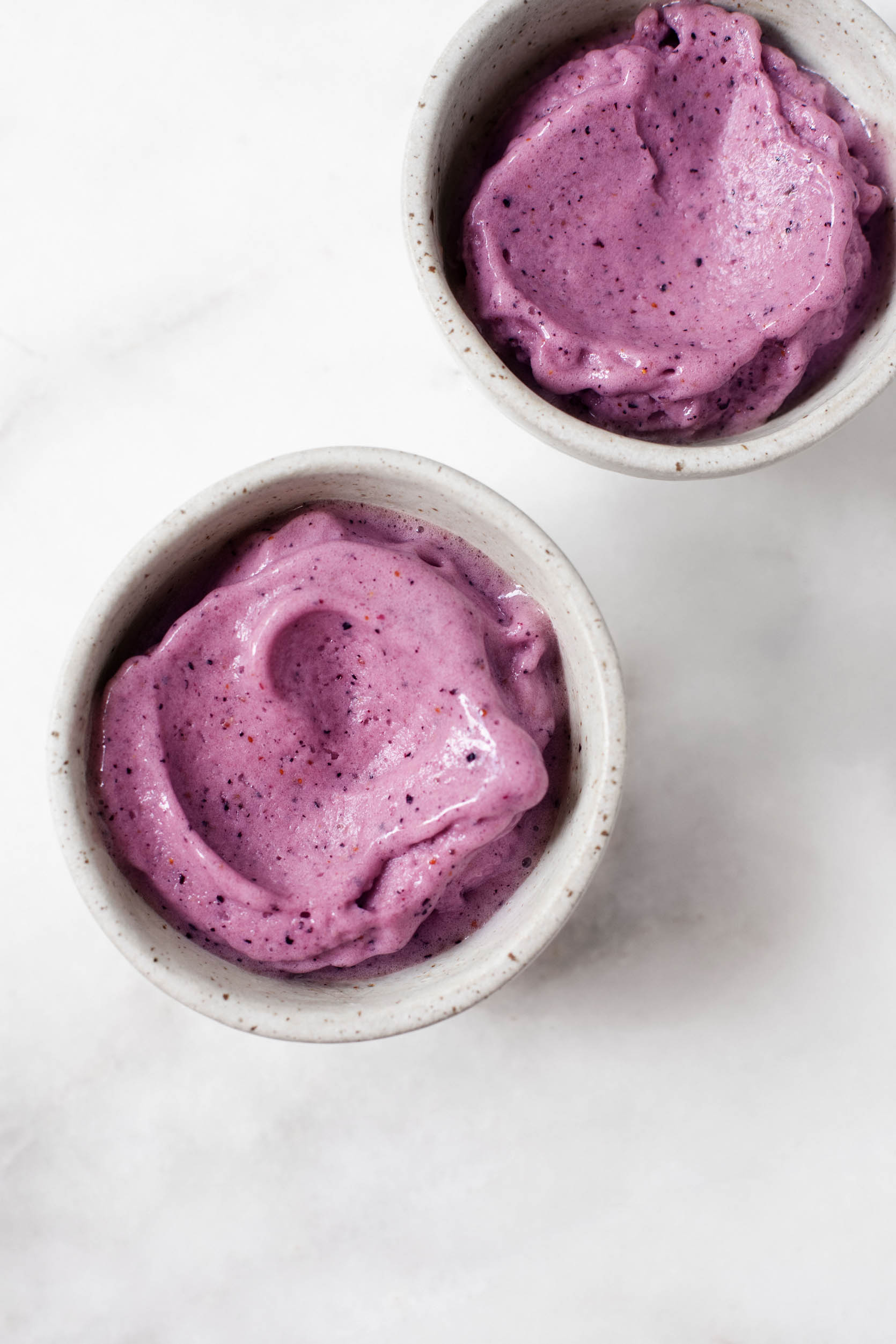 I'm really grateful for tonight's post. Grateful because, as we speak, I'm diving into a bowl of the most wonderful, delicious raw, vegan blueberry ginger ice cream. I made it today without an ice cream maker, and in 10 minutes flat. That's a win in and of itself, but it's an even bigger win when there's a final exam looming.
Taking a peek at this ice cream, you'll notice that it's not so different in appearance from my classic banana soft serve. The idea behind both is the same: simply whip up frozen bananas in a food processor until they reach creamy perfection. But in this version, you add both frozen blueberries and ground ginger (or fresh). I love making banana soft serve with different fruit mix ins. This is probably my favorite combination so far.
Blending Tips for Vegan Blueberry Ginger Ice Cream
Use a food processor if you have one
It's not hard to make nice cream in a blender, but I think that a food processor creates a creamier result. When I make banana ice cream in my blender, it usually ends up being a little closer to a thick smoothie than ice cream. Nothing wrong with a thick smoothie, of course. But if you have a food processor, I'd recommend it here for a true soft serve consistency.
Add as little extra liquid as possible
When making your vegan blueberry ginger ice cream, try not to add too much non-dairy milk. The goal is to add just enough to get things blending without letting the ice cream become liquidy. This recipe calls for a little more non-dairy milk than regular banana ice cream, but you shouldn't need more than 1/4-1/2 cup (maybe 3/4 cup if you're using a blender).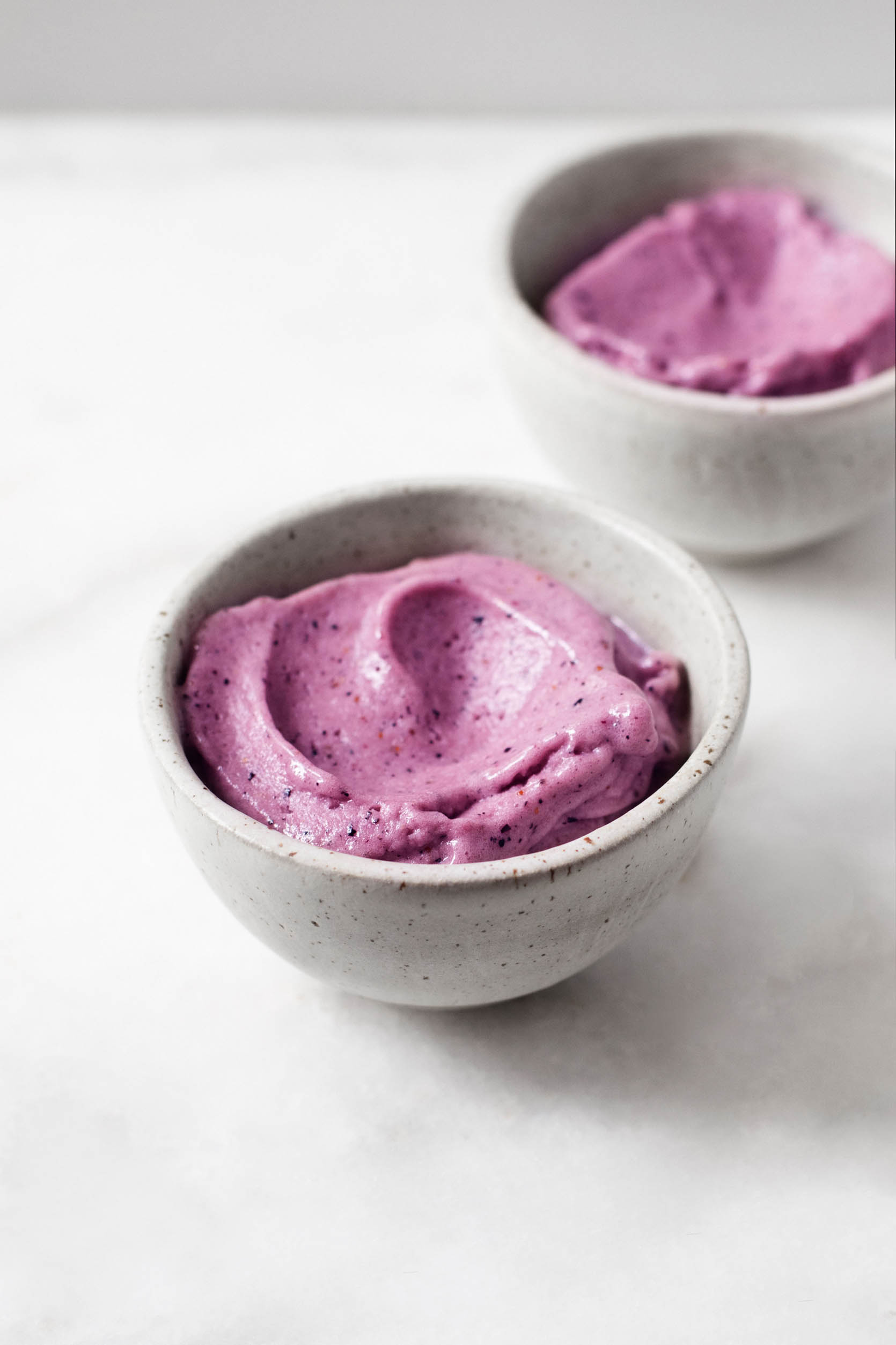 Quick & Easy Ice Cream Ingredients
Bananas
I could probably title this recipe banana blueberry ginger ice cream, since there are as many bananas in it as blueberries! I recommend using ripe bananas. Be sure to peel and roughly chop them before freezing for easy blending.
Blueberries
I recommend frozen blueberries to keep the ice cream frozen. However, if you'd like to make this in a pinch and all you have are fresh blueberries, you can use those, too. If you use fresh berries, just omit the non-dairy milk from the recipe. The liquid from the fresh berries will make up for the liquid that you'd normally add if you used frozen berries instead.
Lemon + Ginger
Don't skip the lemon in the recipe! It creates a wonderful, every-so-slightly tart counterpart to the natural sweetness of the fruit. I use ground ginger to make this vegan blueberry ginger ice cream, but fresh ginger will be great, too. If you have a juicer, you could also add two teaspoons of juiced ginger for a little extra spice.
Non-Dairy Milk
Pretty much any non-dairy milk of your choosing will work in the ice cream. I recommend oat, soy, or almond, but coconut and rice milk will also work well. You can also use a homemade, rat nut milk of your choice!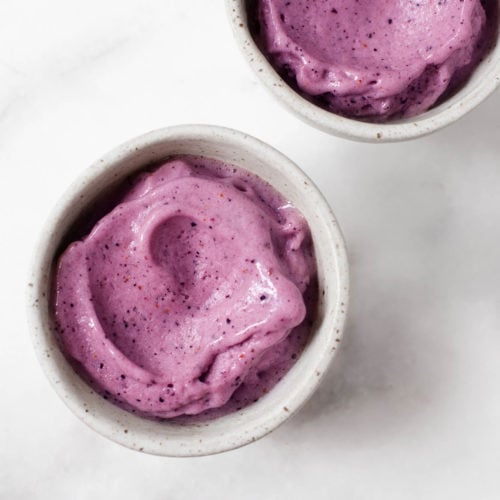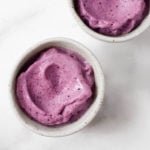 Vegan Blueberry Ginger Ice Cream
Author -
2

large (or 3 small) ripe bananas, peeled, sliced, and then frozen

1

cup

frozen blueberries

1/2

teaspoon

ground ginger (more to taste; you can also use 2 teaspoons of fresh, finely minced ginger or ginger juice)

2

teaspoons

freshly squeezed lemon juice

1/4-3/4

cup

non-dairy milk
If you're using a food processor: Place bananas in a food processor and let the motor run till they've turned into soft serve. Be patient. It takes a minute or two, and the processor sounds like it's going to break, but it won't! When you have soft serve, add the blueberries, powdered ginger, 1/4 cup non-dairy milk, and lemon, and continue processing, until your mixture is creamy and scoops easily.

If you're using a high speed blender: Blend all ingredients together in a high speed blender. Start with 1/4 cup of almond milk and use the tamp to try to get the mixture going without adding too much liquid. Keep blending and tamping, adding the additional non-dairy milk as needed, till a thick and creamy consistency is achieved.

Storing vegan blueberry ginger ice cream
If you have leftovers, you can store the mixture in your freezer and give it a whirl in the processor or the blender before serving. If you don't re-process or re-blend it, it'll be a little "frosty." If you do take the time to blend it again, it will seem as though you just prepared it.
This ice cream is shockingly delicious, given that no ice cream maker is involved and it's also dairy free. The slight hint of ginger pairs beautifully with the blueberries, and the color is a beautiful blue violet. It may actually be my new favorite summer treat—right up there with berries and raw whipped cream!
And with that, my bowl of ice cream is done, and so is this post. Night, all.
xo