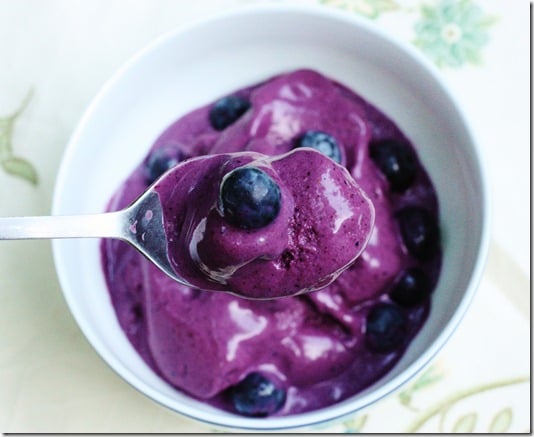 I'm really grateful for tonight's post.
I'm grateful because, as we speak, I'm diving into a bowl of the most wonderful, delicious raw and vegan blueberry ginger ice cream, which I made today without an ice cream maker, in about 10 minutes flat. I'm grateful because, with a final looming, I'm still able to savor something sweet, and be reminded that life is sweet, too—even when school is anything but. And I'm grateful that I get to share this super simple recipe with all of you.
Blueberry Ginger Ice Cream (raw, vegan, gluten free, soy free)
Serves 2
2 frozen bananas
1 heaping cup frozen blueberries
1/2 inch fresh ginger (or 1/2 tsp ginger powder if you're using a food processor)
1/4 cup cashews
2 tsp lemon juice
2-4 tbsp almond or hemp milk
If you're using a high speed blender: Blend all ingredients together in a high speed blender. Start with 2 tbsp of almond milk and use the tamp to try to get the mixture going without adding too much liquid: you want an ice cream, not a smoothie! If you need the extra two tablespoons, use them, but be patient and keep blending with the tamp till a thick consistency is achieved.
If you're using a food processor: Soak cashews for at least 4 hours before prep. Place bananas in a food processor and let the motor run till they've turned into soft serve. Be patient. It takes a minute or two, and the processor sounds like it's going to break. It won't. Keep going. When you have soft serve, add the blueberries, powdered ginger, cashes, and lemon, and blend till totally smooth. Add the almond milk only if you need a thinner consistency; you may not.
You can store the mixture in your freezer and give it a whirl in the processor or the blender before serving; if you don't, it'll be a little "frosty," but if you do, it will seem as though you just prepared it! Trust me; my ice cream waited for me all day, until I re-blended it and served it anew.
This ice cream is shockingly delicious, given that no ice cream maker is involved and it's also totally dairy free. The slight hint of ginger pairs beautifully with the blueberries, and the color is phenomenal. As you can see, I served mine with fresh blueberries.
It may actually be my new favorite dessert. Except that's a dangerous claim, given that I'm posting a stellar 4th of July-themed dessert tomorrow or on Wednesday. We'll just have to see which sweet treat prevails!
And with that, my bowl of ice cream is done, and so is this post. Night, all.
xo