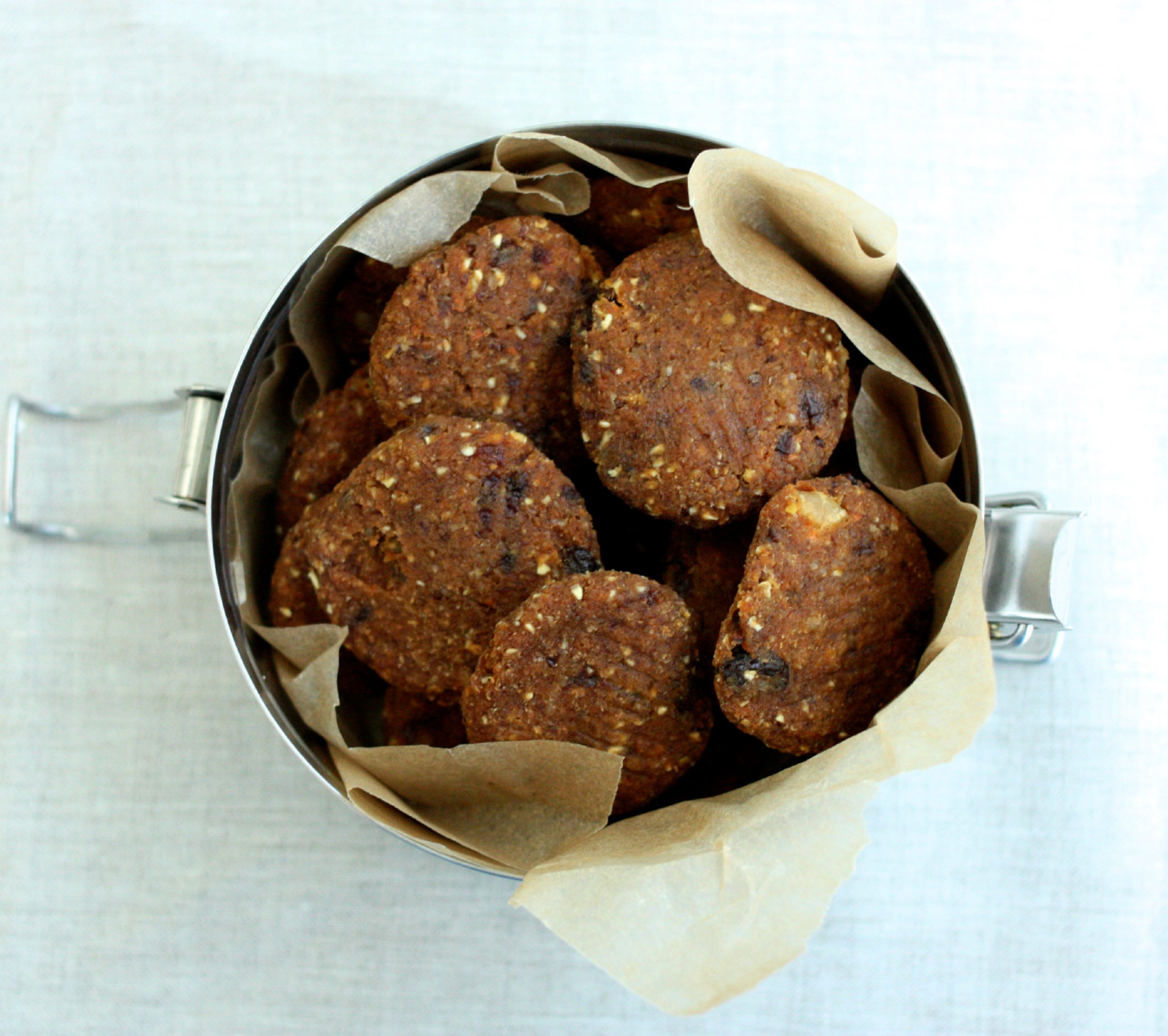 One of the nicest things about having the MCAT behind me is being able to spend a little more time in the kitchen. In the last few weeks I've been able to cook a little more, wean myself off the excess coffee, and get back in touch with my favorite wholesome habits. One of these is juicing, which was once upon a time a daily ritual for me, but has been relegated by my post-bacc to "special occasion" status. A five pound bag of carrots left me with a ton of carrot juice–and consequently, a ton of carrot juice pulp. No complaints from me; I quickly set about turning it into these delicious raw carrot, raisin, and walnut cookies.
These cookies are easy to make and very healthy. They're not super sweet–if you want them sweeter, you can add some agave or extra dates–but they still register as something special and uplifting. I like them because they can double as breakfast cookie as well as dessert cookie: that's the nice thing about subtle sweetening!
If you don't have carrot pulp, you can use grated carrots. Note, though, that it's totally essential to squeeze your carrots out with some paper towels so that you remove excess water. Otherwise, you're going to end up with a watery cookie mixture.
This recipe was actually inspired by my friend Jasmin, who made me a batch of cookies after I took the MCAT. Just because she's ridiculously sweet. They were carrot/date/coconutty mix, and I loved them. I told myself that as soon as I had a chance to dust off my juicer, I'd take a stab at something similar.
To make things easy for everyone, I dehydrated half of the cookies, and baked the other half. Both turned out really nicely, so no need to shy away from making these if you don't have a dehydrator. I even kind of liked the way they tasted with some toasting.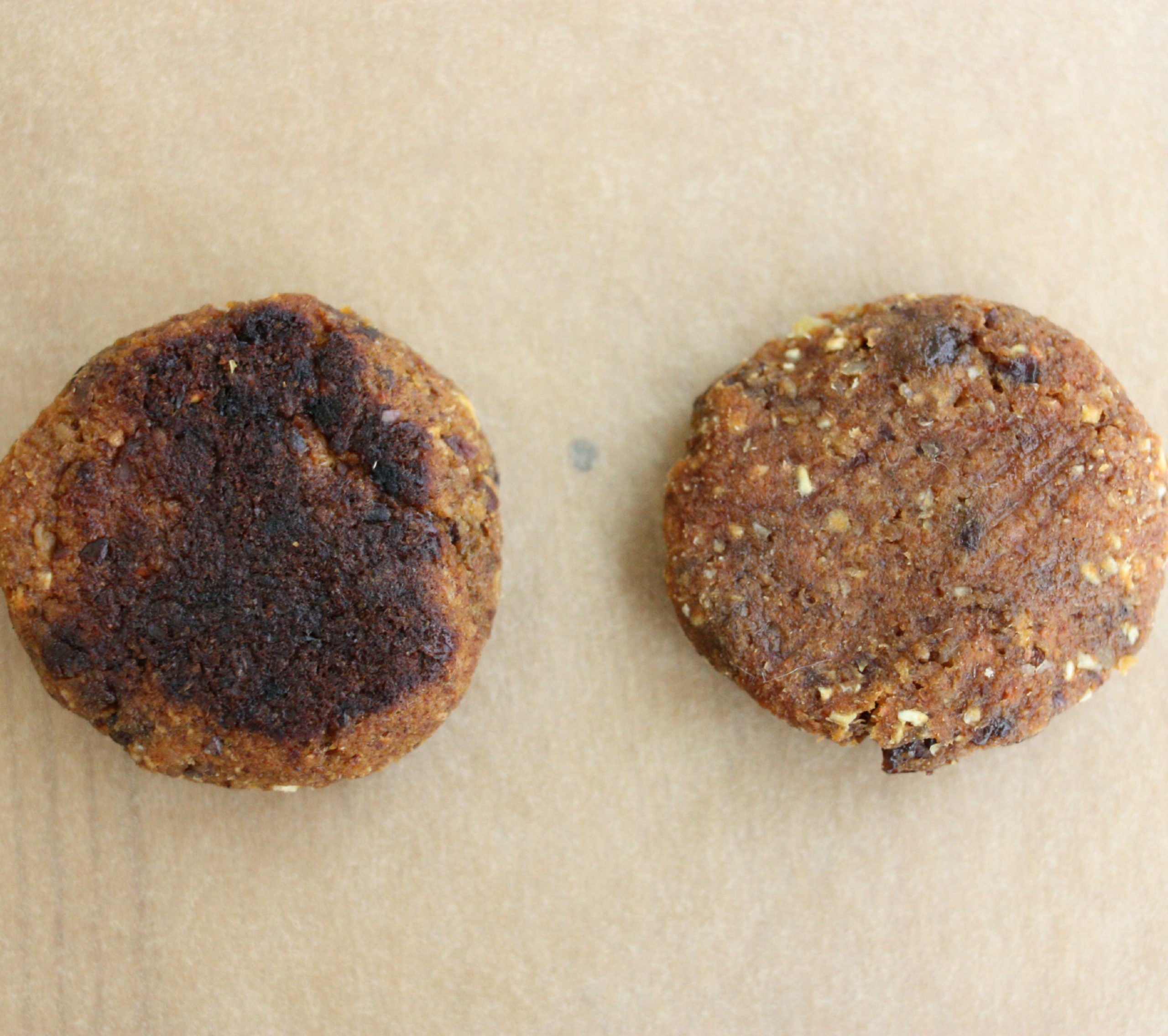 Also in the spirit of something-for-everyone, you have two options for a grain/psuedograin in the cookies: dehydrated buckwheat, or rolled oats. I used oats, and they worked really well, but they're not technically raw, so my strict raw foodie friends will want to go with the buckwheat (which should work fine). Either way, these cookies are a great way to get healthy fats, simple sugars, and lots of Vitamin A. Enjoy!
Raw, Vegan Carrot Raisin Walnut Cookies
Author -
1

cup

soaked and dehydrated buckwheat OR 1 cup rolled oats

1/4 - 1/2

tsp

sea salt

adjust to taste

1/2

tsp

cinnamon

3

tbsp

flax meal

1 1/2

cups

carrot pulp OR grated carrot

if you use grated carrot, squeeze with paper towels tightly to remove excess moisture

3/4

cup

tightly packed pitted dates

1/3

cup

water + extra as needed

1/2

cup

walnuts

1/2

cup

raisins
Grind the buckwheat or oats in a food processor fitted with an S blade till coarsely ground. Add the salt, cinnamon, and flax and grind till very finely ground.

Add the carrot and dates and pulse to combine. Keep processing till mixture is smooth. Add water as needed, till the mixture is mushy and even but not "wet" (you should be able to shape it into small, firm cookies that will hold their shape).

Pulse in the walnuts and raisins.

To dehydrate: Place cookies on mesh-lined dehydrator sheets and dehydrate at 115 for four hours or so. Flip them over, and continue dehydrating for another four hours, or until firm but not dried through.

To bake: Preheat oven to 350. Place cookies on a parchment lined baking sheet and bake for fifteen minutes. Flip the cookies over and continue baking for another ten minutes. Let cool before enjoying!

Makes about 25 cookies.
Don't forget to check out my profile of Coracao chocolate yesterday. I love this brand, and if you sign up for their newsletter and enter "Choosing Raw" when asked how you heard about them, you'll be automatically entered to win an impressive chocolate gift basked–plus $25.00 worth of chocolate each month. Sounds sweet to me!
xo