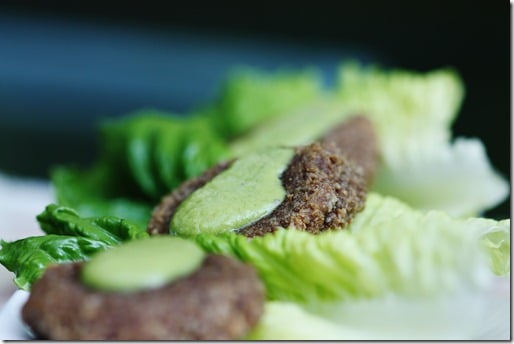 Nothing quite like pumpkin to get people excited. Thanks for the pumpkin pie pudding love!
As you all know, I got more adventurous with superfoods this summer. I made a superfood salad: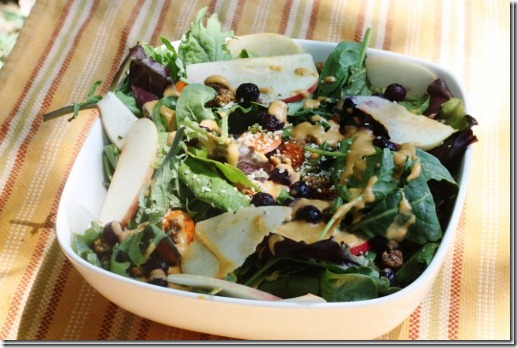 A batch of crackers infused with a super seed blend: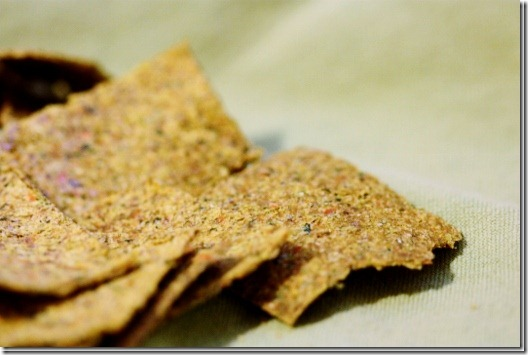 and a super breakfast bowl with quinoa flakes: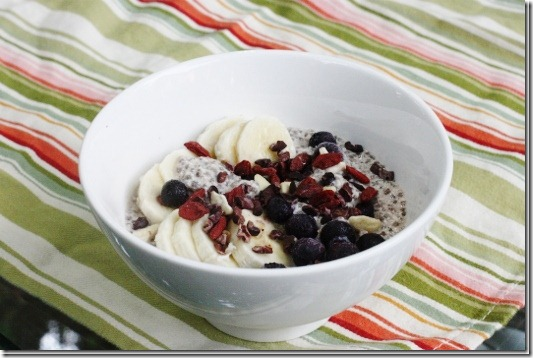 Most of these dishes were truly thanks to my friends at Navitas Naturals, who graciously shared some of their products with me so that I could experiment a little in the kitchen. One of these products was their mesquite powder, which has quickly become one of my favorite go-to ingredients. Mesquite has a subtle flavor: it's sweet, smoky, and a little spicy, all at once. Depending on the moment, it might remind me either of vanilla beans or a sizzling pot of barbeque sauce. Its flavor, much like the flavors of lucuma and maca (also superfoods from the Americas) is hard to place, hard to describe, and a little amorphous. Which makes it an ideal ingredient to play with: it will never overpower a dish the way certain spices do. Instead, it will enhance the flavors that I'm focused on in all sorts of fun and unexpected way.
Mesquite also boasts some nifty health properties:
Excellent form of fiber – almost a quarter of daily needs in just two tablespoons
Contains lysine (an amino acid), as well as notable quantities of digestible protein, calcium, magnesium, potassium, iron and zinc.
Mild alternative to other sweeteners
Thus far, I've used mesquite primarily in my smoothie recipes and a few sweets (mesquite cashew date balls, by the way, are amazing). Last week, I decided to give mesquite an unexpected application, in savory raw falafel. I wasn't sure whether this was brilliant or bonkers, but the results made me really happy. It's really hard for any raw falafel recipe to stand up to my carrot falafel, which I adore, but these come close. And, just like my carrot falafel, they make sneaky use of vegetables: cauliflower is mixed in with sunflower seeds to add nutrient density and help even out some of the fat content.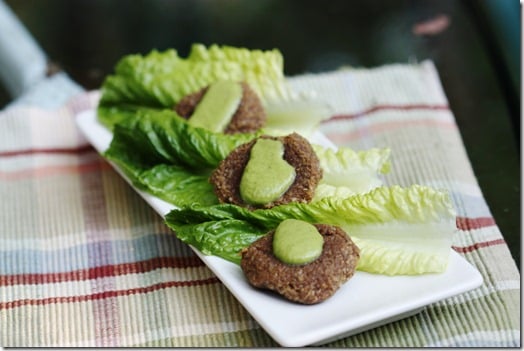 Smoky Cauliflower and Mesquite Falafel with Fresh Parsley Dressing (raw, vegan, gluten free)
Makes 10 Falafel
1 cup raw sunflower seeds
1 1/2 cups cauliflower, chopped
1 tbsp tahini
1/2 tsp cumin
1 tsp coriander
1 tsp paprika
1/4 cup mesquite
Dash cayenne pepper
1) Grind sunflower seeds in a food processor fitted with the S blade.
2) When seeds are ground into a coarse meal, add chopped cauliflower, tahini, cumin, coriander, paprika, and mesquite. Pulse to combine, then run the motor. You should have a VERY thick paste. Add water in a thin stream until the mixture is still quite thick (thick enough to be shaped into firm balls) but not pasty. I used about 4 scant tbsp (1/4 cup).
3) Roll mixture into 2 inch balls and flatter onto a Teflex lined dehydrator tray with palms. Dehydrating for 12-14 hours, until exterior is very dry but interior is still slightly moist, flipping once through. Serve drizzled with my fresh parsley dressing or a tahini dressing of choice.
*Oven option: Bake falafel for 30-35 minutes at 350 degrees.*
Parsley Dressing:
1 small avocado
1/2 bunch parsley, washed
Juice of 2-3 lemons (2 large, or 3 tiny ones)
1/4 cup olive oil
1 cup water
1/2 tsp sea salt
Black pepper
1) Blend all ingredients in a high speed blender till smooth. Serve.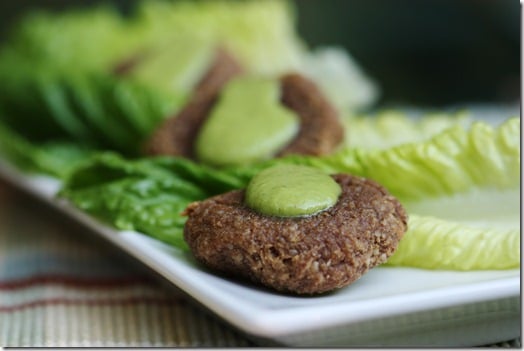 I love the subtly smokiness of these falafel. And I think that the mesquite adds a nice creaminess to the texture, too!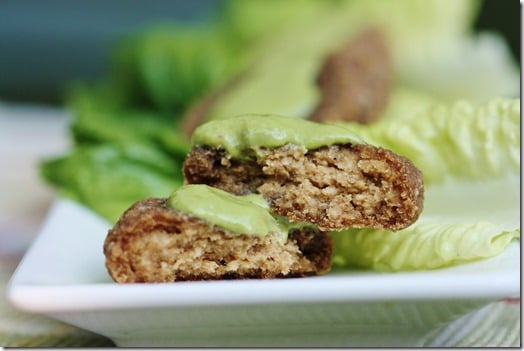 Aren't they authentic looking?! Not bad for a raw dish.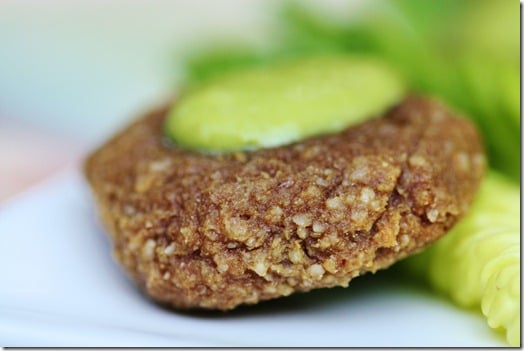 Hope you guys give these guys a shot. And it goes without saying that the parsley dressing is also great on salad, as a dip, or drizzled over a plate of steamed veggies. Let me know what you think!
Lastly, I wanted to thank everyone who has tried (and loved) the zucchini pasta with creamy garlic sauce and the gingery rice with butternut squash and onions. I've already gotten some lovely feedback on those recipes, and it makes me so, so happy to know that my readers like them. Here's to fall produce!
Back tomorrow! And don't forget that the 30 Day Vegan Challenge is on.
xo