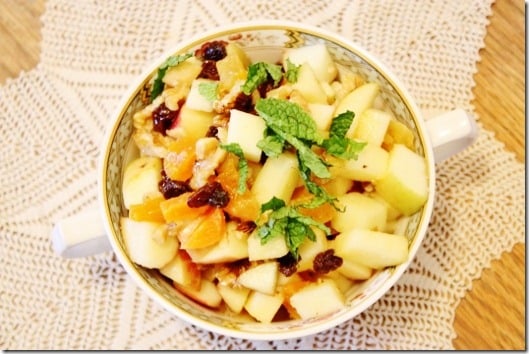 Happy Passover weekend to all of my readers who are celebrating! I'm not particularly observant in any religious direction, but I was raised Episcopalian. In spite of this, I have been to far more Passover Seders in my day than I have Easter lunches or dinners (I grew up on the Upper West Side, after all). As a child, I used to look forward to my downstairs neighbor's Seder dinner for weeks beforehand; if not for the music and the conversation and the kosher wine, then certainly for the food! I loved the symbolism and how each dish at the Seder told a story.
It's been a while since I attended a Seder (school and work has a way of dampening holidays as we get older), but I do feel a sense of private commemoration each year at this time, so I thought it only right that I share at least one raw, vegan Passover dish this year. Admittedly, I'm in NYC with quite a bit of work to do, so I had to think of a recipe that would be as ridiculously easy as it was delicious. Charoset fit the bill just perfectly.
What's Charoset? It's sweet mixture of apples, nuts, dried fruit, and (often) Kosher wine that's meant to symbolize the mud and mortar that Jews were forced to use in their labors as Egyptian slaves. In order to fully embody that image, many Charoset recipes resemble pastes, or puddings, but there are many variations, and other recipes call for raw, chopped apples and fruit.
I have tasted all kinds of Charoset: paste-like, chopped, cooked, and raw. I like them all, but the raw version is closest to my own eating tastes, and certainly the most appropriate for my blog. It has the added advantage of being incredibly easy to prepare, which is what my readers are all about. The dish is chock full of fiber and antioxidants from the apples, healthy fat and Omega-3 fatty acids from the walnuts, and pockets of chewy sweetness from the dried fruit. It's also not quite as rich as many other raw dessert offerings, and you can certainly use any nuts and dried fruits you'd like! My mom is a huge fan of apricots, so I made sure to give the traditional recipe a "twist" with their inclusion. Enjoy!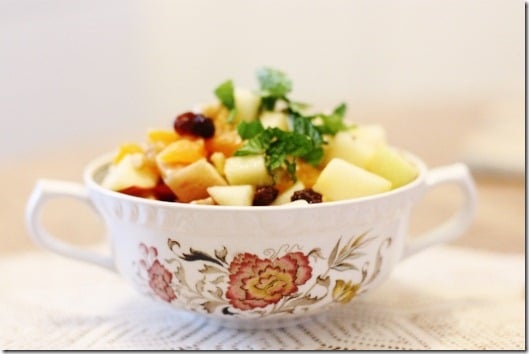 Raw, Vegan Charoset (gluten free, soy free)
Serves 4
3 cups chopped apples
1 cup walnuts, chopped
1/2 cup dried apricots, chopped
1/3 cup raisins
1 1/2 tbsp lemon juice
2 tbsp agave nectar (you can sprinkle stevia on the dish instead to make it free of added sugar)
4 tbsp Kosher wine (optional)
1/2 tsp cinnamon
Chopped mint
Mix all ingredients. Allow to marinate for a few hours before serving, and garnish with mint, if desired!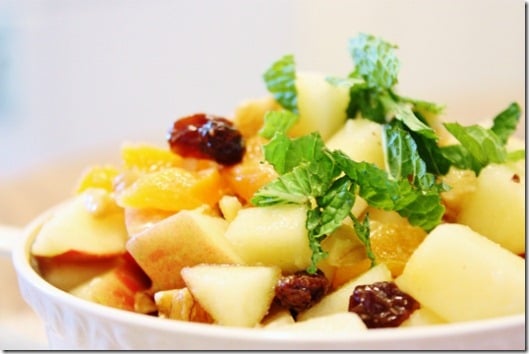 So much crunch, texture, and flavor in each bite! This recipe is as refreshing as it is satisfying. I used only a tiny bit of agave, and some stevia, and the sweetness level was perfect for both me and my mom.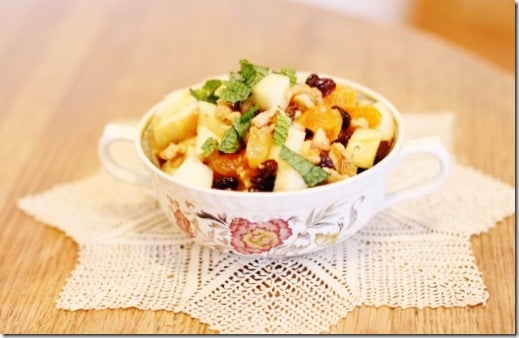 Needless to say, this is a quick, easy, and wonderful raw dessert to sample anytime of year: no need to wait until Passover rolls around to enjoy it. And if you omit the wine (or heck, even if you don't), I think it would be lovely with some coconut milk yogurt or raw granola for breakfast, too!
For more vegan Passover recipes, check out:
Have a blessed evening, all. See you back here tomorrow with some sprout action!