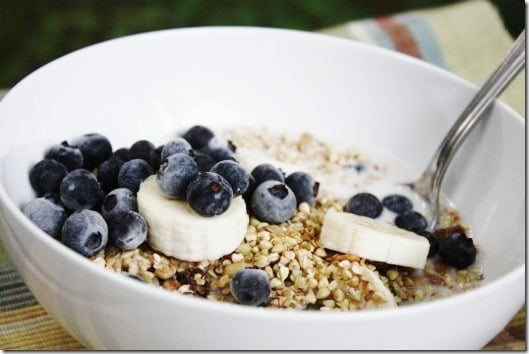 It's Friday! Phew—this week felt pretty long, and in spite of that I keep having to remind myself that my more intensive coursework hasn't even begun yet. I wonder what Juy will be like?
For the last few weeks, you've all patiently listened to me speculate on how I can find a breakfast option that's super filling (has to hold me from 8 or 9 am to 3 pm, often with a workout squeezed in) but also not too hot in these summer temperatures. Smoothies, no matter how voluminous or full of fat and protein, tend not to sate me entirely (this may very well be a texture thing: I didn't chew, so I don't feel "full"). So I've been opting for big chia puddings—most recently my very berry chia hemp pudding—and also for overnight chia+grain concoctions (like my superfoods breakfast bowl). I plan on experimenting with some healthy vegan pancakes, and I even came up with at least one baked good (my blueberry oat bars) that managed not to feel like air, and tide me over for a few hours.
Right before I left for DC, I made a raw, vegan granola recipe that was truly the best I'd ever attempted (maybe one of the best I've eaten, too). I haven't made any more since I got here, and I keep saying I will. Last Saturday, as I prepared for a day of hiking in Virginia, I was struck by a strong hankering for raw granola ("rawnola," to use the parlance), but realized that I didn't have time to dehydrate a batch of my new favorite mixture. Instead, I decided to throw together a "cheater's" bowl of buckwheat, sunflower seeds, hemp, spices, and raisins, and to top it all off with fruit and some homemade almond milk. It had the same effect as real granola, and it tasted almost as good (though not as sweet). I figured I'd share the recipe with you all, since I know I have a lot of busy readers without time (or dehydrators) to spare.
Dehydrated or baked granola is wonderful, and I won't be supplanting all of my granola cravings with this little slapdash method. But it's a fast, easy solution to the question of "what can I eat for breakfast that's filling, nutrient dense, fast, and easy?" Enjoy it.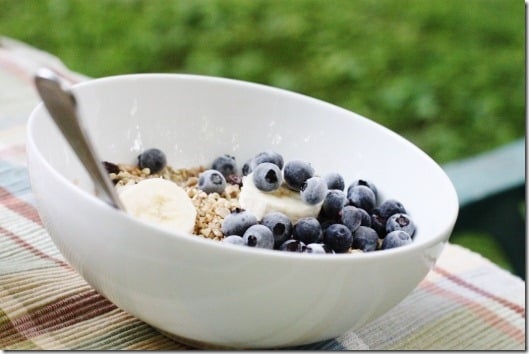 Raw, Vegan "Cheater's" Granola (raw, vegan, gluten and soy free)
Serves 1 Hungry Person
1/2 cup dehydrated buckwheat (follow my method in this post)
2 tbsp sunflower seeds (raw or roasted)
1 tbsp hemp seeds
2 tbsp raisins, dried cranberries, or dried currants
1 tbsp cacao nibs
1 tsp cinnamon
1 medium banana, chopped
1/3 cup blueberries
Almond milk
1) Mix the buckwheat, sunflower seeds, hemp seeds, raisins, and cacao nibs in a bowl with a tsp of cinnamon.
2) Place your banana and berries in a bowl. Pour the cheater's granola over them, and then soak it all in almond milk.
3) Dig in.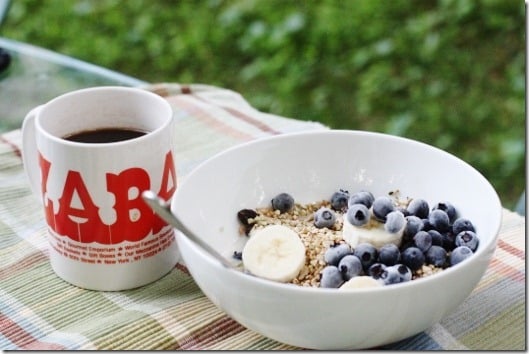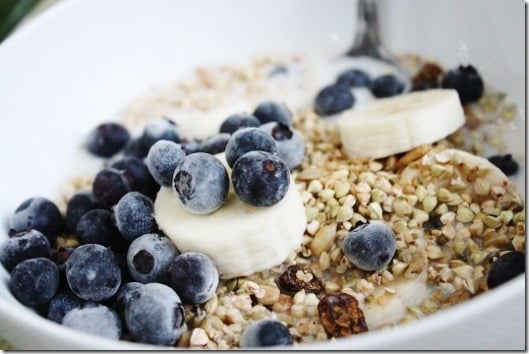 I'd say this bowl is good for one person with a big appetite or a busy schedule, and good for two people as an afternoon snack. Could it get any quicker or easier? Check out how nice and messy it gets after you mix it all up: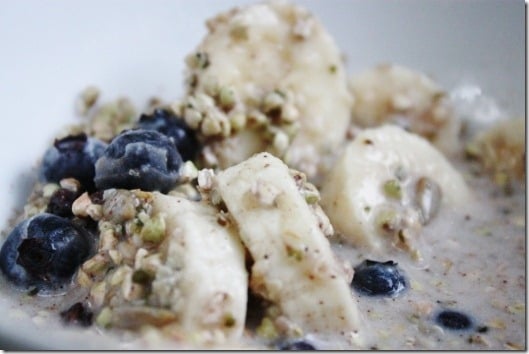 Yum.
For the record, that is indeed a Zabar's cup you see up there. The Upper West Side travels with me.
Coming Out As a Blogger
So, my funny experience of the week was learning that a few of my fellow post-baccs have now read my blog, or at least looked at it. This is because I told them about it, so I guess I shouldn't feel odd, but it's also always a shock (albeit a flattering shock) to realize that people actually care. I'm right now involved with a very special group of post-baccs as a research associate (this means we'll all be doing research work together at Georgetown Hospital, and possibly weaving some of our findings into a real study), and my first reaction to watching them pull up my URL on their iPhones or tell me in class that they'd checked the blog out was to feel unworthy of their interest. But when a fellow RA (who had just been asking lots of questions about veganism and how it works) exclaimed "those look awesome!" to my black bean enchiladas, I felt really happy.
It's funny: I think my blog voice is pretty representative of who I am, minus a few f-bombs and some snarkiness that I try to confine to my waking life. But I always wonder how my blog voice matches my real-life persona to the people who meet me outside of the blog. Do my fellow post-bacc students see me in my blog? I'm don't know. I guess I hope they do, because I try to pour the best of myself into what I write here each day.
Fellow bloggers, how do you feel about sharing your blog with people in your life who don't really connect to it—coworkers, for instance, or distant family? Does it feel strange? How closely do you think your blog represents you? Is it a side of yourself that you actually reserve for the cyber-world, or is it very much an accurate portrait of your everyday persona?
I find this fascinating!
Happy wkd…
xo