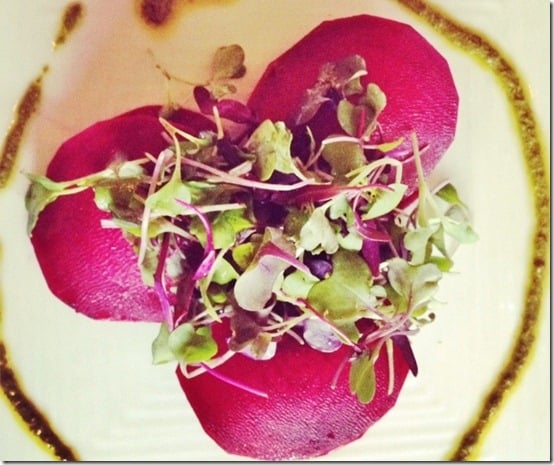 There are a couple of raw dishes so ubiquitous and popular that they can rightly be called "classics." These include, but are not limited to:
zucchini and tomato lasagna
kelp noodles with peanut (or almond butter) sauce
zucchini marinara
raw pizza
beet ravioli
raw nori rolls
raw mushroom "burgers"
raw brownies
raw cheesecake
raw apple pie
I've eaten and made every single one of these dishes, loved them, and had the good fortune to sample versions from other raw food cooks. The nice thing about this is that the dishes feel like "comfort food" to me; the downside is that one can start to take these meals for granted.
Last night, I had a belated celebratory dinner at Great Sage in Clarksville, MD. Great Sage (which I reviewed here) is my favorite local vegan dining destination by far. It's elegant and fancy enough to fit special occasions, but it's also down to earth and more reasonably priced than some of DC's other fine dining spots for plant-based eaters (Restaurant Nora and Elizabeth's Gone Raw). The menu is suitable for any kind of plant-based eater: there's vegan comfort food a'plenty (the mac and cheese is a favorite), as well as bean and grain curries for the more whole foods oriented, and even some raw dishes for those of us, like me, who like both raw and cooked vegan grub.
I usually order the "California salad" (greens, guac, beets, cucumber, sprouts, portobello mushroom, and an amazing red pepper dressing) with something else. I've tried the summer rolls, the quinoa burger, the raw sushi, and the Mediterranean platter, to name a few. Last night, I started with the raw beet ravioli: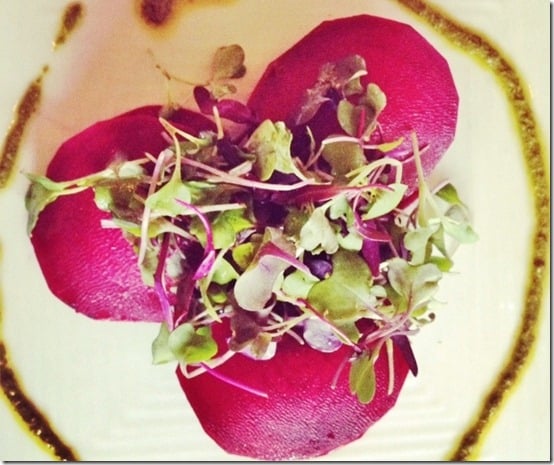 Beautifully presented and absolutely wonderful. I loved that an herby sunflower seed cheese was used instead of the usual cashew cheese: proof that small tweaks can really elevate a tried and true dish!
There was also a seaweed salad involved: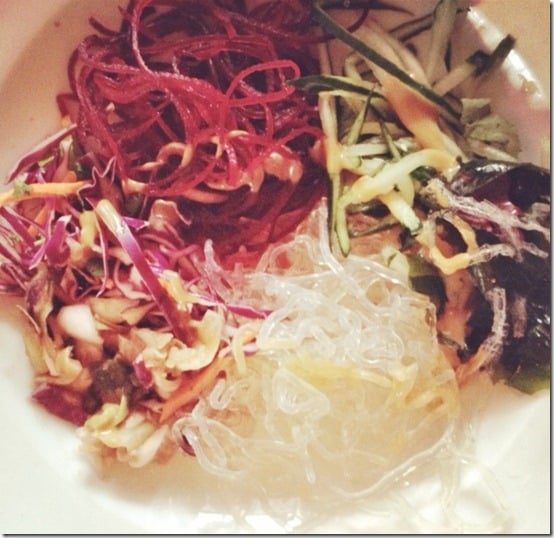 Bonus points for the inclusion of kelp noodles!
The real highlight, though, was raw blueberry cheesecake. This is a classic raw food dessert, and for a moment, I worried whether my reaction would be "had one, had 'em all." No way: this was one of the better raw cheesecakes I've ever had! The crust was deliciously sweet, the filling a perfect mix of sweet and tart. Moreover, it was light and a little fluffy: for a moment, I thought it might just have been blueberries, chia, and/or Irish moss! Turns out it is a cashew base, but they've clearly learned how to make it rich and creamy without making it feel like a brick of solidified coconut oil (which is pretty much what happened the first time I attempted such a recipe). Major thumbs up!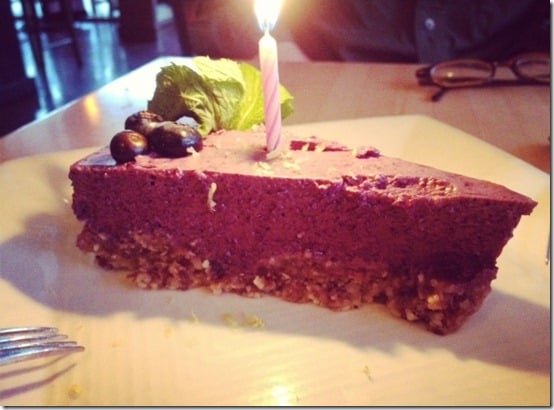 So glad I got to sample this. And look: three blueberries. One for each decade

This meal was proof that even classic dishes can always be reinvented—sometimes with only the most subtle of changes. Big kudos to Great Sage for keeping the menu seasonal, fresh, and always inspiring! I'll have to try these dishes out for myself soon.
On that note, I've been studying physics for about 11 hours today, as well as yesterday afternoon and all night Friday. My brain is too full of equations to say much more, but I'll see you all back here tomorrow. Wish me luck on my early morning test; I dare one of you to say "may the force be with you" in the comments…
xo